Bone Restore with Vitamin K2
120 capsules
Item # 01727
Click to Zoom
Click to Zoom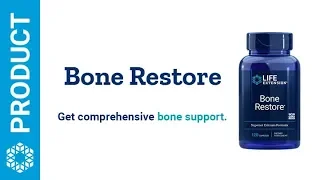 Click to Play Video
Bone Restore with Vitamin K2
120 capsules
Item # 01727
Potent vitamin K & mineral formula for bone health
Our Best in Class Bone Restore with Vitamin K2 helps maintain bone health and strength with a highly absorbable calcium, vitamins K2 and D3 and important minerals like magnesium, boron, zinc and silicon.
So thrilled to find Vitamin K2 in this great product
Andrea
I follow the dosage and have had no side effects
Investor Lady, Modesto, CA
Definitely has helped me maintain my bone density
J. Jones, Coral Springs, FL
I like this formulation and feel it helps my bones
Artdog, Los Angeles
Frequently Bought Together
What Is Bone Restore with Vitamin K2?
We all know calcium helps maintain bone density and strength. But what you might not realize is that dietary calcium requires adequate amounts of other vital nutrients to be most effective. That's why we've paired easily absorbable calcium with vitamins K2 and D3 and other essential bone-healthy minerals in our Best in Class bone-health formula.
Bone-healthy calcium needs vitamins K & D to be effective, as well as magnesium, boron, zinc and silicon.
Bone Restore with Vitamin K2 Benefits
Delivers 3 types of easily absorbed calcium
Augmented with vitamins D3 & K2
Contains patented Fruitex B® OsteoBoron® for bone strength
Includes zinc, manganese & silicon to support healthy bone formation
Bone Restore with Vitamin K2
Vitamins Pack a Punch
Vitamin D is essential for absorbing calcium from the digestive tract into the bloodstream. And vitamin K2 helps maintain bone density by promoting calcium transport from the bloodstream into bone. Thus, vitamin D3 and vitamin K2 are essential for helping maintain strong, healthy bones and teeth.
Some forms of calcium supplements are better absorbed than others.1 Bone Restore with Vitamin K2 provides a total of 700 mg of three types of easily absorbed calcium: dicalcium malate, calcium fructoborate and calcium bisglycinate chelate, all delivered in a capsule that ensures better utilization by the body.
More
Less
These statements have not been evaluated by the Food and Drug Administration.
These products are not intended to diagnose, treat, cure, or prevent any disease.
Bonekey Rep. 2014;3:579-579.
Mol Cell Endocrinol. 2011;347(1-2):25-9.
Linus Pauling Institute. Vitamin D Accessed 6/18/2019. http://lpi.oregonstate.edu/mic/vitamins/vitamin-D#supplements.
Osteoporos Int. 2007;18(7):963-72.
Linus Pauling Institute. Vitamin K. Accessed 05/14/2019. http://lpi.oregonstate.edu/mic/vitamins/vitamin-K
Mol Cell Biochem. 2010;338(1-2):241-54.
Nutrients. 2013;5(8):3022-33.
The Open Orthopaedics Journal. 2012;6:143-149.
Clin Cases Miner Bone Metab. 2016;13(3):181-185.
J Nutr Health Aging. 2014;18(9):820-6.
Integr Med (Encinitas). 2015;14(4):35-48.
Serving Size 4 capsules

Servings Per Container 30

Amount Per Serving

Vitamin D3 (as cholecalciferol) (1000 IU)

25 mcg

Vitamin K2 (as trans menaquinone-7)

200 mcg

Calcium (from calcium carbonate, calcium citrate malate, calcium bisglycinate)

700 mg

Magnesium (as magnesium oxide)

300 mg

Zinc (as zinc amino acid chelate)

2 mg

Manganese (as manganese amino acid chelate)

1 mg

Silicon [from horsetail extract (herb)]

5 mg

Boron (calcium fructoborate as patented Fruitex B® OsteoBoron®)

3 mg

Other ingredients: vegetable cellulose (capsule), microcrystalline cellulose, vegetable stearate, maltodextrin, silica, modified food starch.
Non-GMO
Fruitex B® and OsteoBoron® are registered trademarks of VDF Futureceuticals, Inc. U.S. patent #5,962,049.
Trans menaquinone-7 as K2VITAL®. K2VITAL® is a registered trademark of Kappa BioScience.
Dosage and Use
Take four (4) capsules daily, or as recommended by a healthcare practitioner.
Scientific studies suggest calcium supplementation in divided doses with food in the morning and evening may yield the best results.
Maintaining an optimal vitamin D blood level also helps maximize calcium absorption.
Caution
If you are taking Warfarin (Coumadin®) or related medications, consult your healthcare practitioner before taking this product.
Warnings
KEEP OUT OF REACH OF CHILDREN
DO NOT EXCEED RECOMMENDED DOSE
Do not purchase if outer seal is broken or damaged.
When using nutritional supplements, please consult with your physician if you are undergoing treatment for a medical condition or if you are pregnant or lactating.
To report a serious adverse event or obtain product information, contact 1-866-280-2852.
Actual Size
Product reviews are provided for informational purposes only and reflect solely the views and opinions expressed by the contributors and not those of Life Extension. We do not verify or endorse any claims made in these reviews. Please read the full product reviews disclaimer.
Related Health Information
Bone & Joint Quiz
Answer a few questions to choose the right supplements
<![endif]-->
Related Products
<![endif]-->

<![endif]-->