Best Seller
Zinc Caps
50 mg, 90 vegetarian capsules

Item # 01813
Support the body's immune defenses, ultra-absorbable
Click to Zoom
Click to Zoom
Click to Play Video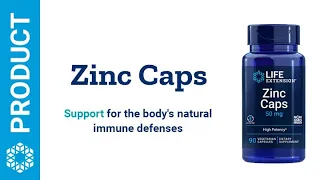 Best Seller
Zinc Caps
50 mg, 90 vegetarian capsules

Item # 01813
Support the body's immune defenses, ultra-absorbable
Our zinc supplements are designed to provide optimum absorption into the body, so you get maximum immune health support.
Gluten free
Non-GMO
Vegetarian
Supplements by Health Goal:
Great mix and dose. High quality zinc source.
John
Take it every day. Great price for the dose and quantity.
Joseph
Outstanding price and fast service.
Dr. Thomas, Atlanta
Inspired by Recent Searches
Frequently Bought Together
Frequently Bought Together
What Are Zinc Caps?
Research shows that zinc deficiency is widespread, especially in the elderly. Supplementing with zinc is an effective way to support aging immune systems. Since absorption can sometimes be problematic, we've developed a low-cost formulation that combines the highly bioavailable OptiZinc® with zinc citrate to provide a potent 50 milligram dose of zinc in each capsule.
OptiZinc® contains one of the most absorbable forms of zinc, zinc methionate, which is prized for its superior bioavailability.
Zinc Caps Benefits
Provides immune system support
Supports cardiovascular & neurological health
Helps maintain vision
Beyond Immune Health Support
Zinc is well known for its immune health benefits, but it goes beyond that. For instance, zinc is an essential component of superoxide dismutase, one of your body's most powerful natural antioxidants. It also supports cardiovascular and neurological health, and helps maintain vision in the elderly.
Why Should I Supplement with Zinc Caps?
We all know that zinc plays a crucial role in our health and wellness. It's great for supporting our cardiovascular and neurological health, but it's mostly known for promoting immune system health.
You may not be aware that zinc can be hard for your body to absorb. To help, our experts packed a potent 50 milligram dose in each capsule of our Zinc Caps.  But what really sets Zinc Caps apart is that it provides optimum absorption into your body by combining a highly bioavailable form of zinc and zinc citrate. Preclinical studies indicate these ingredients circulate in your body longer, so you're absorbing more and getting the maximum benefits.
Support your immune system and more with Zinc Caps from Life Extension. Try it today!
Reviewed by Dr. Michael A. Smith, MD: Director of Education and Spokesperson for Life Extension.
Zinc supports your body's natural immune response. But zinc deficiency is common, especially in older people.1 This can contribute to aging-related decline in immune function.1,2 But zinc supplementation supports aging immune systems, as well as healthy inflammatory and antioxidant responses.2-5
More
These statements have not been evaluated by the Food and Drug Administration.
These products are not intended to diagnose, treat, cure, or prevent any disease.
Serving Size 1 vegetarian capsule

Amount Per Serving

Zinc (as OptiZinc® zinc monomethionine, zinc citrate)

50 mg

Other ingredients: microcrystalline cellulose, vegetable cellulose (capsule), vegetable stearate, silica.
OptiZinc® is a Lonza trademark, registered in USA.
Dosage and Use
Take one (1) capsule daily, or as recommended by a healthcare practitioner.
Caution
Supplemental zinc can inhibit the absorption and availability of copper. If more than 50 mg of supplemental zinc is to be taken daily for more than four weeks, 2 mg of supplemental copper should also be taken to prevent copper deficiency.
Warnings
KEEP OUT OF REACH OF CHILDREN
DO NOT EXCEED RECOMMENDED DOSE
Do not purchase if outer seal is broken or damaged.
When using nutritional supplements, please consult with your physician if you are undergoing treatment for a medical condition or if you are pregnant or lactating.
To report a serious adverse event or obtain product information, contact 1-866-280-2852.
Actual Size
Nutrition reviews. 2010;68(1):30-37.
Immun Ageing. 2009;6:9.
Biogerontology. 2006;7(5-6):429-35.
Rejuvenation Res. 2008;11(1):227-37.
Exp Gerontol. 2008;43(5):452-61.
Linus Pauling Institute. Zinc. Accessed 9/19/19. https://lpi.oregonstate.edu/mic/minerals/zinc
Br J Nutr. 2006;96(4):752-60.
Biol Trace Elem Res. 2019
Acta Pharmacol Sin. 2018;39(7):1120-1132.
Clin Interv Aging. 2013;8:741-8.
J Nutr. 2000;130(5S Suppl):1378s-83s.
J Anim Sci. 1992;70(1):178-87.
Biofactors. 2006;27(1-4):231-44.
J Trace Elem Med Biol. 2010;24(2):89-94.
Product reviews are provided for informational purposes only and reflect solely the views and opinions expressed by the contributors and not those of Life Extension. We do not verify or endorse any claims made in these reviews. Full product reviews disclaimer
Immune

Quiz

What are the best immune support supplements for you?

<![endif]-->

<![endif]-->