Best Seller
BioActive Complete B-Complex
60 vegetarian capsules
Item # 01945
Click to Zoom
Double Tap to Zoom
Click to Zoom
Double Tap to Zoom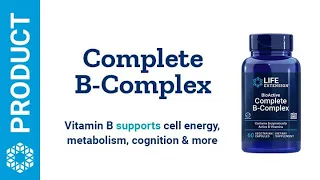 Click to Play Video
Best Seller
BioActive Complete B-Complex
60 vegetarian capsules
Item # 01945
Our most complete formula for vitamin B benefits
Be all that you can "B" with an energized body and sharp mind. Our BioActive Complete B-Complex offers the full spectrum of vitamin B benefits, in a highly absorbable formula.
Gluten free
Non-GMO
Vegetarian
Great vegan source of Vitamin B. I've taken this supplement for years.
Debbie
I would buy this again. It's is a great way to get all my B vitamins.
Caralee
I take one of these a day. This is a good supplement.
Patricia
Good vitamin complex with a broad spectrum of B vitamins.
Tricia
Are you getting enough vitamin B? There are more forms of it than you may think, and each plays a different role. So it's important to get a wide spectrum of the vitamin B family, every day. BioActive Complete B-Complex is made with the biologically active forms of each nutrient, optimizing absorption and giving your body what it needs to thrive.
Getting your Bs doesn't have to be difficult. Get the biologically active forms of these vitamins you need to thrive.
BioActive Complete B-Complex Benefits
Boosts energy production and promotes a healthy metabolism
Encourages brain, cellular and organ health
More biologically active so your body can use each nutrient more effectively
What is pantothenic acid?
Vitamin B5, or pantothenic acid, supports hemoglobin synthesis, hormone and neurotransmitter health, as well as carbohydrate and fatty acid oxidation.
Why add pyridoxine and pyridoxal?
Vitamin B6 in the form of pyridoxine HCI and pyridoxal 5'-phosphate affects amino acid and lipid metabolism, neurotransmitter health, and hemoglobin synthesis.
BioActive Complete B-Complex
Get the B's You Need
BioActive Complete B-Complex delivers a wide variety of B vitamins to help the body thrive. These vitamins help release energy from the foods you eat, such as carbohydrates, fat and protein. Vitamin B coenzymes are also crucial to the metabolic pathways that generate cellular energy fuel.
100 mg of vitamin B1 (thiamine)—Thiamine helps convert carbohydrates into usable energy.1 It also supports healthy nervous system function and production of both RNA and DNA. 2,3
More
These statements have not been evaluated by the Food and Drug Administration.
These products are not intended to diagnose, treat, cure, or prevent any disease.
International journal of clinical practice. 2011;65(6):684-690.
Neurochemical research. 2015;40(2):353-361.
J Lab Clin Med. 1975;86(1):77-90.
National Institutes of Health. Office of Dietary supplements. Riboflavin: Fact Sheet for Health Professionals. Accessed Jun. 17, 2019. https://ods.od.nih.gov/factsheets/Riboflavin-HealthProfessional/
J Lipid Res. 2019;60(4):741-746.
Chemico-Biological Interactions. 2006;163(1):94-112.
Altern Med Rev. 2011;16(3):263-74.
The American Journal of Clinical Nutrition. 2007;86(5):1563S-1568S.
Molecules. 2009;14(1):329-351.
Advances in Nutrition. 2012;3(2):213-214.
Clinical pharmacokinetics. 2010;49(8):535-548.
J Inherit Metab Dis. 2018
J Pediatr. 2018;202:315-319.e2.
Mayo Clin Proc Innov Qual Outcomes. 2019;3(2):200-214.
J Cell Biochem. 2006;97(2):252-60.
Curr Biol. 1998;8(16):R557-9.
Serving Size 2 vegetarian capsules

Servings Per Container 30

Amount Per Serving

Thiamine (vitamin B1) (as thiamine HCl)

100 mg

Riboflavin (vitamin B2) (as riboflavin and riboflavin 5'-phosphate)

75 mg

Niacin (as niacinamide and niacin)

100 mg•

Vitamin B6 (as pyridoxine HCl and pyridoxal 5'-phosphate)

100 mg

Folate (as L-5-methyltetrahydrofolate calcium salt)

680 mcg°

Vitamin B12 (as methylcobalamin)

300 mcg

Biotin

1000 mcg

Pantothenic acid (as D-calcium pantothenate)

500 mg

Calcium (as D-calcium pantothenate, dicalcium phosphate)

50 mg

Inositol

100 mg

PABA (para-aminobenzoic acid)

50 mg

Other ingredients: vegetable cellulose (capsule), microcrystalline cellulose, stearic acid, purified water, silica.
•NE (niacin equivalents). °DFE (dietary folate equivalents)

Non-GMO
Dosage and Use
Take two (2) capsules daily with food, or as recommended by a healthcare practitioner.
Caution
Temporary flushing, itching, rash, or gastric disturbances may occur
Warnings
KEEP OUT OF REACH OF CHILDREN
DO NOT EXCEED RECOMMENDED DOSE
Do not purchase if outer seal is broken or damaged.
When using nutritional supplements, please consult with your physician if you are undergoing treatment for a medical condition or if you are pregnant or lactating.
To report a serious adverse event or obtain product information, contact 1-866-280-2852.
Actual Size
Product reviews are provided for informational purposes only and reflect solely the views and opinions expressed by the contributors and not those of Life Extension. We do not verify or endorse any claims made in these reviews. Please read the full product reviews disclaimer.
Related Health Information
Essentials Quiz
Answer a few questions to choose the right supplements
<![endif]-->
Related Products
<![endif]-->

<![endif]-->