Best In Class
|
Best Seller
AMPK Metabolic Activator
30 vegetarian tablets
Item # 02207
Click to Zoom
Double Tap to Zoom
Click to Zoom
Double Tap to Zoom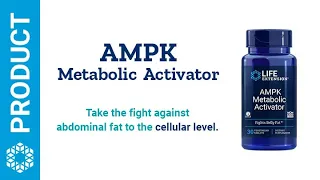 Click to Play Video
Click to Zoom
Double Tap to Zoom
Best In Class
|
Best Seller
AMPK Metabolic Activator
30 vegetarian tablets
Item # 02207
Fight unwanted belly fat & revitalize cellular metabolism
Studies show that increasing AMPK activity can encourage cells to stop storing fat and start burning it for energy. That's how we formulated our AMPK Metabolic Activator to help fight unwanted belly fat.
Gluten free
Non-GMO
Vegetarian
Excellent product, high quality, well-researched.
DAVID
I have been taking it for about 4 months now and am beginning to see results
PATRICK
There's an enzyme called AMPK that's found in every cell in your body. Over time, declining AMPK levels can cause the accumulation of abdominal fat. We've created AMPK Metabolic Activator to trigger youthful AMPK activity, help burn fat and promote healthy cellular metabolism.
AMPK tells your cells to stop storing fat and start burning it for energy, especially around the abdomen.
AMPK Metabolic Activator Benefits
Encourages the body to burn stored abdominal fat
Revitalizes youthful AMPK levels
Two potent botanical extracts trigger AMPK activity
Promotes healthy cellular metabolism
This supplement should be taken in conjunction with a healthy diet and regular exercise program. Individual results are not guaranteed, and results may vary.
What is G. pentaphyllum?
G. pentaphyllum (Jiaogulan) is a climbing vine native to Asia. Its extract promotes youthful levels and activity of the AMPK enzyme.
Why did we add hesperidin?
Hesperidin is a citrus flavonoid that also activates AMPK. It supports already-healthy cholesterol levels and healthy vascular function, as well.
Targeting Belly Fat—not all fat is the same
Abdominal fat is one of the worst types of fat. That's where AMPK comes in: it doesn't just promote a healthy weight, but can actually target abdominal fat, the type of adipose tissue we should try to avoid.
Belly fat can accelerate the aging process in your body.1 Reduced AMPK activity has been observed in fat tissue.2 That's where promoting AMPK enzyme activity comes in.
Increasing AMPK activity
More
These statements have not been evaluated by the Food and Drug Administration.
These products are not intended to diagnose, treat, cure, or prevent any disease.
Arterioscler Thromb Vasc Biol. 2008 Jun;28(6):1039-49.
J Lipid Res. 2012 Apr;53(4):792-801.
J Physiol. 2006 Jul 1;574(Pt 1):55-62.
Nutr J. 2016 Jan 19;15:6.
Obesity (Silver Spring). 2014;22(1):63-71.
Serving Size 1 vegetarian tablet

Amount Per Serving

Calcium (as calcium carbonate)

130 mg

Hesperidin [from orange extract (fruit)]

500 mg

Actiponin® gynostemma extract (leaf)

450 mg

Other ingredients: microcrystalline cellulose, stearic acid, croscarmellose sodium, hydroxypropyl cellulose, aqueous film coating (hypromellose, glycerin, purified water), silica, vegetable stearate.

Non-GMO
Actiponin® is a trademark of TG Biotech Co., Ltd.
Dosage and Use
Take one (1) tablet daily, or as recommended by a healthcare practitioner.
​
Warnings
KEEP OUT OF REACH OF CHILDREN
DO NOT EXCEED RECOMMENDED DOSE
Do not purchase if outer seal is broken or damaged.
When using nutritional supplements, please consult with your physician if you are undergoing treatment for a medical condition or if you are pregnant or lactating.
To report a serious adverse event or obtain product information, contact 1-866-280-2852.
Actual Size
Product reviews are provided for informational purposes only and reflect solely the views and opinions expressed by the contributors and not those of Life Extension. We do not verify or endorse any claims made in these reviews. Please read the full product reviews disclaimer.
Related Health Information
Weight & Body Composition Quiz
Maintain a healthy weight or jumpstart your weight loss goals. Find out which essential nutrients are best for your age, weight and body composition.
<![endif]-->
Related Products
<![endif]-->

<![endif]-->