VenoFlow™
30 vegetarian capsules

Item # 02102
Supports healthy extremity circulation
Click to Zoom
Click to Zoom
Click to Play Video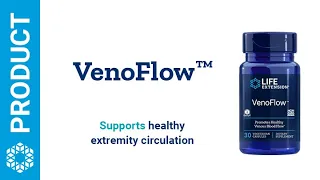 VenoFlow™
30 vegetarian capsules

Item # 02102
Supports healthy extremity circulation
Our VenoFlow™ formula combines the nattokinase enzyme with Pycnogenol® French maritime pine bark extract to support healthy blood flow and vascular function.
Gluten free
Non-GMO
Vegetarian
Supplements by Health Goal:
This is very helpful. I take it every day and will continue to take it.
Billymike, Saint Petersburg, Florida
My legs seem to have less discomfort. And they don't get tired as quickly.
Jeanna, Tennessee
Frequently Bought Together
This Item: VenoFlow™, 30 vegetarian capsules
Venotone, 60 capsules
What Is VenoFlow?
Blood flow, or circulation, is primarily powered by your heart, but it's also aided by physical activity. The circulatory health effects of a sedentary lifestyle should not be ignored, especially for those who exercise infrequently and even for healthy people who sit for long periods at work. That's why we created VenoFlow™.
Healthy blood flow in your arms and legs is important, especially for long-distance travelers or office workers.
VenoFlow™ Benefits
Powerful dual-action formula for vascular health
Encourages healthy circulation & blood flow
Promotes the body's natural clotting process
Helps maintain already healthy blood pressure
What is Pycnogenol®?
French maritime pine bark extract helps inhibit inflammatory factors to promote circulatory and vascular health, fights oxidative stress and promotes longevity.
Why did we add nattokinase?
Nattokinase fermented soybean extract supports the natural clotting process, promotes healthy circulation and helps maintain already-healthy blood pressure levels.
Two Potent Extracts, One Proprietary Blend
The VenoFlow™ proprietary blend combines Pycnogenol® French maritime pine bark extract with nattokinase, an enzyme found in the Japanese food natto, which is made from fermented soybeans. Everyone knows you need healthy blood vessels, as well as a healthy heart. Life Extension® created VenoFlow™ to help you support the rest of your circulatory system.
Why Should I Supplement With VenoFlow™?
Customer: I travel a lot for work. That often means long flights and being stuck on a plane for hours. I always hear that sitting is the new smoking and it isn't good for your circulation. Is there anything I can do to help protect myself?
Michael A. Smith, MD: Maintaining healthy blood flow in your extremities is very important, but especially for those who endure long periods of immobility. So to help support vascular health, we created VenoFlow™. This powerful dual action formula combines the nattokinase enzyme with Pycnogenol®. Together, these ingredients help promote healthy blood flow, vascular function and the body's natural blood clotting process.
Customer: I did some more research on VenoFlow™ and I found out that it's a once daily capsule. It's vegetarian and non-GMO, too. All of that makes me feel better. And while I may not be able to avoid those long flights, at least I know I'm moving in the right direction to stay healthy.
Dr. Michael A. Smith, MD: Director of Education and Spokesperson for Life Extension.
Blood flow, or circulation, is primarily powered by your heart, but the movement of blood throughout your body is also aided by physical activity. The impact of a sedentary lifestyle on the circulatory system and overall health should not be ignored, especially for people who exercise infrequently, and even for healthy professionals who sit for long periods at work. 1-4
More
These statements have not been evaluated by the Food and Drug Administration.
These products are not intended to diagnose, treat, cure, or prevent any disease.
Serving Size 1 vegetarian capsule

Amount Per Serving

VenoFlow™ Proprietary Blend

200 mg

Pycnogenol® French maritime pine extract (bark) [std. to 65% procyanidins], nattokinase (from soy natto extract) [providing 2,000 fibrinolytic units]

Other ingredients: microcrystalline cellulose, vegetable cellulose (capsule), dextrin, stearic acid, silica.

Non-GMO

Contains soybeans.
Pycnogenol® is a registered trademark of Horphag Research Ltd.
Dosage and Use
Take one (1) capsule daily, or as recommended by a healthcare practitioner.
Caution
If you are taking anticoagulant or antiplatelet medications, or have a bleeding disorder, consult your healthcare provider before taking this product.
Warnings
KEEP OUT OF REACH OF CHILDREN
DO NOT EXCEED RECOMMENDED DOSE
Do not purchase if outer seal is broken or damaged.
When using nutritional supplements, please consult with your physician if you are undergoing treatment for a medical condition or if you are pregnant or lactating.
To report a serious adverse event or obtain product information, contact 1-866-280-2852.
Actual Size
Blood Coagul Fibrinolysis. 2004;15(5):419-425.
PLoS Med. 2006;3(8):e307.
PLoS Med. 2007;4(9):e290.
Bmj. 2011;343:d3867.
Acta Haematol. 1990;84(3):139-143.
Acta Haematol. 2014;132(2):247-253.
Nutr Res. 2009;29(3):190-196.
Sci Rep. 2015;5:11601.
Biol Pharm Bull. 2011;34(11):1696-1701.
Hypertens Res. 2008;31(8):1583-1588.
Integr Blood Press Control. 2016;9:95-104.
Clin Hemorheol Microcirc. 2006;35(1-2):139-142.
Phytother Res. 2014;28(11):1692-1700.
J Biochem Mol Toxicol. 2003;17(3):193-199.
Int J Clin Pharmacol Ther. 2002;40(4):158-168.
Eur Heart J. 2012;33(13):1589-1597.
Int Angiol. 2015;34(1):43-52.
J Cardiovasc Pharmacol. 1998;32(4):509-515.
Int Immunopharmacol. 2009;9(10):1145-1149.
Product reviews are provided for informational purposes only and reflect solely the views and opinions expressed by the contributors and not those of Life Extension. We do not verify or endorse any claims made in these reviews. Full product reviews disclaimer
Heart Health

Quiz
Treat your ticker to the best cardiovascular support supplements.
<![endif]-->
Related Products
<![endif]-->

<![endif]-->