Vitamin D3 with Sea-Iodine™
125 mcg (5000 IU), 60 capsules
Item # 01758
Click to Zoom
Double Tap to Zoom
Click to Zoom
Double Tap to Zoom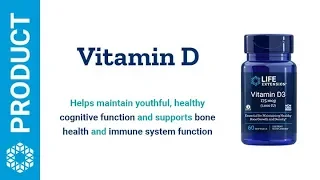 Click to Play Video
Vitamin D3 with Sea-Iodine™
125 mcg (5000 IU), 60 capsules
Item # 01758
Vitamin D3 and iodine for bone, brain and thyroid support
Maintaining healthy levels of vitamin D helps support cognitive health, promotes bone health and encourages healthy blood vessel function. It also helps maintain already-healthy blood pressure levels.
I have used this for years to maintain optimal levels.
Ginny, CA
Easy way to get my Vitamin D!
In Pursuit of Health, KY
I take one every day.
Sara, ID
We've combined vitamin D3 with iodine for dual-action health support. Iodine is essential for supporting thyroid hormone production. Maintaining healthy vitamin D levels helps support cognitive, bone and immune system health. It also helps maintain already-healthy blood pressure and supports a healthy inflammatory response, endothelial function and more.
Many people need 125 mcg (5,000 IU) to 200 mcg (8,000 IU) of vitamin D3 a day to promote optimal health. This formula has 125 mcg (5,000 IU) of vitamin D3.
Vitamin D3 with Sea-Iodine™ Benefits
Supports bone density, cell differentiation and immune health
Provides iodine, a trace mineral essential to supporting healthy thyroid function
Helps counteract iodine deficiency in modern healthy diets
Shown to support vitamin D levels
Sea-Iodine™ derived from organic sea algae
Vitamin D3 with Sea-Iodine™
Getting Enough of the Sunshine Vitamin
Vitamin D is called the sunshine vitamin because your skin manufactures it when exposed to sunlight, but that shouldn't be your only source. A vitamin D supplement goes a long way. We recommend about 125 mcg (5,000 IU) to 200 mcg (8,000 IU) of vitamin D3 a day. If your multivitamin already delivers 25-75 mcg (1,000–3,000 IU) of vitamin D, vitamin D3 125 mcg (5,000 IU) is perfect for achieving optimal levels.
Iodine is essential for thyroid health
Iodine is a trace element essential for supporting the production of the thyroid hormones triiodothyronine (T3) and thyroxine (T4). The thyroid gland actively absorbs iodide from the blood in order to make and release these hormones. Iodine is abundant in seafood and sea vegetables, but not everyone likes or has access to marine foods and vegan diets sometimes lack adequate iodine.1
More
Less
These statements have not been evaluated by the Food and Drug Administration.
These products are not intended to diagnose, treat, cure, or prevent any disease.
Nutrients. 2018;10(2)
Nutrients. 2019;11(4)
Journal of the American Geriatrics Society. 2017;65(10):2161-2168.
Molecular and Cellular Endocrinology. 2017;453:46-51.
Histochemistry and Cell Biology. 2018;149(4):305-312.
J Steroid Biochem Mol Biol. 2018;177:70-76.
Endocrinology and Metabolism Clinics of North America. 2017;46(4):1061-1094.
Nutrients. 2013;5(7):2502-21.
J Am Coll Cardiol. 2011;58(2):186-92.
Hypertension. 2011;57(1):63-9.
Expert Rev Cardiovasc Ther. 2010;8(11):1599-608.
Supplement Facts
Serving Size 1 capsule

Amount Per Serving

Vitamin D (as cholecalciferol)

125 mcg

Iodine [from Sea-Iodine™ Complex Blend (organic kelp and bladderwrack extracts, potassium iodide)]

1,000 mcg

Other ingredients: microcrystalline cellulose, vegetable cellulose (capsule), maltodextrin, modified food starch, silica, stearic acid.
Non-GMO
Dosage and Use
Take one (1) capsule daily with food, or as recommended by a healthcare practitioner.
Caution
Individuals consuming more than 50 mcg (2000 IU)/day of vitamin D (from diet and supplements) should periodically obtain a serum 25-hydroxy vitamin D measurement. Do not exceed 10000 IU per day unless recommended by your doctor. Vitamin D supplementation is not recommended for individuals with high blood calcium levels. If you have a thyroid condition or are taking antithyroid medications, do not use without consulting your healthcare practitioner.
Warnings
KEEP OUT OF REACH OF CHILDREN
DO NOT EXCEED RECOMMENDED DOSE
Do not purchase if outer seal is broken or damaged.
When using nutritional supplements, please consult with your physician if you are undergoing treatment for a medical condition or if you are pregnant or lactating.
To report a serious adverse event or obtain product information, contact 1-866-280-2852.
Actual Size
Product reviews are provided for informational purposes only and reflect solely the views and opinions expressed by the contributors and not those of Life Extension. We do not verify or endorse any claims made in these reviews. Please read the full product reviews disclaimer.
Related Health Information
Bone & Joint Quiz
Answer a few questions to choose the right supplements
<![endif]-->
Related Products
<![endif]-->

<![endif]-->