Best In Class
MacuGuard® Ocular Support with Saffron & Astaxanthin
Click to Zoom
Click to Zoom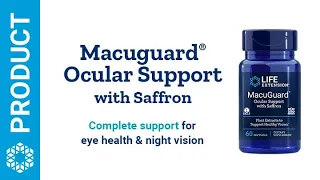 Click to Play Video
Best In Class
MacuGuard® Ocular Support with Saffron & Astaxanthin
Complete support for eye health & night vision
Nutrients like lutein and astaxanthin benefit eye health. Our MacuGuard® formula delivers these nutrients, plus zeaxanthin, meso-zeaxanthin, saffron and more for comprehensive eye health support.
Supplements by Health Goal:
I will continue to use every day
DEBBIE
Life Extension products are great.
THOMAS
My eye doctor has recommended it as well.
MICHAEL
Frequently Bought Together
What Is MacuGuard Ocular Support?
MacuGuard® Ocular Support with Saffron & Astaxanthin provides important nutrients that help protect the eye's delicate photoreceptor cells, promote macular and retinal health, help fight eye fatigue and support healthy night vision.
The nutrients our eyes need are often hard to come by, but it's worth making sure we get enough of them to keep our eyes healthy over time.
MacuGuard® Ocular Support with Saffron & Astaxanthin Benefits
Contains lutein, meso-zeaxanthin & zeaxanthin for eye health support
Provides comprehensive ocular nutrition in a single softgel
Helps fight eye fatigue with astaxanthin
Includes berry flavonoids to support night vision
Provides an optimal dose of saffron to support healthy vision
What are the health benefits of Saffron?
Saffron is a kind of spice. Saffron extracts have been used to promote feelings of satiety and to promote visual acuity and eye health.
What are the health benefits of astaxanthin?
Astaxanthin promotes ocular health, supports heart and mitochondrial health, promotes a healthy inflammatory response and more.
MacuGuard® Ocular Support with Saffron & Astaxanthin
Why Should I Supplement With MacuGuard® Ocular Support with Saffron & Astaxanthin?
"The nutrients our eyes need are hard to come by, and studies show that our bodies sometimes lose the ability to produce them as we age. With MacuGuard® Ocular Support with Saffron, you'll get all the nutrients you need to protect your eyes from oxidative stress. It also includes C3G, a cutting-edge berry flavonoid compound that helps support nighttime vision.
"We also have a version of MacuGuard® that adds astaxanthin. This helps support your vascular health within the eye and helps fight eye fatigue."
--Dr. Michael A. Smith, MD: Director of Education and Spokesperson for Life Extension.
The nutrients our eyes need are often hard to come by, but it's worth making sure we get enough of them to keep our eyes healthy over time. For instance: the carotenoids lutein and zeaxanthin are the main components of your macular pigment, and help protect the eyes from the effects of excess blue and ultraviolet light.1-3
More
These statements have not been evaluated by the Food and Drug Administration.
These products are not intended to diagnose, treat, cure, or prevent any disease.
J. Higdon. Carotenoids. 06/18/2019. https://lpi.oregonstate.edu/mic/dietary-factors/phytochemicals/carotenoids
Dev Ophthalmol. 2005;38:70-88.
Nutrients. 2013;5(4):1169-85.
JAMA Ophthalmol. 2015;133(12):1415-24.
Molecules. 2017;22(4)
Progress in retinal and eye research. 2016;50:34-66.
Altern Med Rev. 2011;16(4):355-64.
U. N. L. o. Medicine. RHO gene - rhodopsin. https://ghr.nlm.nih.gov/gene/RHO
Photochem Photobiol. 2009;85(2):463-70.
Vision research. 2011;51(13):1610-1622.
Evid Based Complement Alternat Med. 2012;2012:429124.
Invest Ophthalmol Vis Sci. 2010;51(12):6118-24.
J Transl Med. 2013;11:228.
Serving Size 1 softgel

Amount Per Serving

MacuGuard® proprietary blend

173 mg

Phospholipids, marigold extract (Tagetes erecta) (flower) [providing 10 mg free lutein, 4 mg meso-zeaxanthin & trans-zeaxanthin], mixed carotenoids [providing 1.24 mg a-carotene]

Saffron extract (stigma)

20 mg

Natural astaxanthin [from CO2 extract of Haematococcus pluvialis algae]

6 mg

C3G (cyanidin-3-glucoside) [from European black currant extract (fruit)]

2.2 mg

Other ingredients: extra virgin olive oil, gelatin, glycerin, safflower oil, palm oil, purified water, beeswax, acacia gum, maltodextrin, annatto color.
Non-GMO
LuteinPlus® and Mz® are registered trademarks of Nutriproducts Ltd., UK, licensed under U.S. Patent 8,623,428.
Dosage and Use
Take one (1) softgel daily, with food, or as recommended by a healthcare practitioner.
Based on scientific studies, this formula is enhanced with phospholipids to increase lutein absorption.
Warnings
KEEP OUT OF REACH OF CHILDREN
DO NOT EXCEED RECOMMENDED DOSE
Do not purchase if outer seal is broken or damaged.
When using nutritional supplements, please consult with your physician if you are undergoing treatment for a medical condition or if you are pregnant or lactating.
To report a serious adverse event or obtain product information, contact 1-866-280-2852.
Actual Size
Product reviews are provided for informational purposes only and reflect solely the views and opinions expressed by the contributors and not those of Life Extension. We do not verify or endorse any claims made in these reviews. Please read the full product reviews disclaimer.
Related Health Information
Vision Quiz
Want to support optimal eyesight? We've got a vision for how you can best encourage ocular health!
<![endif]-->
Related Products
<![endif]-->

<![endif]-->