Easy Fiber
Glucomannan from Konjac Root
Regularity, digestion, heart health, no artificial sweeteners
Click to Zoom
Click to Zoom
Click to Play Video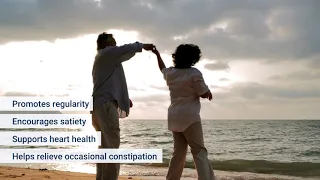 Easy Fiber
Glucomannan from Konjac Root
Regularity, digestion, heart health, no artificial sweeteners
Support digestive health, satiety, and cardiovascular health with Easy Fiber: a glucomannan fiber supplement made from konjac root. It's vegetarian, gluten-free, and has no artificial flavors or sweeteners!
Gluten free
Non-GMO
Vegetarian
Supplements by Health Goal:
Frequently Bought Together
What is Easy Fiber?
Keep things moving in the right direction with Easy Fiber! Our plant-based glucomannan fiber supplement from konjac root provides similar benefits to psyllium husk fiber—with a lower daily dose. This lightly orange-flavored powdered fiber mix is an easy way to help meet your daily dietary fiber needs. And unlike other fiber supplements, Easy Fiber contains no artificial flavors, colors, or sweeteners.
Easy Fiber promotes regularity, digestion & more. Plus, it has no artificial flavors, colors, or sweeteners (unlike Metamucil®*).
*Compared to Metamucil® Sugar-Free 4-in-1 Psyllium Fiber Supplement
Easy Fiber Benefits
Promotes regularity (3 scoops a day)
Encourages satiety (1/2 scoop before meals)
Supports heart health (3 scoops a day)
Helps maintain already-healthy blood sugar (up to 3 scoops a day)
Convenient, dose-adjustable fiber powder
This supplement should be taken in conjunction with a healthy diet and regular exercise program. Individual results are not guaranteed, and results may vary.
What Does Fiber Do for the Body?
When we think about fiber supplements, regularity is probably top of mind. And it makes sense. Soluble fiber gets broken down in the gut to help move things along at a healthy rate. But fiber goes beyond gut health and digestion. Glucomannan fiber, a low dose dietary fiber, moves through the digestive tract like other fibers—with some other great health benefits. It supports satiety—the feeling of fullness, promotes healthy blood sugar levels, heart health and even functions as a prebiotic to help feed good gut bacteria.
Why Should I Supplement With Easy Fiber?
There's a new fiber in town, Easy Fiber from Life Extension.
Easy Fiber is made from konjac root, which is less bulky than other fiber powders, so you need less to get your fill. And unlike Metamucil, it's sugar free, gluten free, and contains no artificial flavors or sweeteners. Just a few scoops helps you meet your healthy daily needs for digestion, satiety, heart health, and more.
It even helps relieve occasional constipation, so help keep things moving and more with Easy Fiber from Life Extension.
Reviewed by Dr. Michael A. Smith, MD: Director of Education and Spokesperson for Life Extension.
How does this fiber supplement compare to others?
Easy Fiber is less bulky than other fiber supplements because it's formulated with glucomannan, a soluble dietary fiber derived from konjac root. And unlike other fiber supplements, the lightly orange-flavored powdered fiber mix is sugar-free, vegetarian, gluten-free and has no artificial flavors or sweeteners.
How should Easy Fiber be taken—before or after a meal?
This depends on the reason why you are taking Easy Fiber. To encourage satiety, take half a scoop before each meal three times a day. To promote regularity, take one scoop three times daily, with or without food. To help support heart health, take one scoop three times a day, with or without food. Make sure you are briskly mixing the scoop of fiber in at least 8 to 10 ounces of water or your beverage of choice (to taste) one to three times a day, and drink it immediately.
More
When can I expect an effect?
For regularity, effects were seen as early as two weeks, and the best effects were noticed after three weeks. For satiety, the best effects were seen after five weeks. For heart health, effects were seen as early as two weeks, and the best effects were detected after three weeks. Due to our unique biochemistries and lifestyles, however, the time it takes to notice benefits can vary from person to person.
Will this fiber interact with my medication?
If you take prescription medications and are considering this supplement, we suggest discussing this decision with your physician.
What is the texture like?
When taken immediately after mixing with a beverage, the beverage will retain its original consistency for a limited time, allowing it to be easily consumed. If you've taken other fiber powders in the past, you'll likely find this much less bulky. That being said, you will want to drink the liquid right away because the fiber can begin to gel when left in a liquid for several minutes.
Can it be added to hot liquids?
Mixing Easy Fiber with hot liquids is not advisable, since you need to consume it immediately after you've added it to liquid. Most hot beverages are either too hot to consume immediately or sipped slowly over time.
Are there any major allergens in this product?
Easy Fiber does not contain any of the major nine allergens required on the label under the Food Allergen Labeling and Consumer Protection Act of 2004. This means it is free of milk, eggs, nuts, fish, crustaceans, shellfish, wheat, soy and sesame.
Where is this product manufactured?
Easy Fiber is manufactured in the USA.
Is this product vegetarian?
Yes, Easy Fiber is vegetarian and does not contain any animal-derived ingredients.
Can children take this product?
Please consult with your child's pediatrician before giving him or her any supplements.
Less
"Get more fiber." It's age-old advice, but most Americans don't consume enough fiber in their diets.1 And that's too bad, because it's important to get enough fiber for a variety of reasons: digestive health, regularity, satiety, and heart health, just to name a few.
More
These statements have not been evaluated by the Food and Drug Administration.
These products are not intended to diagnose, treat, cure, or prevent any disease.
Serving Size 1 Level Scoop

Servings Per Container 90

Amount Per Serving

Total Carbohydrate

1 g

Dietary Fiber

1 g

Total Sugars

0 g

Includes 0 g added sugars

Vitamin E (as d-alpha tocopherol)

0.8 mg

Vitamin C (as sodium ascorbate)

4 mg

Glucomannan [from umbrella arum (Amorphophallus konjac)] (root)

1000 mg

Other ingredients: citric acid, maltodextrin, gum acacia, stevia extract, refined coconut oil, natural orange flavors, beta carotene.
Non-GMO
Dosage and Use
Briskly mix one (1) level scoop in at least 8 to 10 ounces of water or beverage of choice (to taste), one to three times daily, or as recommended by a healthcare practitioner.
Drink immediately.
Taking without enough liquid may cause choking.
Do not take if you have difficulty swallowing.
Caution
Fiber supplements may affect absorption of medications. Take 2 hours before or 1 hour after any medications.
Warnings
KEEP OUT OF REACH OF CHILDREN
DO NOT EXCEED RECOMMENDED DOSE
Do not purchase if outer seal is broken or damaged.
When using nutritional supplements, please consult with your physician if you are undergoing treatment for a medical condition or if you are pregnant or lactating.
To report a serious adverse event or obtain product information, contact 1-866-280-2852.
Nutrients. 2020;12(10)
International Journal of Biological Macromolecules. 2019;126:273-281.
Nutrition. 2006;22(11-12):1112-9.
Journal of the American College of Nutrition. 2008;27(1):102-108.
Altern Ther Health Med. 2005;11(6):30-4.
Am J Clin Nutr. 2017;105(5):1239-1247.
Ann Nutr Metab. 2020;76(4):259-267.
Product reviews are provided for informational purposes only and reflect solely the views and opinions expressed by the contributors and not those of Life Extension. We do not verify or endorse any claims made in these reviews. Full product reviews disclaimer
Digestion

Quiz
Get a gut check on your gut health.
<![endif]-->
Related Products
<![endif]-->

<![endif]-->