Optimized Quercetin
250 mg, 60 vegetarian capsules

Item # 01309
Immune, heart & blood vessel health
Click to Zoom
Click to Zoom
Click to Play Video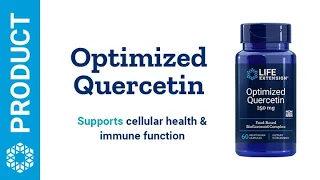 Optimized Quercetin
250 mg, 60 vegetarian capsules

Item # 01309
Immune, heart & blood vessel health
Optimized Quercetin delivers 250 mg standardized quercetin in a bioavailable superfood supplement blend with vitamin C and camu-camu berry extract to support a healthy immune response and more.
Gluten free
Non-GMO
Vegetarian
I use this for cardiac support. Works well for me!
Mary, Medina Ohio
I felt more energy when I started to use this product.
Alex, Woodstock, MD
This is good for those times of seasonal distress.
Maureen, Bartlesville, OK
Frequently Bought Together
This Item: Optimized Quercetin, 250 mg, 60 vegetarian capsules
Zinc Caps, 50 mg, 90 vegetarian capsules
What Is Optimized Quercetin?
Quercetin is a bioflavonoid found in red grape skins, red onions, apples, buckwheat and other food sources. Quercetin supports healthy cellular function, cardiovascular health and has also been shown to encourage a healthy immune response, especially to seasonally changing environments.
Quercetin supports immune health. Ours is augmented with vitamin C and camu-camu extract for further immune support.
Optimized Quercetin Benefits
Promotes cellular health & DNA function
Supports healthy seasonal immune response
Encourages healthy endothelial integrity
Supports already healthy blood glucose levels
Helps maintain already healthy cholesterol levels
Quercetin, the Super-Food You've Never Heard Of
Quercetin is a phytonutrient derived from apples, onions and buckwheat. Quercetin can help support a healthy immune response, especially to seasonally changing environments. Quercetin also encourages healthy nitric oxide levels, which helps maintain already healthy blood pressure levels. This bioflavonoid also supports healthy cholesterol levels already within normal range.
Why Should I Supplement With Optimized Quercetin?
Customer: I try hard to take care of myself. I eat healthy, I exercise regularly, and I even take supplements based on my doctor's recommendations. But with all I do, I feel like I'm missing something that can help keep me at my best.
Michael A. Smith, MD: It's always a good idea to evaluate the supplements that you take. One that we highly recommend that you add to your routine is quercetin.  Packed with bioflavonoids, our Optimized Quercetin formula supports your cell health, endothelial health, already-healthy blood glucose levels, and so much more.
Customer: I spoke to a Wellness Specialist at Life Extension, and they told me that quercetin is a superfood blend that can help my body respond to seasonal changes. Plus, it supports already-healthy cholesterol and glucose levels.
Dr. Michael A. Smith, MD: Director of Education and Spokesperson for Life Extension.
Quercetin promotes cardiovascular health by protecting the integrity of your vascular endothelium.1-3 One way quercetin does this is by encouraging healthy levels of nitric oxide, which supports healthy blood pressure levels already within the normal range.4
More
These statements have not been evaluated by the Food and Drug Administration.
These products are not intended to diagnose, treat, cure, or prevent any disease.
Serving Size 1 vegetarian capsule

Amount Per Serving

Vitamin C (from ascorbic acid and camu-camu berry extract)

30 mg

Quercetin (as quercetin dihydrate)
250 mg

Optimized Food Blend

210 mg

[Bitter orange bioflavonoids (peel and fruit), apple (fruit), onion (bulb) (extracts)]

Camu-camu extract (wildcrafted berry)

60 mg

Other ingredients: microcrystalline cellulose, vegetable cellulose (capsule), maltodextrin, silica, vegetable stearate.

Non-GMO
Dosage and Use
Take one (1) capsule once or twice daily, or as recommended by a healthcare practitioner.
Warnings
KEEP OUT OF REACH OF CHILDREN
DO NOT EXCEED RECOMMENDED DOSE
Do not purchase if outer seal is broken or damaged.
When using nutritional supplements, please consult with your physician if you are undergoing treatment for a medical condition or if you are pregnant or lactating.
To report a serious adverse event or obtain product information, contact 1-866-280-2852.
Actual Size
Atherosclerosis. 2011;218(1):44-52.
European Journal of Pharmacology. 2011;658(2):248-256.
Molecular Aspects of Medicine. 2010;31(6):478-494.
The American Journal of Clinical Nutrition. 2008;88(4):1018-1025.
Clinical Chemistry. 2000;46(8):1162.
Nutrition. 2011;27(6):617-623.
Journal of Thrombosis and Haemostasis. 2004;2(12):2138-2145.
Nutrition research and practice. 2011;5(1):28-33.
Biological and Pharmaceutical Bulletin. 2008;31(7):1403-1409.
International Journal Of Obesity. 2011;35:1165.

Rejuvenation Research. 2011;14(5):525-534.
European Journal of Pharmacology. 2010;642(1):134-139.
Neuroimmunomodulation. 2006;13(3):179-186.
The Journal of Immunology. 2010;184(12):6815.
Product reviews are provided for informational purposes only and reflect solely the views and opinions expressed by the contributors and not those of Life Extension. We do not verify or endorse any claims made in these reviews. Full product reviews disclaimer
Immune

Quiz
What are the best immune support supplements for you?
<![endif]-->
Related Products
<![endif]-->

<![endif]-->