Best In Class
Optimized Resveratrol
60 vegetarian capsules
Item # 02230
Click to Zoom
Click to Zoom
Click to Play Video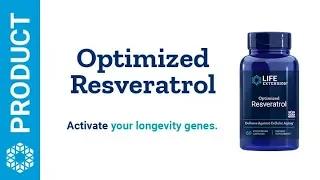 Best In Class
Optimized Resveratrol
60 vegetarian capsules
Item # 02230
Activate your longevity genes
Our best-in-class Optimized Resveratrol formula contains trans-resveratrol as well as complementary phytonutrients fisetin and quercetin to promote longevity and give you other resveratrol benefits.
Supplements by Health Goal:
We will continue using the product. We both noticed a difference.
Loving Life, Fairfield, CA
I have been using it for years. I find it tends to keep me feeling healthy.
MJS, Florida
Critically important supplement for my longevity program.
FTBDVM, Wakefield, VA
I take Resveratrol every day with my other vitamins and feel fantastic.
Sue, Surprise, AZ
Frequently Bought Together
What Is Optimized Resveratrol?
Optimized Resveratrol combines 250 mg of resveratrol with complementary plant compounds. Together, these ingredients promote the expression of genes associated with healthy aging. These so-called longevity genes encourage the healthy structure and function of cells and organs throughout the body.
Resveratrol from red grapes is one possible contributor to the potential health benefits of moderate red wine consumption.
Optimized Resveratrol Benefits
Promotes youthful gene expression similar to calorie-restricted diets
Supports healthy insulin response & mitochondrial function
Helps maintain already-healthy glucose levels
Supports a healthy inflammatory response & helps inhibit oxidation
Contains a grape & wild blueberry fruit blend for additional benefits
What is resveratrol?
Found in red grapes, as well as Japanese knotweed, resveratrol is a plant compound that promotes and maintains optimal health and longevity.
Why did we add fisetin?
Fisetin promotes cardiovascular health, combats oxidative stress and encourages a healthy inflammatory response.
Resveratrol Basics
Resveratrol is a compound most commonly found in red wine and grapes, as well as in some plants like Japanese knotweed. Researchers have observed better heart health in populations that consume a diet that emphasizes healthy fats and moderate amounts of red wine. Resveratrol supports the cardiovascular system, encouraging endothelial health.
Why Should I Supplement With Optimized Resveratrol?
"The grapes used to make red wine contain resveratrol, which has been shown to promote and maintain optimal health and longevity. But research associated with deriving these health benefits from drinking red wine is unclear at best.
Based on several longevity studies, we developed our most advanced resveratrol formula, Optimized Resveratrol. It promotes youthful gene expression and healthy insulin sensitivity. It also supports a healthy inflammatory response and cardiovascular activity."
Dr. Michael A. Smith, MD: Director of Education and Spokesperson for Life Extension.
Resveratrol helps promote and maintain optimal health and longevity.1 Our Optimized Resveratrol formula contains trans-resveratrol, the form abundant in red wine and associated with beneficial biological effects.2-5 Resveratrol also promotes healthy insulin sensitivity, encourages enhanced mitochondrial function, supports a healthy inflammatory response and has demonstrated beneficial cardiovascular activity.6-8
More
These statements have not been evaluated by the Food and Drug Administration.
These products are not intended to diagnose, treat, cure, or prevent any disease.
Clin Interv Aging. 2008;3(2):331-9.
Nutrient Delivery. Academic Press; 2017:413-456
Chemistry Central Journal. 2011;5(88):1-6.
Micronutrient Information Center. 2015;2018(04/23/2018)
Mol Nutr Food Res. 2005;49(5):495-504.
Cell Mol Life Sci. 2015;72(8):1473-88.
Biochim Biophys Acta. 2015;1852(6):1145-54.
Obes Rev. 2016;17(12):1329-1340.
Genes Nutr. 2009;4(4):297-307.
Adv Exp Med Biol. 2016;928:213-244.
Life Sci. 2018;194:75-87.
Pharmacogn Rev. 2016;10(20):84-89.
J Am Coll Cardiol. 2016;67(13_S):2003-2003.
Nutrients. 2016;8(9)
Molecules. 2017;22(2)
Serving Size 1 vegetarian capsule

Amount Per Serving

Trans-Resveratrol [from Japanese knotweed (root)]

250 mg

Quercetin (as quercetin dihydrate)

150 mg

Grape (fruit) and wild blueberry (fruit) blend [providing polyphenols, anthocyanins, OPCs]

85 mg

Fisetin [from wax tree extract (stem)]

10 mg

Other ingredients: vegetable cellulose (capsule), microcrystalline cellulose, vegetable stearate, silica, maltodextrin.
Non-GMO
Dosage and Use
Take one (1) capsule daily, or as recommended by a healthcare practitioner.
Warnings
KEEP OUT OF REACH OF CHILDREN
DO NOT EXCEED RECOMMENDED DOSE
Do not purchase if outer seal is broken or damaged.
When using nutritional supplements, please consult with your physician if you are undergoing treatment for a medical condition or if you are pregnant or lactating.
To report a serious adverse event or obtain product information, contact 1-866-280-2852.
Actual Size
Product reviews are provided for informational purposes only and reflect solely the views and opinions expressed by the contributors and not those of Life Extension. We do not verify or endorse any claims made in these reviews. Please read the full product reviews disclaimer.
Related Health Information
Longevity Quiz

Answer a few questions to choose the right supplements
<![endif]-->
Related Products
<![endif]-->

<![endif]-->