Bone Restore
120 capsules

Item # 01726
Helps maintain healthy bone density
Click to Zoom
Click to Zoom
Click to Play Video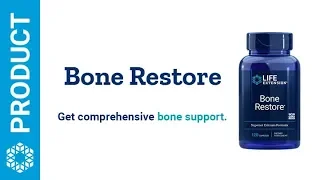 Bone Restore
120 capsules

Item # 01726
Helps maintain healthy bone density
Bone Restore helps maintain healthy bone density and strength with 700 mg of highly absorbable calcium, vitamin D3 and the critically important minerals magnesium, boron, zinc, manganese and silicon.
Supplements by Health Goal:
I have taken this product for years.
Linn
Bone Restore has boron and zinc. I will buy this product again and again!
Karen, South Carolina
I take the calcium because I don't eat/drink a lot of milk products.
Larkspurhuntress, Granby, CO
I want to ensure my bones stay strong. I was pleased with the ingredients.
Health conscious, Texas
Frequently Bought Together
This Item: Bone Restore, 120 capsules
Vitamin D3, 25 mcg (1000 IU), 90 softgels
What Is Bone Restore?
We all know calcium helps maintain bone density and strength. But what you might not realize is that dietary calcium requires adequate amounts of other vital nutrients to be most effective. That's why we've paired easily absorbable calcium with vitamin D3 and other essential bone-healthy minerals in our bone-health formula.
Bone-healthy calcium needs other nutrients to be effective, such as magnesium, boron, zinc, manganese and silicon.
Bone Restore Benefits
Delivers 3 types of easily absorbed calcium in a capsule that ensures full breakdown during digestion
Contains patented Fruitex B® OsteoBoron® for bone & joint strength
Includes zinc, manganese & silicon to support healthy bone formation
Provides vitamin D3, which is essential for absorbing calcium
What is boron?
Boron is a trace mineral that supports bone health by facilitating calcium absorption into the bone matrix.
Why did we add silicon?
Silicon is a trace mineral. Your body needs it to facilitate the transfer of calcium into the bone mineral matrix, which helps maintain bone health.
Building Strong Bones
Bone Restore provides three types of easily absorbed calcium in a capsule that ensures full breakdown during digestion, plus vitamin D3, magnesium, zinc, manganese and silicon. It also delivers boron, a trace mineral with beneficial effects for bone and joint strength, via Fruitex B® OsteoBoron®, made from a calcium/carbohydrate/boron complex similar to what's found in fruits and veggies.
Why Should I Supplement With Bone Restore?
Most of us don't take enough calcium to offset the amount that we lose during normal aging. Bone Restore from Life Extension helps to promote healthy bone density with three different forms of highly absorbable calcium.
Whether you're a man or a woman, it isn't just a matter of getting enough calcium. Research shows that you also need other nutrients for bone maintenance and development.
And Bone Restore provides a comprehensive variety of nutrients that help you absorb that calcium properly, all while promoting healthy bone formation and supporting connective tissue.
Reviewed by Dr. Michael A. Smith, MD: Director of Education and Spokesperson for Life Extension.
Many forms of calcium are not well-absorbed.1 Bone Restore provides a total of 700 mg of three types of easily absorbed calcium: dicalcium malate, calcium fructoborate and calcium bisglycinate chelate, all delivered in a capsule that ensures full breakdown during digestion.
More
These statements have not been evaluated by the Food and Drug Administration.
These products are not intended to diagnose, treat, cure, or prevent any disease.
Serving Size 4 capsules

Servings Per Container 30

Amount Per Serving

Vitamin D3 (as cholecalciferol) (1000IU)

25 mcg

Calcium [as carbonate, citrate malate, bisglycinate chelate, fructoborate]

700 mg

Magnesium (as magnesium oxide)

300 mg

Zinc (as zinc amino acid chelate)

2 mg

Manganese (as manganese amino acid chelate)

1 mg

Silicon [from horsetail extract (herb)]

5 mg

Boron (calcium fructoborate as patented Fruitex B® OsteoBoron®)

3 mg

Other ingredients: vegetable cellulose (capsule), microcrystalline cellulose, maltodextrin, silica, modified food starch, vegetable stearate.
Non-GMO
Fruitex B® and OsteoBoron® are registered trademarks of VDF Futureceuticals, Inc. U.S. Patent No. 5,962,049.
Dosage and Use
Take four (4) capsules daily, or as recommended by a healthcare practitioner.
Scientific studies suggest calcium supplementation in divided doses with food in the morning and evening may yield the best results.
Maintaining an optimal vitamin D blood level also helps maximize calcium absorption.
Warnings
KEEP OUT OF REACH OF CHILDREN
DO NOT EXCEED RECOMMENDED DOSE
Do not purchase if outer seal is broken or damaged.
When using nutritional supplements, please consult with your physician if you are undergoing treatment for a medical condition or if you are pregnant or lactating.
To report a serious adverse event or obtain product information, contact 1-866-280-2852.
Actual Size
BoneKEy reports. 2014;3:579-579.
Adv Nutr. 2016;7(1):199-201.
J Nutr Health Aging. 2014;18(9):820-6.
Accessed May 23, 2019. https://lpi.oregonstate.edu/mic/minerals/manganese#bone-development-function
Mol Cell Biochem. 2010;338(1-2):241-54.
Integrative Medicine: A Clinician's Journal. 2015;14(4):35-48.
Product reviews are provided for informational purposes only and reflect solely the views and opinions expressed by the contributors and not those of Life Extension. We do not verify or endorse any claims made in these reviews. Full product reviews disclaimer
Bone & Joint

Quiz
No bones about it—certain supplements can help you move with more comfort!
<![endif]-->
Related Products
<![endif]-->

<![endif]-->