Resveratrol Elite™
30 vegetarian capsules

Item # 02210
Age like a fine wine with this ultra-bioavailable longevity nutrient
Click to Zoom
Click to Zoom
Click to Play Video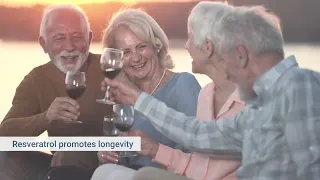 Resveratrol Elite™
30 vegetarian capsules

Item # 02210
Age like a fine wine with this ultra-bioavailable longevity nutrient
The anti-aging supplement resveratrol supports heart and brain health, while protecting your body from oxidative stress. But resveratrol has low bioavailability. Resveratrol Elite™ is specially formulated to be 10x more bioavailable, so you can make better use of this longevity nutrient.
Gluten free
Non-GMO
Vegetarian
Supplements by Health Goal:
Works as advertised. You will feel more energy.
workout ace, Texas
Like this product for healthy DNA preservation.
Healthnut, Panama
Great product. We all need more of this.
Health Coach, California
Now, I don't feel weary or tired when getting up early.
the weasal, San Francisco Bay Area
Inspired by Recent Searches
Frequently Bought Together
Frequently Bought Together
What is Resveratrol Elite™?
Trans-resveratrol—the form present in grapes and Japanese knotweed—is a great way to protect your cardiovascular, neurological, and metabolic systems from everyday aging. But very little of the resveratrol in a traditional resveratrol supplement is bioavailable. The fix: we've sheathed trans-resveratrol within a special hydrogel coating that makes it 10x more bioavailable, maximizing this longevity superstar's potential health benefits.
Resveratrol promotes longevity by protecting every cell in your body, including your heart and brain…now with 10x greater bioavailability.
Resveratrol Elite™ Benefits
Longevity nutrient that promotes overall health
Provides 10x better bioavailability*
Benefits heart, brain, and metabolic health
Protects your cells from oxidative stress
*Than unformulated resveratrol
Better resveratrol—no red wine required
You've probably heard about research that red wine is good for you. We now know that the grapes from which red wine is made contain resveratrol, a polyphenol that promotes a wide range of health and longevity mechanisms. Ordinary resveratrol has very low bioavailability. We've solved this problem by combining trans-resveratrol (from Japanese knotweed) with a hydrogel coating of galactomannan fibers from fenugreek seeds. Doing this protects resveratrol once you've ingested it. This technology increases the bioavailability by a whopping 10x, meaning your body can use much more of this amazing longevity nutrient.
Why Should I Supplement With Resveratrol Elite™?
Did you know red wine can be good for your health? It's because the grapes used to make the wine contain resveratrol, a polyphenol that promotes longevity by protecting every cell in your body, including your heart and brain. But because this longevity nutrient is hard to absorb, getting the amount of resveratrol your body needs from wine alone would put you over your limit.
That's why we created Resveratrol Elite™. It provides your daily amount without the other effects of all that red wine. Formulated with highly bioavailable trans resveratrol, Resveratrol Elite™ is absorbed easier by your body. And we've maximized this longevity superstar's potential health benefits by encasing it with a special hydrogel coating that makes it 10 times more bio-available. It's vegetarian, gluten free, Non-GMO, and manufactured in the USA.
So raise your glass to a longer, healthier life with Resveratrol Elite™ from Life Extension.
Reviewed by Dr. Michael A. Smith, MD: Director of Education and Spokesperson for Life Extension.
Resveratrol is a well-known longevity and anti-aging supplement.1 Our Optimized Resveratrol Elite™ formula contains trans-resveratrol, the form associated with beneficial biological effects.2-5 Resveratrol also promotes healthy insulin sensitivity, supports a healthy inflammatory response and has been shown to promote healthy endothelial function for a healthy cardiovascular system.4,6,7
More
These statements have not been evaluated by the Food and Drug Administration.
These products are not intended to diagnose, treat, cure, or prevent any disease.
Serving Size 1 vegetarian capsule

Amount Per Serving

Resveratrol Elite™

167 mg

Proprietary Blend: Providing 18% trans-resveratrol (30 mg) [from Japanese knotweed (root)], 35% galactomannans (58 mg) [from fenugreek (seed)]

Other ingredients: gum arabic, vegetable cellulose (capsule), sunflower lecithin, l-leucine, sunflower oil, silica, microcrystalline cellulose.
Non-GMO
Dosage and Use
Take one (1) capsule daily, or as recommended by a healthcare practitioner.
Warnings
KEEP OUT OF REACH OF CHILDREN
DO NOT EXCEED RECOMMENDED DOSE
Do not purchase if outer seal is broken or damaged.
When using nutritional supplements, please consult with your physician if you are undergoing treatment for a medical condition or if you are pregnant or lactating.
To report a serious adverse event or obtain product information, contact 1-866-280-2852.
Actual Size
Exp Gerontol. 2013;48(10):1018-24.
Nutrients. 2017;9(1)
J Food Drug Anal. 2017;25(1):134-147.
Biochim Biophys Acta. 2015;1852(6):1145-54.
Obes Rev. 2016;17(12):1329-1340.
Phytother Res. 2022
Br J Pharmacol. 2020;177(6):1258-1277.
Clin Nutr. 2021;40(3):820-829.
Product reviews are provided for informational purposes only and reflect solely the views and opinions expressed by the contributors and not those of Life Extension. We do not verify or endorse any claims made in these reviews. Full product reviews disclaimer
Longevity

Quiz

Want to stay healthy for the long haul?

<![endif]-->

<![endif]-->