Best In Class
|
Best Seller
Skin Restoring Ceramides
30 liquid vegetarian capsules

Item # 02096
Hydrates & smooths the appearance of fine lines & wrinkles
Click to Zoom
Click to Zoom
Click to Play Video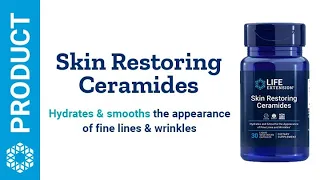 Best In Class
|
Best Seller
Skin Restoring Ceramides
30 liquid vegetarian capsules

Item # 02096
Hydrates & smooths the appearance of fine lines & wrinkles
Skin Restoring Ceramides promotes skin hydration to revitalize the skin from within, encouraging healthy ceramide levels in the skin through our once-daily, best-selling oral supplement.
Gluten free
Non-GMO
Vegetarian
Supplements by Health Goal:
I would buy this product again. 100% good for the appearance of my face.
NOEMI
Baby Soft Skin. My skin is much softer and my pores are tighter.
TCB
Make over. This product is a winner.
LINN
Frequently Bought Together
What Is Skin Restoring Ceramides?
The ceramides naturally present in our skin help retain moisture to give it that young, supple appearance. Wheat contains these same ceramides, but you can't get enough from wheat in your diet to make a difference. Skin Restoring Ceramides is a convenient oral supplement that smooths the appearance of wrinkles, hydrating and revitalizing your skin from within.
Ceramide levels naturally decrease as we age, making it hard to maintain smooth, supple, healthy skin as we get older.
Skin Restoring Ceramides Benefits
Smooths the appearance of fine lines & wrinkles
Promotes healthy skin hydration & comfort
Encourages healthy ceramide levels in aging skin
Contains concentrated, clinically studied wheat ceramides
Healthier Skin from the Inside Out
Clinical studies show significant improvement in skin hydration and the appearance of fine lines and wrinkles in people who supplement with oral ceramides. These epidermal fats help lock moisture into your skin for a youthful, healthy appearance. But over time, your body's natural supply of ceramides is depleted.
Why Should I Supplement With Skin Restoring Ceramides?
When it comes to healthy, supple, youthful-looking skin, moisture is key. Your skincare routine is important, but there's even more you can do. Based on the latest scientific research, Life Extension created Skin Restoring Ceramides to help nourish your skin from within.
This once-daily capsule helps support your skin's healthy elasticity, locks in moisture, and smooths the appearance of fine lines and wrinkles. Our gluten-free and non-GMO formula hydrates your skin from the inside out.
For plump vibrant skin, revitalize it from within. Show your skin cells some love. Try our Skin Restoring Ceramides today.
Reviewed by Dr. Michael A. Smith, MD: Director of Education and Spokesperson for Life Extension.
Ceramides play an important part of your skin's role as a protective barrier, helping to bind together the cells that make up the surface of your skin.1,2 These nourishing oils help retain moisture and protect your skin.3 But ceramide levels naturally decrease as we age, making it hard to maintain smooth, supple, healthy skin as we get older.4
More
These statements have not been evaluated by the Food and Drug Administration.
These products are not intended to diagnose, treat, cure, or prevent any disease.
Serving Size 1 liquid vegetarian capsule

Amount Per Serving

Ceratiq® wheat (Triticum vulgare) oil extract (providing glycolipids, phytoceramides and glycosylceramides)

350 mg

Other ingredients: rice bran oil, vegetable cellulose (capsule), silica, rosemary extract.

Contains wheat

Non-GMO

Gluten-free
Ceratiq® is a registered joint-trademark of PLT Health Solutions and Arco, Robertet Group, France.
Dosage and Use
Take one (1) capsule daily with food or as recommended by a healthcare practitioner.
Warnings
KEEP OUT OF REACH OF CHILDREN
DO NOT EXCEED RECOMMENDED DOSE
Do not purchase if outer seal is broken or damaged.
When using nutritional supplements, please consult with your physician if you are undergoing treatment for a medical condition or if you are pregnant or lactating.
To report a serious adverse event or obtain product information, contact 1-866-280-2852.
Actual Size
Am J Clin Dermatol. 2003;4(2):107-29.
Int J Mol Med. 2016;38(1):16-22.
Am J Clin Dermatol. 2005;6(4):215-23.
Arch Dermatol Res. 1996;288(12):765-70.
Supplier Internal Study. Data on File. 2017.
Int J Cosmet Sci. 2011;33(2):138-43.
Supplier internal study. Data on file. 2005
Product reviews are provided for informational purposes only and reflect solely the views and opinions expressed by the contributors and not those of Life Extension. We do not verify or endorse any claims made in these reviews. Full product reviews disclaimer
Essentials

Quiz
Answer a few questions to get custom supplement recommendations.
<![endif]-->
Related Products
<![endif]-->

<![endif]-->