Wellness Code® Muscle Strength & Restore Formula
Sustains muscle health and growth
Click to Zoom
Click to Zoom
Click to Play Video
Click to Play Video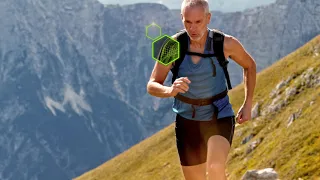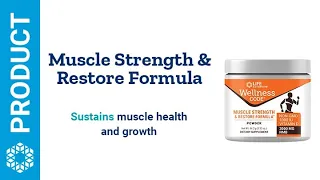 Wellness Code® Muscle Strength & Restore Formula
Sustains muscle health and growth
Wellness Code® Muscle Strength & Restore Formula helps preserve healthy muscle function at any age in an unflavored powder that mixes easily with any beverage, including protein shakes.
Supplements by Health Goal:
I would recommend for anyone (especially older people).
dogsmomma, AZ
Take this in my smoothie before working out.
Jerry
This is a great product! Mixes well!
MountainPirate, Wilkesboro, NC
Think you will love the results!
Kip, Goshen, CT
Frequently Bought Together
What Is Muscle Strength and Restore?
Wellness Code® Muscle Strength & Restore Formula delivers 3 g of HMB bioactive leucine metabolite per serving and 1,000 IU of vitamin D3 to help maintain muscle mass, build strength and support healthy, sustained muscle function. Perfect for any age, Muscle Strength & Restore easily mixes with water, a drink mix or your favorite protein shake mix.
Wellness Code® Muscle Strength & Restore Formula helps preserve healthy muscle function in an easy-to-use, unflavored powder.
Wellness Code® Muscle Strength & Restore Formula Benefits
Helps preserve healthy muscle function at any age
Promotes muscle growth when combined with resistance training
Mixes with beverage of choice, like pre- or post-workout drinks
Wellness Code® Muscle Strength & Restore Formula
The strength behind Wellness Code®
Muscle mass declines with age, contributing to loss of strength, mobility and overall health. Our Muscle Strength & Restore Formula, along with a healthy lifestyle and regular resistance training, helps you fight back. Take this convenient, flavorless powder with any of our protein shake mixes or with a beverage of your choice.
More facts about Muscle Strength & Restore Formula
HMB is a bioactive metabolite of the branched-chain amino acid leucine. HMB has been shown to help maintain muscle function and support muscle growth, especially for those over 65.1,2 Vitamin D3 has well-documented benefits for muscle health and healthy bone density.3,4 Now, both ingredients are available in a single, convenient supplement.
More
These statements have not been evaluated by the Food and Drug Administration.
These products are not intended to diagnose, treat, cure, or prevent any disease.
Serving Size 1 scoop (approx. 3.14 g)

Servings per container: about 30

Amount Per Serving

Vitamin D3 (as cholecalciferol)
25 mcg
Calcium (from MyHMB® Calcium ß-Hydroxy-ß-Methylbutyrate Monohydrate)
360 mg
HMB (MyHMB® Calcium ß-Hydroxy-ß-Methylbutyrate Monohydrate)
3000 mg

Other ingredients: sodium citrate, flavor, stevia extract, maltodextrin, starch.
Non-GMO
CaHMB and Vitamin D are licensed under U.S. Patent Nos. 8,815,280, 9,259,430, 9,539,224 and 9,707,241.
Dosage and Use
Mix one (1) scoop with approximately 8 oz cold water or beverage of choice in a shaker cup or blender (preferably with your protein shake).
Drink one shake daily, or as recommended by a healthcare practitioner.
Caution
Individuals consuming more than 50 mcg (2000 IU)/day of vitamin D (from diet and supplements) should periodically obtain a serum 25-hydroxy vitamin D measurement. Do not exceed 10000 IU per day unless recommended by your doctor. Vitamin D supplementation is not recommended for individuals with high blood calcium levels.
Warnings
KEEP OUT OF REACH OF CHILDREN
DO NOT EXCEED RECOMMENDED DOSE
Do not purchase if outer seal is broken or damaged.
When using nutritional supplements, please consult with your physician if you are undergoing treatment for a medical condition or if you are pregnant or lactating.
To report a serious adverse event or obtain product information, contact 1-866-280-2852.
Eur Geriatr Med. 2018;9(6):809-817.
Exp Gerontol. 2013;48(11):1303-10.
J Biol Chem. 2016;291(3):1514-28.
Endocr Rev. 2013;34(1):33-83.
FASEB J. 2005;19(3):422-4.
Curr Opin Crit Care. 2018;24(2):124-130.
Sports Med. 2000;30(2):105-16.
Clin Nutr. 2017
J Appl Physiol (1985). 1996;81(5):2095-104.
Med Sci Sports Exerc. 2000;32(12):2109-15.
Nutrition. 2001;17(7-8):558-66.
Amino Acids. 2011;40(4):1015-25.
Nutrition. 2000;16(9):734-9.
J Strength Cond Res. 2009;23(3):827-35.
J Int Soc Sports Nutr. 2015;12:31.
J Exerc Physiol. 2015;18(2):84-93.
Clin Nutr. 2013;32(5):704-12.
Osteoporos Int. 2002;13(3):187-94.
Front Physiol. 2017;8:1045.
Product reviews are provided for informational purposes only and reflect solely the views and opinions expressed by the contributors and not those of Life Extension. We do not verify or endorse any claims made in these reviews. Full product reviews disclaimer
Fitness

Quiz
Achieve your fitness goals—with some help from the right supplements.
<![endif]-->
Related Products
<![endif]-->

<![endif]-->