Collagen Peptides for Skin & Joints
Collagen types I, II & III in an easy-mix powder
Click to Zoom
Click to Zoom
Click to Play Video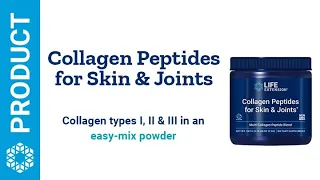 Collagen Peptides for Skin & Joints
Collagen types I, II & III in an easy-mix powder
Your body needs collagen for your skin, joints, eyes and more—but collagen production decreases as you age. This easily mixable, easily digestible collagen supplement provides three different types of collagen.
Supplements by Health Goal:
No taste and mixes easily with my morning coffee!
Pam
My nails, hair and skin are stronger and have a healthier appearance. I mix a scoop in my morning coffee. It leaves no taste and is an easy way to take it.
MARSHA
This formula mixes completely AND it has a slight creamy texture and nice smooth taste! It is a great healthy way to sneak feel good peptides into anything!!
roseann
Frequently Bought Together
What Are Collagen Peptides for Skin & Joints?
Collagen is important: it makes up about a third of your body's total protein. But collagen normally found in your diet may be difficult for your body to absorb because of its size and structure. Hydrolyzed collagen is easier to absorb, so we've combined three types into one formula. This way, you get the maximum benefit out of your daily collagen regimen.
Healthy, beautiful skin. Comfortable joints. All require collagen—a special protein that your body produces less of as you age.
Collagen Peptides for Skin & Joints Benefits
Contain Types I, II & III of hydrolyzed collagen
Supports joint health, cartilage health and joint comfort
Helps reduce appearance of wrinkles
Made with collagen hydrolysate, which is easier to digest and absorb
Unflavored powder mixes with water or favorite nutritious drink
Why We Use Hydrolyzed Collagen
The types of collagen that are most common in your body (types I, II and III) are found in your skin and connective tissue. Each type has slightly different structures that are not easy to digest and absorb in their natural, full-length form. So, we used hydrolyzed collagen (collagen hydrolysate): very small fragments of collagen that are more easily absorbed, which helps you get the most out of our collagen formula.
Collagen Peptides for Skin & Joints
Why Should I Supplement With Collagen Peptides for Skin & Joints?
Healthy glowing skin. Strong bones. Comfortable joints. What do they all have in common? Collagen.
But over time, the body produces less and less, and it's difficult to absorb from diet alone. That's why we've combined three types of collagen that are easier to absorb in our Collagen Peptides for Skin & Joints.
This science-based formula helps promote your joint comfort and health, as well as keep your skin looking healthy and vibrant. Unflavored Collagen Peptides from Life Extension easily mixes into your favorite drink. Try it today!
Reviewed by Dr. Michael A. Smith, MD: Director of Education and Spokesperson for Life Extension.
Collagen plays a pivotal role in the structure of bones, joints and skin. But because collagen is a large molecule, it's harder for your body to digest and absorb. Hydrolyzed collagen consists of smaller pieces of collagen (called collagen peptides). Together, they have the same type and amount of amino acids as a full collagen molecule but are easier for your body to digest and for your cells to assimilate. These amino acids can then be used to form collagen and elastin: two major components of healthy skin and connective tissue.
More
These statements have not been evaluated by the Food and Drug Administration.
These products are not intended to diagnose, treat, cure, or prevent any disease.
Serving Size 1 Scoop (approx. 11g)

About 30 Servings Per Container

Amount Per Serving

Calories
45
Sodium
30 mg
Protein
10 g
Type I, II & III Hydrolyzed Collagen Peptide Complex [from bovine and chicken]
11.1 g

Other ingredients: None.
Non-GMO
Dosage and Use
Mix one (1) scoop daily with water or beverage of choice, or as recommended by a healthcare practitioner.
Warnings
KEEP OUT OF REACH OF CHILDREN
DO NOT EXCEED RECOMMENDED DOSE
Do not purchase if outer seal is broken or damaged.
When using nutritional supplements, please consult with your physician if you are undergoing treatment for a medical condition or if you are pregnant or lactating.
To report a serious adverse event or obtain product information, contact 1-866-280-2852.
Cell Tissue Res. 2003;311(3):393-9.
The Open Nutraceuticals Journal. 2015;8:29-42.
Int J Food Sci Nutr. 2009;60 Suppl 2:99-113.
Skin Pharmacol Physiol. 2014;27(1):47-55.
Product reviews are provided for informational purposes only and reflect solely the views and opinions expressed by the contributors and not those of Life Extension. We do not verify or endorse any claims made in these reviews. Full product reviews disclaimer
Essentials

Quiz
Answer a few questions to get custom supplement recommendations.
<![endif]-->
Related Products
<![endif]-->

<![endif]-->