Mega Vitamin K2
High Potency for Strong Bones
45000 mcg (45 mg), 30 capsules

Item # 02417
Clinically-studied 45 mg dosage promotes healthy bone density
Click to Zoom
Click to Zoom
Click to Play Video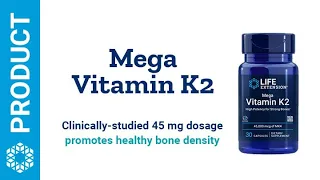 Mega Vitamin K2
High Potency for Strong Bones
45000 mcg (45 mg), 30 capsules

Item # 02417
Clinically-studied 45 mg dosage promotes healthy bone density
Vitamin K2 is essential to maintaining strong, healthy bones. Here's why: studies show that 45,000 mcg (45 mg) of a special form of K2 (menaquinone-4) is especially effective at encouraging healthy bone mineral density.
Supplements by Health Goal:
I've been taking K2 for quite some time. Have switched to Mega K2 so I can keep my bones strong for life.
ELIZABETH
I want to keep my bones strong. I was encouraged to take vitamin k and so far, I'm pleased.
James
Good evidence-based supplement!
MARK
Frequently Bought Together
This Item: Mega Vitamin K2, 45000 mcg (45 mg), 30 capsules
Bio-Fisetin, 30 vegetarian capsules
What Is Vitamin K2 High Potency?
Vitamin K (specifically vitamin K2) encourages the cellular activity of osteoblasts—specialized cells that regulate the mineralization of your bone matrix, the lattice-like support structure that bone is built upon. This helps maintain healthy bone density. And clinical studies show that 45,000 mcg of vitamin K2 as menaquinone-4 is especially effective.
Healthy bone mineral density is dependent on vitamin K2, which helps encourage mineralization of your bone matrix.
Mega Vitamin K2 High Potency for Strong Bones Benefits
Encourages bone-building cell activity
Promotes healthy bone mineral density
Supports cardiovascular health by helping to inhibit vascular calcification
Helps you get your daily dose of hard to find K2 menaquinone-4
Bone density loss over time
During development, your bones go through a growth phase until they reach a peak bone mass where remodeling and upkeep occurs. But, this process begins to decline naturally over time and leads to age-related bone density loss. But studies show that the right kind of vitamin K2 (menaquinone-4), in the right dose, can help maintain healthy bone density.
Why Should I Supplement With Mega Vitamin K2?
Vitamin K: it's important for us all, especially the K2 form. It benefits the heart, metabolism, and it provides numerous benefits for our bones. There's plenty of wonderful foods that we get it from, but more than likely, you aren't absorbing enough to maintain strong, healthy bones.
If you're concerned about maintaining bone strength and healthy bone density, consider adding Mega Vitamin K2 High Potency for Strong Bones to your daily regimen. Our experts developed our formula based on studies that showed that the right kind of vitamin K2 in the right dose can help maintain healthy bone density.
The ingredients in Mega Vitamin K2 encourage bone building cell activity, promote healthy bone mineral density, and even support your cardiovascular health.
So, for stronger, healthier bones, choose Mega Vitamin K2 High Potency for Strong Bones from Life Extension.
Reviewed by Dr. Michael A. Smith, MD: Director of Education and Spokesperson for Life Extension.
Vitamin K is essential for bone mineralization. This bone-friendly nutrient is a cofactor for the carboxylation of osteocalcin, a protein produced by osteoblasts that is responsible for binding calcium and depositing it in the bone. This processed is called bone mineralization.1,2
More
These statements have not been evaluated by the Food and Drug Administration.
These products are not intended to diagnose, treat, cure, or prevent any disease.
Serving Size 1 capsule

Amount Per Serving

Vitamin K2 [as menaquinone-4 (45 mg)]
45,000 mcg

Other ingredients: microcrystalline cellulose, gelatin (capsule), vegetable stearate, silica.
Non-GMO
Dosage and Use
Take one (1) capsule daily with food, or as recommended by a healthcare practitioner.
Caution
If you are taking a vitamin K antagonist (e.g. warfarin), consult your healthcare practitioner before taking this product.
Warnings
KEEP OUT OF REACH OF CHILDREN
DO NOT EXCEED RECOMMENDED DOSE
Do not purchase if outer seal is broken or damaged.
When using nutritional supplements, please consult with your physician if you are undergoing treatment for a medical condition or if you are pregnant or lactating.
To report a serious adverse event or obtain product information, contact 1-866-280-2852.
Actual Size
J Orthop Sci. 2000;5(6):546-51.
J Bone Miner Res. 2000;15(3):515-21.
J Orthop Sci. 2001;6(6):487-92.
Clin Interv Aging. 2014;9:121-7.
J Obstet Gynaecol Res. 2006;32(2):230-4.
Maturitas. 2002;41(3):211-21.
Product reviews are provided for informational purposes only and reflect solely the views and opinions expressed by the contributors and not those of Life Extension. We do not verify or endorse any claims made in these reviews. Full product reviews disclaimer
Bone & Joint

Quiz
No bones about it—certain supplements can help you move with more comfort!
<![endif]-->
Related Products
<![endif]-->

<![endif]-->