Mushroom Immune with Beta Glucans
30 vegetarian capsules

Item # 02426
Promotes a balanced, healthy immune response
Click to Zoom
Click to Zoom
Click to Play Video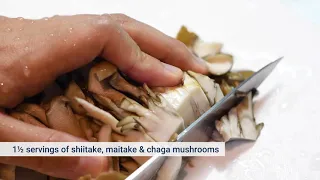 Mushroom Immune with Beta Glucans
30 vegetarian capsules

Item # 02426
Promotes a balanced, healthy immune response
People have touted the immune health benefits of mushrooms for centuries. Our formula combines shiitake, maitake and chaga mushrooms, along with a patented ß-glucan, to help maintain a healthy, balanced immune response.1,4
Gluten free
Non-GMO
Vegetarian
Supplements by Health Goal:
Great!
Kelly, Undisclosed
Great product
Kurt, Undisclosed
Frequently Bought Together
This Item: Mushroom Immune with Beta Glucans, 30 vegetarian capsules
NK Cell Activator™, 30 vegetarian tablets
What Is Mushroom Immune with Beta Glucans?
This formula uses three different immune system-supportive mushrooms plus a highly specialized ß-glucan polysaccharide from yeast to help maintain the balance between the different aspects of immune function—which in turn helps your body mount a healthy and effective immune response.1,4
Get the immune-health benefits of shiitake, maitake and chaga mushrooms all in one formula.1-3
Mushroom Immune with Beta Glucans benefits:
Supports immune health with a shiitake, maitake and chaga blend equivalent to 1.5 servings of fresh mushrooms
Made from whole dried mushrooms, not extract
Includes a clinically-studied dose of 250 mg of β-glucans from baker's yeast
What are ß-glucans?
ß-glucans are polysaccharides: soluble dietary fibers found in baker's yeast, mushrooms and oats. They help activate your immune system's primary defenders: macrophages, neutrophils, and natural killer cells, and help your immune system to react faster and smarter when faced with challenges.1,4
Mushroom Immune with Beta Glucans
Why Should I Supplement With Mushroom Immune with Beta Glucans?
You may have heard of beta glucans, but do you know what they do for you? Found in mushrooms and oats, these soluble dietary fibers help train your immune system to react faster and smarter. And with all that's going on today, we all want to support an effective immune response, but our bodies don't produce beta glucans naturally.
To help promote your healthy immune response, our experts created our Mushroom Immune with Beta Glucans. Our formula combines a trifecta of immune modulating mushrooms equal to nearly one and a half servings of fresh mushrooms. Plus, we included a patented beta glucan from Baker's yeast, which has been clinically studied for promoting the body's healthy immune response.
So promote a balanced immune response with Mushroom Immune with Beta Glucans. Try it today.
Reviewed by Dr. Michael A. Smith, MD: Director of Education and Spokesperson for Life Extension.
ß-glucans are well-recognized for their ability to promote a healthy immune response—a reputation that research now confirms. Several clinical studies have shown the immune promoting benefits of ß-glucans.1,5-9
More
These statements have not been evaluated by the Food and Drug Administration.
These products are not intended to diagnose, treat, cure, or prevent any disease.
Serving Size 1 vegetarian capsules

Amount Per Serving

Mushroom blend
400 mg
(Shiitake, Maitake, Chaga [fruiting body] [powders])

Wellmune®

250 mg
(highly purified Beta 1,3/1,6 Glucan from a unique strain of Baker's Yeast)

Other ingredients: vegetable cellulose (capsule), silica.

Non-GMO

Wellmune® is a registered trademark of Kerry Group.
Dosage and Use
Take one (1) capsule daily, or as recommended by a healthcare practitioner.
Warnings
KEEP OUT OF REACH OF CHILDREN
DO NOT EXCEED RECOMMENDED DOSE
Do not purchase if outer seal is broken or damaged.
When using nutritional supplements, please consult with your physician if you are undergoing treatment for a medical condition or if you are pregnant or lactating.
To report a serious adverse event or obtain product information, contact 1-866-280-2852.
Actual Size
Dai, X., et al. (2015). "Consuming Lentinula edodes (Shiitake) Mushrooms Daily Improves Human Immunity: A Randomized Dietary Intervention in Healthy Young Adults." J Am Coll Nutr34(6): 478-487.
Wu JY, Siu KC, Geng P. Bioactive Ingredients and Medicinal Values of Grifola frondosa (Maitake). Foods. 2021 Jan 5;10(1):95. doi: 10.3390/foods10010095. PMID: 33466429; PMCID: PMC7824844.
Lu Y, Jia Y, Xue Z, Li N, Liu J, Chen H. Recent Developments in Inonotus obliquus (Chaga mushroom) Polysaccharides: Isolation, Structural Characteristics, Biological Activities and Application. Polymers (Basel). 2021 Apr 29;13(9):1441. doi: 10.3390/polym13091441. PMID: 33947037; PMCID: PMC8124789.
De Marco Castro E, Calder PC, Roche HM. β-1,3/1,6-Glucans and Immunity: State of the Art and Future Directions. Mol Nutr Food Res. 2021 Jan;65(1):e1901071. doi: 10.1002/mnfr.201901071. Epub 2020 Apr 27. PMID: 32223047; PMCID: PMC7816268.
Mah, E., V. N. Kaden, K. M. Kelley and D. J. Liska(2020). "Beverage Containing Dispersible Yeast beta-Glucan Decreases Cold/Flu Symptomatic Days After Intense Exercise: A Randomized Controlled Trial." J Diet Suppl17(2): 200-210.
McFarlin, B. K., et al. (2017). "Oral Supplementation with Baker's Yeast Beta Glucan Is Associated with Altered Monocytes, T Cells and Cytokines following a Bout of Strenuous Exercise." Front Physiol8: 786.
McFarlin, B. K., et al. (2013). "Baker's yeast beta glucan supplementation increases salivary IgA and decreases cold/flu symptomatic days after intense exercise." J Diet Suppl10(3): 171-183.
Carpenter, K. C., et al. (2013). "Baker's yeast beta-glucan supplementation increases monocytes and cytokines post-exercise: implications for infection risk?" Br J Nutr109(3): 478-486.
Fuller, R., et al. (2017). "Yeast-derived beta-1,3/1,6 glucan, upper respiratory tract infection and innate immunity in older adults." Nutrition39-40: 30-35.
Product reviews are provided for informational purposes only and reflect solely the views and opinions expressed by the contributors and not those of Life Extension. We do not verify or endorse any claims made in these reviews. Full product reviews disclaimer
Immune

Quiz
What are the best immune support supplements for you?
<![endif]-->
Related Products
<![endif]-->

<![endif]-->