Theanine XR™ Stress Relief
30 vegetarian tablets
Item # 02429
Click to Zoom
Click to Zoom
Click to Play Video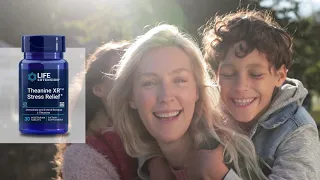 Theanine XR™ Stress Relief
30 vegetarian tablets
Item # 02429
Promotes a calm response to daytime stress
Promote a state of wakeful rest that's similar to meditating with L-theanine, green tea's calming amino acid. Our Theanine XR™ Stress Relief formula delivers 400 mg of L-theanine using extended-release technology, so you'll stay on an even keel all day long.
Gluten free
Non-GMO
Vegetarian
Supplements by Health Goal:
An all day stress relief formula for a busy life. Works wonderfully.
Loni, Undisclosed
Frequently Bought Together
This Item: Theanine XR™ Stress Relief, 30 vegetarian tablets
Quercetin & Vitamin C, 60 vegetarian tablets
Seeking a "zen" state of mind? Theanine XR™ Stress Relief supports a healthy response to stress so you can stay calm and collected all day long—without sleepiness. This formula's extended-release technology helps the body manage daytime stress.
Maintain a calm energy with our once-a-day Theanine XR™ Stress Relief.
Theanine XR™ benefits
Promotes relaxation—without making you sleepy
Encourages brain wave patterns associated with wakeful relaxation
All day stress support with extended-release technology
Why is L-theanine so soothing?
Studies show L-theanine can cross the brain-blood barrier, positively affecting the brain's pathways associated with mental relaxation and calmness. It can significantly increase brain wave activity that helps promote a state of wakeful rest similar to meditating. L-theanine also helps decrease glutamate signaling, effectively calming the mind—even during those go-go-go days.
100% Satisfaction Guarantee
Full one-year, no-hassle returns, money-back guarantee.
Highly Recommended
98% of our customers recommend us to family and friends. Life Extension is proud to be recognized as the #1 Catalog/Internet Brand 4 Time Winner.†
Complimentary, Personalized Guidance
Medical doctors, nutritionists & other health professionals are passionate about providing personalized solutions to help you achieve optimal health.
Efficacious Formulas
40 years of research dedicated to bringing you premium, scientifically-validated formulations.
Product Transparency
99% of our products are manufactured in the U.S, and a Certificate of Analysis is available for every product we produce.
Action-packed days demand a lot from our bodies. Over time, the unmanaged stress can leave us feeling frazzled.1 For many, drinking a freshly brewed cup of green tea has been the best way to achieve a state of "zen," even when life is hectic. That's because green tea is rich in L-theanine, a naturally occurring amino acid that has been shown to support a healthy response to stress.2
More
These statements have not been evaluated by the Food and Drug Administration.
These products are not intended to diagnose, treat, cure, or prevent any disease.
Sage Journals 2017
Plant Foods for Human Nutrition. 2020;75(1):12-23.
J Clin Biochem Nutr. 2016;59(2):93-99.
Brain Res. 2013;1503:24-32.
J Herb Pharmacother. 2006;6(2):21-30.
Asian Pacific Journal of Tropical Biomedicine 2017;7(9):842-848.
Serving Size 1 vegetarian tablet

Amount Per Serving

Calcium [from dicalcium phosphate]

50 mg

Phosphorus [from dicalcium phosphate]

40 mg

L-Theanine [as Theanine XR™]

400 mg

Other ingredients: microcrystalline cellulose, hydroxypropyl methylcellulose, hydroxypropyl cellulose, stearic acid, silica, vegetable stearate, croscarmellose sodium, glycerin.
Non-GMO
Dosage and Use
Take one (1) tablet daily, or as recommended by a healthcare practitioner.
Warnings
KEEP OUT OF REACH OF CHILDREN
DO NOT EXCEED RECOMMENDED DOSE
Do not purchase if outer seal is broken or damaged.
When using nutritional supplements, please consult with your physician if you are undergoing treatment for a medical condition or if you are pregnant or lactating.
To report a serious adverse event or obtain product information, contact 1-866-280-2852.
Product reviews are provided for informational purposes only and reflect solely the views and opinions expressed by the contributors and not those of Life Extension. We do not verify or endorse any claims made in these reviews. Please read the full product reviews disclaimer.
Related Health Information
Mood & Stress Quiz

Feeling out of sorts? Find out which mood-boosting nutrients can keep the stress away.
<![endif]-->
Related Products
<![endif]-->

<![endif]-->