Brain Fog Relief
Clarity and focus, fast-acting, caffeine-free
Click to Zoom
Click to Zoom
Click to Play Video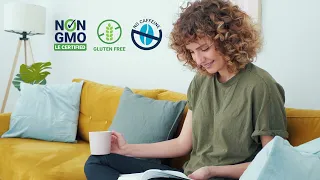 Brain Fog Relief
Clarity and focus, fast-acting, caffeine-free
Sharpen your mental focus with Brain Fog Relief. Our novel nootropic formula combines polyphenol-rich mango leaf extract and standardized peppermint oil for a powerful cognitive boost.
Supplements by Health Goal:
Better than my first cup of coffee
Richard
This just clears my head when nights are restless.
Sharon
Frequently Bought Together
What Is Brain Fog Relief?
Scatterbrained? Encourage cognitive performance with our fast-acting, caffeine-free nootropic. Brain Fog Relief combines polyphenol-rich mango leaf extract and a standardized peppermint oil to target the neurological pathways associated with occasional inattentiveness. The result? Restored mental clarity and energy.
Brain Fog Relief is a caffeine-free formula combining powerful nutrients clinically studied to tackle mental fatigue!
Brain Fog Relief Benefits
Restores focus and attention
Reduces general mental fatigue
Supports cognitive performance
What are nootropics?
Nootropic supplements help encourage mental stamina and performance. Brain Fog Relief is a fast-acting, caffeine-free nootropic specifically designed to help restore mental clarity. How? It delivers 300 mg of polyphenol-rich mango leaf extract and 100 ul of standardized peppermint oil to help regulate pathways associated with a healthy response to inflammation to support cognitive health, histamine release, and balanced neurotransmitters (chemical messengers in the brain).
Why Should I Supplement With Brain Fog Relief?
We've all been there. You're ready to leave, but your keys are missing. Or that important fact that you know is on the tip of your tongue, but it's just not coming out.
To keep your mind sharp, you need Brain Fog Relief. This novel nootropic formula combines clinically studied nutrients for a powerful cognitive boost. In studies, the ingredients helped restore focus and attention as well as reduce general mental fatigue. It's non-GMO, gluten-free and best of all, it helps you stay on target without any caffeine.
Tackle your mental fatigue with Brain Fog Relief from Life Extension.
Reviewed by Dr. Michael A. Smith, MD: Director of Education and Spokesperson for Life Extension.
When your mental focus is thrown off, for whatever reason, you just aren't as productive. That morning cup of joe may offer a temporary energy boost, but running on caffeine comes with an inevitable energy decline, dragging your focus and attention along with it. Brain Fog Relief helps you restore focus and concentration and supports cognitive performance without caffeine.
More
These statements have not been evaluated by the Food and Drug Administration.
These products are not intended to diagnose, treat, cure, or prevent any disease.
Serving Size 1 softgel

Amount Per Serving

Zynamite® mango extract (leaf) (std. to 60% mangiferin)

300 mg

Peppermint essential oil (std. to 60% monoterpenes)

90 mg

Other ingredients: sunflower oil, gelatin, glycerin, gum arabic, purified water, carob color, sunflower lecithin, beeswax, silica.

Non-GMO

Zynamite® is a registered trademark of Nektium Pharma SL. Patents and patents pending.
Dosage and Use
Take one (1) softgel daily, or as recommended by a healthcare practitioner.
Warnings
KEEP OUT OF REACH OF CHILDREN
DO NOT EXCEED RECOMMENDED DOSE
Do not purchase if outer seal is broken or damaged.
When using nutritional supplements, please consult with your physician if you are undergoing treatment for a medical condition or if you are pregnant or lactating.
To report a serious adverse event or obtain product information, contact 1-866-280-2852.
Actual Size
J Ethnopharmacol. 2020;260:112996.
Cell Mol Neurobiol. 2014;34(5):651-7.
Nutrients. 2018;10(8), 1029
J Pharm Pharmacol. 2006;58(3):385-92.
Nutrients. 2020;12(8), 2194
Product reviews are provided for informational purposes only and reflect solely the views and opinions expressed by the contributors and not those of Life Extension. We do not verify or endorse any claims made in these reviews. Full product reviews disclaimer
Brain Health

Quiz
What's your brain health goal—better memory? Sharper focus? Quicker thinking?
<![endif]-->
Related Products
<![endif]-->

<![endif]-->