Best In Class
Memory Protect
12 Colostrinin-Lithium (C-Li) Capsules | 24 Lithium (Li) Capsules Item # 02101
Supports memory & cognitive function, day & night doses
Click to Zoom
Click to Zoom
Click to Play Video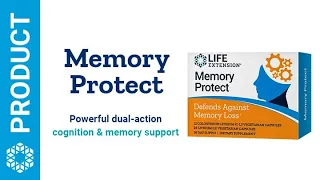 Best In Class
Memory Protect
12 Colostrinin-Lithium (C-Li) Capsules | 24 Lithium (Li) Capsules Item # 02101
Supports memory & cognitive function, day & night doses
Memory Protect supports healthy brain cell growth and function, inhibits enzymes that contribute to normal cognitive decline and helps inhibit inflammation to support healthy memory and cognition.
Supplements by Health Goal:
I use this to stay in balance and keep my focus sharp.
Constance
I follow the directions and take one a day.
Patricia, CA
It will be added to our monthly supplement regimen!
Sweetoldbill, FL
Frequently Bought Together
This Item: Memory Protect, 12 Colostrinin-Lithium (C-Li) Capsules | 24 Lithium (Li) Capsules
Quick Brain Nootropic, 30 vegetarian capsules
What Is Memory Protect?
Through normal aging factors, certain proteins in your brain can affect memory, brain cell health and cognitive function. Memory Protect, our most advanced memory and cognitive health support formula, provides nutrients that help promote brain cell health and cognitive function.
Memory Protect supports the healthy breakdown of proteins in order to support memory and cognitive health as you age.
Memory Protect Benefits
Promotes healthy brain cell growth & communication
Supports brain levels of glucose already within normal range
Inhibits specific enzyme activity to support brain health
What is colostrinin?
Colostrinin is a milk peptide that promotes the healthy breakdown of brain proteins and helps maintain cognition, memory and mental function.
Why did we add lithium?
Lithium has exceptional properties for promoting brain health and function on both the cellular and molecular levels.
Milk Peptides Promote Cognitive Health
A colostrinin polypeptide complex derived from milk has been studied in clinical trials to promote cognitive wellness. Memory Protect combines these same milk peptides with lithium to create the most comprehensive memory health supplement we've ever offered.
Why Should I Supplement With Memory Protect?
Customer: I love crossword puzzles. They're part of my Sunday morning "me time." My dad's the one who got me hooked. He's still able to solve the puzzles, but I really want to help make sure that he continues to enjoy them. So, I asked his doctor for advice on what we could do.
Michael A. Smith, MD: It's always good to speak with your doctor, especially when it comes to brain health. Studies show that as we age, proteins called beta amyloids can build up in the brain and begin to affect memory, brain cell health and cognitive function.
Customer: After we learned more, we decided to go with Life Extension's Memory Protect.
Michael A. Smith, MD: Memory Protect is scientifically formulated to help inhibit the enzymes that can contribute to normal cognitive decline. And it encourages the natural breakdown of beta amyloid proteins. To put it simply, Life Extension's Memory Protect promotes healthy brain cell growth and supports overall brain health.
Customer: Adding Memory Protect into dad's supplement regimen was a simple and smart choice.
Michael A. Smith, MD: Memory Protect also includes a milk peptide that encourages learning and memory—and the added lithium orotate helps with age-related cognitive decline and memory health.
Customer: Dad's been taking Memory Protect for a few weeks now. I'm glad he's mindful of caring for himself. He's even been on a winning streak during game night. Seeing him happy makes me happy.
Dr. Michael A. Smith, MD: Director of Education and Spokesperson for Life Extension.
In a healthy brain, proteins that inhibit healthy cognition and memory are created, but they are regularly cleared through normal processes.1 But this clearing process declines over time as part of normal aging. When that happens, these proteins begin to accumulate, affecting memory and cognitive function.2
More
These statements have not been evaluated by the Food and Drug Administration.
These products are not intended to diagnose, treat, cure, or prevent any disease.
Serving Size 1 C-Li vegetarian capsule (Tan)

Amount Per Serving

Lithium (as lithium orotate)

1000 mcg

Colostrinin (proline-rich peptide complex)

100 mcg

Other ingredients: microcrystalline cellulose, vegetable cellulose (capsule), rice blend extract, maltodextrin.

Contains milk.

Non-GMO
Supplement Facts
Serving Size 1 Li vegetarian capsule (White)

Amount Per Serving

Lithium (as lithium orotate)

1000 mcg

Other ingredients: microcrystalline cellulose, vegetable cellulose (capsule)
Non-GMO
Dosage and Use
Each capsule is contained in a blister pack labeled by day.
Start the first day of the supplementation by taking the capsule labeled Day 1 and continue taking one capsule per day in consecutive order until you reach
Day 36 then begin again with Day 1, or as recommended by a healthcare practitioner.
Warnings
KEEP OUT OF REACH OF CHILDREN
DO NOT EXCEED RECOMMENDED DOSE
Do not purchase if outer seal is broken or damaged.
When using nutritional supplements, please consult with your physician if you are undergoing treatment for a medical condition or if you are pregnant or lactating.
To report a serious adverse event or obtain product information, contact 1-866-280-2852.
Actual Size
Neurotox Res. 2018;34(3):733-748.
Pathol Int. 2017;67(4):185-193.
J Nutr Health Aging. 2009;13(3):235-41.
Arch Immunol Ther Exp (Warsz). 1999;47(6):377-85.
Med Sci Monit. 2002;8(10):PI93-6.
J Alzheimers Dis. 2004;6(1):17-26.
Neurodegenerative Dis. 2007;4(suppl 1):264.
Neuropsychopharmacology. 2018;43(5):1174-1179.
Journal of American Physicians and Surgeons. 2015;20(4)
Curr Alzheimer Res. 2016;13(8):862-72.
Neuropsychiatr Dis Treat. 2013;9:493-500.
ACS Chem Neurosci. 2014;5(6):434-42.
Aust N Z J Psychiatry. 2014;48(9):809-18.
Product reviews are provided for informational purposes only and reflect solely the views and opinions expressed by the contributors and not those of Life Extension. We do not verify or endorse any claims made in these reviews. Full product reviews disclaimer
Brain Health

Quiz
What's your brain health goal—better memory? Sharper focus? Quicker thinking?
<![endif]-->
Related Products
<![endif]-->

<![endif]-->