Women's Bladder Support
60 vegetarian capsules

Item # 02513
For bladder health and normal urinary frequency
Click to Zoom
Click to Zoom
Click to Play Video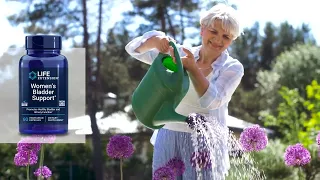 Women's Bladder Support
60 vegetarian capsules

Item # 02513
For bladder health and normal urinary frequency
Need a break from bathroom breaks? This formula combines horsetail, lindera, and three-leaf caper extracts to support bladder health and maintain healthy urinary frequency for women—day and night.
Gluten free
Non-GMO
Vegetarian
Supplements by Health Goal:
Frequently Bought Together
What is Women's Bladder Support?
Many women need a little help when it comes to bladder and urinary health—especially as they get older. The three-herb blend of horsetail, lindera and three-leaf caper extracts can help maintain bladder comfort and normal urinary frequency—with women reporting positive results in a recent clinical study.
A healthy bladder puts you in control! Women's Bladder Support helps you maintain bladder health and healthy urinary frequency.
Women's Bladder Support
Specially formulated bladder health supplement for women
Herbal supplement made with lindera, three-leaf caper and horsetail extracts
Helps maintain normal urinary frequency & nighttime urination patterns
Women reported significant bladder relief during human trials
A Science-Backed Way to Support Bladder Health
There are plenty of anecdotal recipes for bladder health out there—but this horsetail, lindera, and three-leaf caper combo is backed by science. In a clinical study including over 80 women, those taking the combination reported better bladder comfort, as well as better ability to maintain healthy urinary patterns.
Why Should I Supplement With Women's Bladder Support?
What do women want? How about a break from bathroom breaks? A healthy bladder puts you in control. That's why you should try Women's Bladder Support. Specifically designed for women, our formula uses a clinically-studied, triple-action combo of extracts to support healthy urinary frequency and your bladder comfort. And that support works day and night.
So are you ready to drive right past that rest stop? Then choose Women's Bladder Support from Life Extension.
Reviewed by Dr. Michael A. Smith, MD: Director of Education and Spokesperson for Life Extension.
When is the best time to take the Women's Bladder Control? Before or after a meal?
This product can be taken any time of the day, with or without food, based on your preference.
Do you take two (2) capsules at one time or in divided doses?
We suggest taking two capsules once per day rather than individually throughout the day because scientific research indicates this is the optimal way to benefit from this supplement.
Are there any major allergens in this product?
This product does not contain any of the major 9 allergens required on the label under the Food Allergen Labeling and Consumer Protection Act of 2004. This means it is free of milk, eggs, nuts, fish, crustaceans, shellfish, wheat, soy, and sesame.
More
When can I expect an effect?
Based on the research studies, the best effects were seen after 8 weeks. Due to our unique biochemistries and lifestyles, however, the time it takes to notice benefits can vary from person to person.
Will this supplement interact with my medication?
There is no indication that the nutrients within this formula would negatively interact with prescription medications. If you take any prescription medications and are interested in taking this supplement but have concerns, we suggest discussing supplementation with your physician.
Has this product been tested for heavy metal contamination?
All of our raw materials go through stringent testing to meet our high quality standards. Testing is performed for microbes, heavy metals, disintegration, potency, and quantity of active ingredients in the finished product. Only when raw materials meet Life Extension's specifications are they released for production. A Certificate of Analysis (COA) can be provided upon request for all our products.
Where is this product manufactured?
This product is manufactured in the USA.
Is this product vegetarian?
Yes, this product is vegetarian and does not contain any animal-derived ingredients.
Can children take this product?
This product was designed for adult women. We suggest speaking with your child's pediatrician if you have any questions about supplementation.
Less
If you don't want to spend your golden years in the ladies' room, maintaining bladder and urinary health is key. So be proactive with this bladder health supplement for women, which can help keep your bladder healthy and supports normal urinary frequency.
More
These statements have not been evaluated by the Food and Drug Administration.
These products are not intended to diagnose, treat, cure, or prevent any disease.
Serving Size 2 vegetarian capsules

Servings Per Container 30

Amount Per Serving

Urox® Proprietary Blend:

840 mg

Lindera extract (root), horsetail extract (aerial parts), Cratevox™ three-leaf caper (Crataeva nurvala ) extract (stem bark)

Other ingredients: vegetable cellulose (capsule), microcrystalline cellulose, dextrin, maltodexrin, vegetable stearate, silica.
Non-GMO
Urox® and Cratevox™ are trademarks of Seipel Group Pty Ltd. US Patent No's 9,452,191; 11,110,141.
Dosage and Use
Take two (2) capsules once daily, or as recommended by a healthcare practitioner.
Warnings
KEEP OUT OF REACH OF CHILDREN
DO NOT EXCEED RECOMMENDED DOSE
Do not purchase if outer seal is broken or damaged.
When using nutritional supplements, please consult with your physician if you are undergoing treatment for a medical condition or if you are pregnant or lactating.
To report a serious adverse event or obtain product information, contact 1-866-280-2852.
Actual Size
BMC Complementary and Alternative Medicine. 2018;18(1):42.
Tropical Journal of Pharmaceutical Research. 2015;14:1451.
Life Sci. 2016;146:100-8.
Journal of Herbs, Spices & Medicinal Plants. 2008;14(1-2):107-127.
Biomedicine & Pharmacotherapy. 2021;134:111098.
Neurourology and urodynamics. 2020;39 Suppl 3(Suppl 3):S113-S121.
J Pharmacol Sci. 2010;112(2):128-34.
Front Mol Biosci. 2022;9:896624.
Product reviews are provided for informational purposes only and reflect solely the views and opinions expressed by the contributors and not those of Life Extension. We do not verify or endorse any claims made in these reviews. Full product reviews disclaimer
Kidney & Bladder

Quiz
Get custom suggestions for a healthy urinary tract, bladder & kidneys.
<![endif]-->
Related Products
<![endif]-->

<![endif]-->