DOG Skin & Coat
Salmon Flavor
90 soft chews

Item # 02522
Dog food supplement for skin and coat health, salmon flavor
Click to Zoom
Click to Zoom
Click to Zoom
Click to Play Video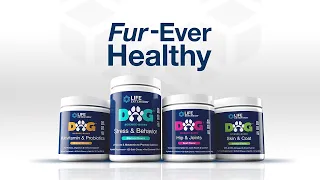 DOG Skin & Coat
Salmon Flavor
90 soft chews

Item # 02522
Dog food supplement for skin and coat health, salmon flavor
Healthy fur and skin isn't just about having a best-in-show mane—it's also key to your dog's comfort. The omega-3 fatty acids in these tasty chews are perfect for dogs with sensitive skin.
Supplements by Health Goal:
Inspired by Recent Searches
Frequently Bought Together
Frequently Bought Together
What is Life Extension® DOG Skin & Coat?
Life Extension® DOG Skin & Coat features a pure, high-potency omega-3 fish oil formula. The EPA & DHA fatty acids in fish oil have been shown to help relieve occasional skin discomfort. These healthful nutrients also help promote overall skin and coat health in dogs.
There's skin under all that fur! The omega-3s in fish oil make sure that hidden hide stays healthy and relieve occasional discomfort.
Life Extension® DOG Skin & Coat Benefits
Perfect for dogs with sensitive skin
Supports healthy skin so your dog spends less time scratching those occasional itches
Encourages overall fur and coat health
Helps keep your dog's skin and coat comfortable
Tasty salmon-flavored soft chews
No artificial colors or flavors; manufactured in the USA
Fur-Ever Healthy—Comfortable Skin & Coat
We want our pets to live long, healthy lives. That's why we created Life Extension® DOG—a line of Fur-ever healthy formulas that are made with the same quality and attention to detail as all our supplements. This skin and coat formula is perfect for dogs of all breeds, shapes and sizes. Just see the feeding instructions on the label for how many salmon-flavored soft chews to give your pet to keep them ready for mischief, adventures, and everything in between.
Life Extension Dog Skin & Coat
Why Should I give my dog Life Extension® DOG Supplements?
For over 40 years, Life Extension has been passionate about health, and now we're taking that passion to our four-legged friends with Life Extension® DOG. Each of our Fur-Ever formulas are perfect for all breeds, shapes and sizes.
Whether they need the overall support of a multivitamin, relief for their hips and joints, something to help calm and relax them, or to nourish a healthy skin and coat, help your furry BFF enjoy years of mischief, adventures, and everything in between with Life Extension® DOG.
Can my dog take this with your other Life Extension® DOG products?
Yes! All of our Life Extension® DOG products are compatible with each other and can be used together to maximize your dog's health.
When can my dog expect an effect?
In research studies of dog skin and coat health, effects were seen as early as 60 days, with the best effects seen after 180 days. However, due to each pet's unique biochemistry and lifestyle, the time it takes to notice benefits may vary from dog to dog.
More
Can cats take Life Extension® DOG products?
This product was not developed with cats in mind. It's best to work with a veterinarian to address your cat's health needs.
How was Life Extension® DOG developed?
Each product has been developed by scientists based on canine veterinary research.
Does this formula use any artificial colors or flavors?
None of Life Extension® DOG's formulas contains artificial colors or flavors. The primary flavor used in each formula is derived from natural sources.
Will this supplement interact with my dog's medication?
Based on the rigorous review of the scientific literature concerning potential interactions, there is no indication that the nutrients in Life Extension® DOG would negatively interact with your dog's medications. If you are interested in giving this product to your dog, and they are taking medication, we suggest discussing this decision with your pet's veterinarian.
Should Life Extension® DOG formulas be taken daily or as needed?
Life Extension® DOG Multivitamin & Probiotics is intended for daily and long-term use. Stress & Behavior, Hip & Joints and Skin & Coat can also be taken long-term, and we suggest using each product consistently without the need for breaks. However, depending on your pet's individual needs, any of these products also can be given to them as needed.
Is Life Extension® DOG suitable for pregnant dogs?
Since we do not provide specific suggestions for pregnant dogs, we encourage you to consult your veterinarian regarding your pet's specific needs and whether supplementation is appropriate.
Can dogs under 1 year old take Life Extension® DOG?
Life Extension DOG® was designed with adult dogs in mind. While these formulas can be taken by adult dogs to support their needs, these soft chews are not suitable for dogs under 1 year old.
When is the best time for my dog to take Life Extension® DOG products? Should they be taken before or after a meal?
All of Life Extension® DOG's formulas can be taken any time of the day, with or without food, based on your pet's preference.
Have Life Extension® DOG products been tested for heavy metal contamination?
All our raw materials go through stringent testing to meet our high-quality standards. Testing is performed for microbes, heavy metals, disintegration, potency, and quantity of active ingredients in the finished product. Only when raw materials meet Life Extension's specifications are they released for production. A Certificate of Analysis (COA) can be provided upon request for all our products.
Where is Life Extension® DOG manufactured?
All of Life Extension® DOG's products are manufactured in the USA.
Less
Omega-3 fatty acids from fish oil
Eicosapentaenoic acid (EPA) and docosahexaenoic (DHA) are the two most famous omega-3 fatty acids found in fish oil. They've got a healthy reputation for a reason: they have been shown to support canine skin health, promote comfort, and help maintain a healthy coat of fur.1,2
More
Guaranteed Analysis Per 1 Soft Chew (4 g)

Guarantees are minimum unless otherwise stated.

Crude Protein

7%

Crude Fat

22%

Crude Fiber (Max.)

16%

Moisture (Max.)

17%

Fish oil yielding

EPA (Eicosapentaenoic acid)

160 mg

DHA (Docosahexaenoic acid)

100 mg

Ingredients: tapioca flour, flax powder, chickpea flour, water, glycerin, salmon flavor, guar gum, sunflower lecithin, mixed tocopherols, sorbic acid.
Feeding Directions
Up to 20 lbs...........................1 Soft Chew
21 - 40 lbs.............................2 Soft Chews
41 - 60 lbs.............................3 Soft Chews
61 lbs and over......................4 Soft Chews
This product is intended for intermittent and supplemental feeding only.
Additional Information
For use in dogs only. Not for human consumption. Keep out of the reach of children and animals. Not for dogs under 1 year old. In case of accidental overdose, contact a health professional immediately. Do not purchase if inner seal is damaged. Store tightly closed in a cool, dry place.
Veterinary Dermatology. 1994; 5: 99-104
Prostaglandins Leukot Essent Fatty Acids. 2020 Aug;159:102140.
Product reviews are provided for informational purposes only and reflect solely the views and opinions expressed by the contributors and not those of Life Extension. We do not verify or endorse any claims made in these reviews. Full product reviews disclaimer
Essentials

Quiz

Answer a few questions to get custom supplement recommendations.

<![endif]-->