Rainforest Blend Decaf Ground Coffee
12 oz Item # 02170
Antioxidant coffee benefits, 100% certified organic
Click to Zoom
Click to Zoom
Click to Play Video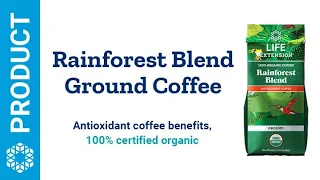 Rainforest Blend Decaf Ground Coffee
12 oz Item # 02170
Antioxidant coffee benefits, 100% certified organic
Our Rainforest Blend Ground Coffee comes from 100% USDA certified organic Arabica coffee beans made with a special HealthyRoast® process to preserve potent coffee antioxidant benefits and a rich, delicious flavor.
Supplements by Health Goal:
An amazingly fresh full taste
ELLEN
Good for a decaf. Purchase for the special benefits.
Bonnie, Gettysburg PA
Great smooth taste plus the added benefit of a roasting process.
Ed Dawg, Coastal, NC
My husband won't drink any other coffee but Rain Forest.
CHYENNE
Frequently Bought Together
This Item: Rainforest Blend Decaf Ground Coffee, 12 oz
What Is Rainforest Blend Decaf Ground Coffee?
Coffee is naturally packed with antioxidants, but traditional roasting techniques strip many of these health-promoting compounds. Not our method. Our Rainforest Blend Ground Coffee is made using the HealthyRoast® process, which helps preserve coffee's naturally occurring antioxidant polyphenols, so you get the most out of your morning.
The HealthyRoast® process helps preserve coffee's antioxidant polyphenols & compounds that protect the stomach from discomfort.
Rainforest Blend Ground Coffee Benefits
Contains 100% USDA certified organic ground coffee beans
Specially prepared using the patented HealthyRoast® process
Packed with healthy polyphenol antioxidants
Easy on the stomach
Available caffeinated or decaffeinated
HEALTHYROAST® Helps Retain Coffee's Antioxidants
Most coffees lose much of their healthy antioxidants, like chlorogenic acid, during the roasting process. This is a shame because coffee's polyphenol antioxidants help protect the body from oxidative stress and chlorogenic acid helps inhibit an enzyme that can stimulate excess gluconeogenesis, which can result in unhealthy blood sugar levels.
Rainforest Blend Decaf Ground Coffee
Why Should I Supplement With Rainforest Blend Ground Coffee?
"Coffee is naturally packed with antioxidants, but the traditional roasting techniques strip the beans of these health-promoting compounds.
"Life Extension's Rainforest Blend antioxidant coffee comes from 100% USDA certified organic Arabica beans. And Rainforest Blend is prepared using a special patented, Healthy Roast process to preserve its potent antioxidants and rich delicious flavor."
Dr. Michael A. Smith, MD: Director of Education and Spokesperson for Life Extension.
Now, we've found a way to deliver rich, delicious coffee while retaining this incredible plant's nutritional profile.
HealthyRoast® coffee-roasting process
More
These statements have not been evaluated by the Food and Drug Administration.
These products are not intended to diagnose, treat, cure, or prevent any disease.
100% organic Arabica coffee beans
Easy Brew Instructions
Use two tablespoons of ground coffee for each 6 fl. oz. cup.
Use fresh filtered water.
Brew and enjoy.
For optimal freshness, close bag securely or transfer to an airtight container.
HealthyRoast® US Patent Nos. 8,357,419
Warnings
KEEP OUT OF REACH OF CHILDREN
DO NOT EXCEED RECOMMENDED DOSE
Do not purchase if outer seal is broken or damaged.
When using nutritional supplements, please consult with your physician if you are undergoing treatment for a medical condition or if you are pregnant or lactating.
To report a serious adverse event or obtain product information, contact 1-866-280-2852.
Product reviews are provided for informational purposes only and reflect solely the views and opinions expressed by the contributors and not those of Life Extension. We do not verify or endorse any claims made in these reviews. Full product reviews disclaimer
Essentials

Quiz
Answer a few questions to get custom supplement recommendations.
<![endif]-->
Related Products
<![endif]-->

<![endif]-->