Super Omega-3 EPA/DHA Fish Oil, Sesame Lignans & Olive Extract (Enteric Coated)
60 enteric-coated softgels

Item # 01985
Heart & brain health, inflammation health support, for sensitive stomachs
Click to Zoom
Click to Zoom
Click to Play Video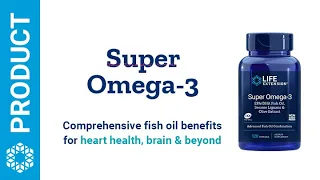 Super Omega-3 EPA/DHA Fish Oil, Sesame Lignans & Olive Extract (Enteric Coated)
60 enteric-coated softgels

Item # 01985
Heart & brain health, inflammation health support, for sensitive stomachs
Our best-selling Super Omega-3 EPA/DHA formula is an IFOS™ 5-star certified fish oil packed with EPA and DHA fatty acids, olive polyphenols and more to promote heart health, brain health, and beyond.
Eye Doctor told me to take Omega 3 for my eyes. These I can tolerate.
Jane
Have been taking for many years now. I'm a believer in Omega 3 and LE.
Carole/senior, Florida
Excellent product that I tried for 30 days then reordering for months.
RBL, Yakima, Wash.
Excellent fish oil supplement. I do not burp any aftertaste whatsoever.
Doug Willhoit, Springfield, IL
Inspired by Recent Searches
Frequently Bought Together
Frequently Bought Together
What Is Super Omega-3 EPA/DHA Fish Oil, Sesame Lignans & Olive Extract (Enteric Coated)?
EPA and DHA fatty acids from fish oil support cardiovascular health, brain health, and much more. Inspired by the Mediterranean diet, our Super Omega-3 delivers the EPA and DHA omega-3 fatty acids your body needs, plus potent olive polyphenols and sesame lignans for additional cardiovascular, cognitive, and whole-body health benefits.
Take care of your heart and cognitive health with optimal doses of EPA and DHA omega-3 fatty acids.
Super Omega-3 EPA/DHA Fish Oil Benefits
Supports both cardiovascular and cognitive health
Helps maintain already-healthy LDL & HDL cholesterol & triglyceride levels
Contains heart-healthy Mediterranean olive & sesame extracts
IFOS™-certified and sustainably-sourced anchovy from the South Pacific coast of Chile
What is olive extract?
This olive extract is packed with heart-healthy polyphenols, providing the polyphenol equivalent of just over 4 tablespoons of extra virgin olive oil.
Why add sesame lignans?
We've added sesame lignans to our Super Omega-3 formulas to enhance the health benefits of fish oil and inhibit peroxidation.
A Fish Oil That's Fresh & Pure
Super Omega-3 EPA/DHA Fish Oil, Sesame Lignans & Olive Extract is made with Pure+™, a wild fish oil concentrate derived from South Pacific Ocean anchovy. Processed in Chile within hours of harvest, you can be confident that you're getting an exceptionally fresh fish oil formula.
Life Extension - Why Do We Do It?
The Best Supplements Science Can Offer
When putting something in your body, you should be confident that you're getting the nutritional benefits your body deserves. We've been delivering the highest-quality products—backed by science and formulated with the finest ingredients—for over 40 years.
What Matters to You, Matters to Us
We're committed to empowering you to live a healthier life. Whether it's finding sustainable partners for our ingredients or funding the latest anti-aging research, we're all about your health & wellness.
Highly Recommended
98% of our customers recommend us to family and friends. We're very proud of that because our loved ones matter to us—and we're willing to bet you feel the same way.
Product Transparency
40 years of research dedicated to bringing you premium, scientifically-validated formulations.
Super Omega-3 EPA/DHA is our best-selling omega-3 fish oil supplement. It delivers an optimal dose of EPA and DHA omega-3 fatty acids. Inspired by the heart-healthy Mediterranean diet, Super Omega-3 also contains potent olive polyphenols and sesame lignans for additional health benefits.
More
These statements have not been evaluated by the Food and Drug Administration.
These products are not intended to diagnose, treat, cure, or prevent any disease.
Serving Size 2 enteric coated softgels

Servings Per Container 30

Amount Per Serving

Calories

25

Total Fat

2.5 g

Cholesterol

< 5 mg

Pure+™ Wild Fish Oil Concentrate

2000 mg

Yielding:

EPA (eicosapentaenoic acid)

700 mg

DHA (docosahexaenoic acid)

500 mg

Polyphen-Oil™ Olive extract (fruit and leaf) [providing 19.5 mg polyphenols, 5.2 mg hydroxytyrosol/tyrosol, 4.4 mg verbascoside/oleuropein]

300 mg

Sesame seed lignan extract

10 mg

Other ingredients: highly refined fish oil concentrate (Anchovy), gelatin, glycerin, aqueous enteric coating, purified water, silica, beeswax, caramel color, natural flavor, sunflower lecithin, mixed tocopherols, maltodextrin, rosemary extract.
Contains Sesame
Non-GMO
IFOS™ certification mark is a registered trademark of Nutrasource Diagnostics, Inc. These products have been tested to the quality and purity standards of the IFOS™ program conducted at Nutrasource Diagnostics, Inc.
Dosage and Use
Take two (2) softgels twice daily with meals, or as recommended by a healthcare practitioner.
Caution
If you are taking anticoagulant or antiplatelet medications, or have a bleeding disorder, consult your healthcare provider before taking this product.
Warnings
KEEP OUT OF REACH OF CHILDREN
DO NOT EXCEED RECOMMENDED DOSE
Do not purchase if outer seal is broken or damaged.
When using nutritional supplements, please consult with your physician if you are undergoing treatment for a medical condition or if you are pregnant or lactating.
To report a serious adverse event or obtain product information, contact 1-866-280-2852.
Actual Size
Prog Cardiovasc Dis. 2015;58(1):50-60.
N Engl J Med. 2018;378(25):e34.
Nutrients. 2015;7(11):9139-9153.
Atherosclerosis. 2014;232(1):10-6.
Am J Hypertens. 2014;27(7):885-96.
J Am Soc Hypertens. 2017;11(1):10-19.
Food Funct. 2018;9(7):3576-3596.
Cardiovasc Diabetol. 2018;17(1):98.
Nutrients. 2014;6(10):4058-73.
Nutrients. 2018;10(8)
Nutr Res. 2018;50:1-9.
Atherosclerosis. 2016;252:175-81.
Asia Pac J Clin Nutr. 2017;26(5):939-956.
Int J Mol Sci. 2016;17(12)
Product reviews are provided for informational purposes only and reflect solely the views and opinions expressed by the contributors and not those of Life Extension. We do not verify or endorse any claims made in these reviews. Full product reviews disclaimer
Heart Health

Quiz

Treat your ticker to the best cardiovascular support supplements.

<![endif]-->

<![endif]-->