Best Seller
MacuGuard® Ocular Support with Saffron
Click to Zoom
Double Tap to Zoom
Click to Zoom
Double Tap to Zoom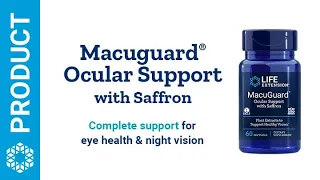 Click to Play Video
Best Seller
MacuGuard® Ocular Support with Saffron
Lutein & saffron for eye health & night vision
Nutrients like lutein and saffron support eye health. Our Best Seller MacuGuard® formula delivers powerful carotenoids and flavonoids for maintaining eye health, plus C3G from black currant and saffron.
This helps my eyes feel rested.
Shirley
I have taken this for quite some time.
Mildred
MacuGuard® Ocular Support with Saffron provides lutein, zeaxanthin, vitamin A, C3G, and saffron: hard to get nutrients that help support the eye's delicate photoreceptor cells, promote macular and retinal health and support healthy night vision. It is our best-selling formula for eye health.
The nutrients our eyes need are hard to come by. That's why we created our best-selling MacuGuard® formula.
MacuGuard® Ocular Support with Saffron Benefits
Delivers comprehensive ocular nutritional support in a single softgel
Contains lutein, two forms of zeaxanthin & saffron compounds
Contains phospholipids to promote lutein absorption
Contains berry flavonoids to support night vision
What are the health benefits of Saffron?
Saffron is a kind of spice. Saffron extracts have been used to promote feelings of satiety and to promote visual acuity and eye health.
MacuGuard® Ocular Support with Saffron
Carotenoids — Eye-friendly nutrients
Carotenoid compounds are found in a wide variety of vegetables and plants. Which is good, because your body cannot produce them on its own. Carotenoids lutein and zeaxanthin are abundant in your macula—the delicate part of your retina that is responsible for clear, sharp vision. They also support underlying photoreceptor cells from light damage.
Your eyes can undergo changes as a factor of normal aging.1,2 But certain focused nutrients can have a beneficial effect on normal eye health.3 That's why we created our MacuGuard® eye health support formulas.
More
These statements have not been evaluated by the Food and Drug Administration.
These products are not intended to diagnose, treat, cure, or prevent any disease.
Postgrad Med J. 2006;82(971):581-7.
J Aging Health. 2016;30(3):327-41.
Antioxidants (Basel). 2019;8(4)
Nutrients. 2013;5(5):1823-39.
Annu Rev Nutr. 2016;36:571-602.
Nutrients. 2018;10(9):1321.
Clin Interv Aging. 2008;3(3):473-82.
Annu Rev Nutr. 2003;23:171-201.
J Med Liban. 2009;57(4):261-7.
J Ophthalmol. 2015;2015:687173.
Free Radic Biol Med. 2012;53(6):1298-307.
Arq Bras Oftalmol. 2016;79(1):56-61.
Adv Pharm Bull. 2017;7(1):35-42.
Mol Cell Biochem. 2006;281(1-2):103-10.
Int J Pharm. 2011;412(1-2):99-105.
Lipids. 2009;44(9):799-806.
J Agric Food Chem. 2003;51(12):3560-3.
Acta Pharmacol Sin. 2012;33(3):291-9.
Vis Neurosci. 2011;28(6):485-97.
Invest Ophthalmol Vis Sci. 2005;46(3):769-75.
J Immunol Res. 2018;2018:5604610.
Med Hypothesis Discov Innov Ophthalmol. 2016;5(1):32-38.
Evid Based Complement Alternat Med. 2012;2012:429124.
Graefes Arch Clin Exp Ophthalmol. 2019;257(1):31-40.
Serving Size 1 softgel

Amount Per Serving

MacuGuard® proprietary blend

173 mg

Phospholipids, marigold extract (Tagetes erecta) (flower) [providing 10 mg free lutein, 4 mg meso-zeaxanthin & trans-zeaxanthin], mixed carotenoids [providing 1.24 mg α-carotene]

Saffron extract (stigma)

20 mg

C3G (cyanidin-3-glucoside) [from European black currant extract (fruit)]

2.2 mg

Other ingredients: extra virgin olive oil, gelatin, glycerin, safflower oil, beeswax, palm oil, purified water, acacia gum, annatto color, potato maltodextrin.
Non-GMO
LuteinPlus® and Mz® are registered trademarks of Nutriproducts Ltd., UK, licensed under U.S. Patent 8,623,428.
Dosage and Use
Take one (1) softgel daily, with food, or as recommended by a healthcare practitioner.
Based on scientific studies, this formula is enhanced with phospholipids to increase lutein absorption.
​
Warnings
KEEP OUT OF REACH OF CHILDREN
DO NOT EXCEED RECOMMENDED DOSE
Do not purchase if outer seal is broken or damaged.
When using nutritional supplements, please consult with your physician if you are undergoing treatment for a medical condition or if you are pregnant or lactating.
To report a serious adverse event or obtain product information, contact 1-866-280-2852.
Actual Size
Product reviews are provided for informational purposes only and reflect solely the views and opinions expressed by the contributors and not those of Life Extension. We do not verify or endorse any claims made in these reviews. Please read the full product reviews disclaimer.
Related Health Information
Essentials Quiz
Answer a few questions to choose the right supplements
<![endif]-->
Related Products
<![endif]-->

<![endif]--> <![endif]--> <![endif]--> <![endif]-->