Astaxanthin with Phospholipids
4 mg, 30 softgels
Item # 01923
Click to Zoom
Click to Zoom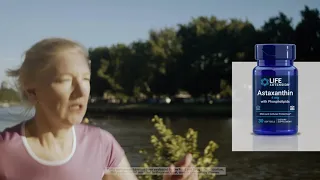 Click to Play Video
Astaxanthin with Phospholipids
4 mg, 30 softgels
Item # 01923
Powerful healthy aging nutrient for ocular health & more
Astaxanthin with Phospholipids combines astaxanthin with a proprietary blend of four phospholipids to facilitate absorption, promote healthy aging, support ocular health and offer whole-body benefits.
Noticeable difference when taking this product.
Johnnychips, Cleveland OH
Help for tired eyes. I will continue to use this fine product.
Cheíto, New York City, NY
I make this vitamin part of my daily intake. Excellent for overall health.
Sunshine, Lake Wales, FL
Frequently Bought Together
This Item: Astaxanthin with Phospholipids, 4 mg, 30 softgels
Bio-Fisetin, 30 vegetarian capsules
What Is Astaxanthin with Phospholipids?
Astaxanthin is a versatile nutrient loaded with health benefits. It's been shown to relieve general eye fatigue and promote a healthy inflammatory response. Astaxanthin helps optimize immune, memory, cardiovascular, metabolic, and mitochondrial health. It can even help maintain healthy cognitive function and encourage muscle strength and endurance.
This formula includes a proprietary blend of four phospholipids to increase absorption of astaxanthin several-fold.
Astaxanthin with Phospholipids Benefits
Helps support a healthy inflammatory and immune response
Supports cognitive and memory health
Encourages metabolic, mitochondrial and cardiovascular health
Provides powerful antioxidant protection + whole-body health benefits
Proprietary phospholipid blend enhances astaxanthin absorption
Astaxanthin with Phospholipids
Maximum Benefits
Life Extension® has combined astaxanthin with a proprietary blend of four phospholipids to maximize absorption of this valuable and versatile nutrient. This innovative formulation has been shown to enhance carotenoid absorption to maximize astaxanthin's antioxidant benefits for whole-body health.
Astaxanthin is a remarkable nutrient with benefits for whole body health. It has been scientifically shown to promote visual acuity and to help lubricate the eyes, an important concern for those who spend time looking at electronic screens.1
More
These statements have not been evaluated by the Food and Drug Administration.
These products are not intended to diagnose, treat, cure, or prevent any disease.
Altern Med Rev. 2011;16(4):355-64.
Nutr Metab (Lond). 2010;7:18.
J Cachexia Sarcopenia Muscle. 2018;9(5):826-833.
Int J Pharm. 2011;412(1-2):99-105.
Serving Size 1 softgel

Amount Per Serving

Astaxanthin Phospholipid Proprietary Blend
Phospholipids, Natural Astaxanthin [from extract of Haematococcus pluvialis algae (providing 4 mg astaxanthin)]

84 mg

Other ingredients: sunflower oil, gelatin, glycerin, extra virgin olive oil, purified water.
Non-GMO
Dosage and Use
Take one (1) softgel once or twice daily, or as recommended by a healthcare practitioner.
​
Warnings
KEEP OUT OF REACH OF CHILDREN
DO NOT EXCEED RECOMMENDED DOSE
Do not purchase if outer seal is broken or damaged.
When using nutritional supplements, please consult with your physician if you are undergoing treatment for a medical condition or if you are pregnant or lactating.
To report a serious adverse event or obtain product information, contact 1-866-280-2852.
Actual Size
Product reviews are provided for informational purposes only and reflect solely the views and opinions expressed by the contributors and not those of Life Extension. We do not verify or endorse any claims made in these reviews. Please read the full product reviews disclaimer.
Related Health Information
Longevity Quiz
Answer a few questions to choose the right supplements
<![endif]-->
Related Products
<![endif]-->

<![endif]-->