Bio-Fisetin
30 vegetarian capsules
Item # 02414
Click to Zoom
Double Tap to Zoom
Click to Zoom
Double Tap to Zoom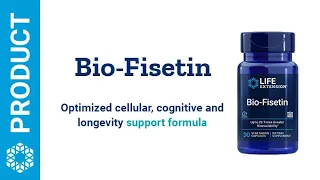 Click to Play Video
Bio-Fisetin
30 vegetarian capsules
Item # 02414
Optimized cellular, cognitive and longevity support formula
Fisetin has loads of health benefits. But fisetin is rapidly metabolized during the digestive process. So we've created a formula that helps preserve fisetin, so you get the maximum benefit.
Gluten free
Non-GMO
Vegetarian
We've combined fisetin with special galactomannan compounds from fenugreek seeds. Doing so protects fisetin during digestion, a technique we pioneered with our flagship Curcumin Elite™ formula. The result: better bioavailability—up to 25 times better than unformulated fisetin—so your body gets the maximum health benefits.
Most forms of fisetin have low bioavailability, but not Bio-Fisetin—thanks to special fenugreek fibers called galactomannans.
Bio-Fisetin Benefits
Maximizes fisetin bioavailability with special fenugreek fiber coating
Helps your body clear senescent cells, supporting cellular health and longevity
Supports brain health and helps protect brain function
Supports healthy glucose metabolism, which helps protect eye and kidney health
Making a more bioavailable fisetin
When you ingest fisetin, enzymes in your digestive system soon break it down to various metabolites. To shield it from being quickly broken down, we've combined fisetin with galactomannan fibers from fenugreek seeds, a technique we pioneered with our Curcumin Elite™ formula. Doing so preserves fisetin through your digestive system, allowing it to circulate: Bio-Fisetin is up to 25 times more bioavailable than standard fisetin supplements.
By combining fisetin with fenugreek fibers, we're able to create a fisetin formula that is up to 25 times more bioavailable. This means that the fisetin in our Bio-Fisetin supplement circulates longer than traditional fisetin. So what good can all that extra time with fisetin do for your body? As it turns out, quite a bit!
More
These statements have not been evaluated by the Food and Drug Administration.
These products are not intended to diagnose, treat, cure, or prevent any disease.
EBioMedicine. 2018;36:18-28.
Mini Rev Med Chem. 2018;18(13):1151-1157.
Nutr Res Pract. 2017;11(5):430-434.
Biochem Biophys Res Commun. 2015;467(4):638-44.
Life Sci. 2018;193:171-179.
Int Immunopharmacol. 2017;45:135-147.
Clin Appl Thromb Hemost. 2019;25:1076029619871359.
Journal of dietary supplements. 2020:1-15.
Molecular neurobiology. 2017;54(3):2269-2285.
Food Funct. 2019;10(5):2970-2985.
Nutr Metab (Lond). 2015;12:60.
Serving Size 1 vegetarian capsule

Amount Per Serving

Bio-Fisetin Proprietary Blend:
44.5 mg
Providing 18% fisetin (8 mg) [from wax tree extract (stem)], 35% galactomannans (15 mg) [from fenugreek (seed)]

Other ingredients: microcrystalline cellulose, vegetable cellulose (capsule), silica, vegetable stearate, soluble fiber, sunflower lecithin.
Non-GMO
Dosage and Use
Take one (1) capsule daily, or as recommended by a healthcare practitioner.
Warnings
KEEP OUT OF REACH OF CHILDREN
DO NOT EXCEED RECOMMENDED DOSE
Do not purchase if outer seal is broken or damaged.
When using nutritional supplements, please consult with your physician if you are undergoing treatment for a medical condition or if you are pregnant or lactating.
To report a serious adverse event or obtain product information, contact 1-866-280-2852.
Actual Size
Product reviews are provided for informational purposes only and reflect solely the views and opinions expressed by the contributors and not those of Life Extension. We do not verify or endorse any claims made in these reviews. Please read the full product reviews disclaimer.
Related Health Information
Longevity Quiz
Answer a few questions to choose the right supplements
<![endif]-->
Related Products
<![endif]-->

<![endif]-->