Liquid Vitamin D3 (Mint)
50 mcg (2000 IU), 29.57 ml

Item # 02232
Immune, bone & whole body health, tasty flavor
Click to Zoom
Click to Zoom
Click to Play Video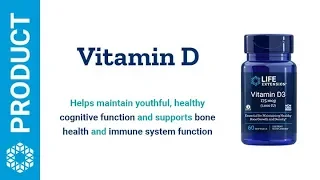 Liquid Vitamin D3 (Mint)
50 mcg (2000 IU), 29.57 ml

Item # 02232
Immune, bone & whole body health, tasty flavor
Your skin produces vitamin D when in direct sunlight or indoor tanning devices, but that's not an ideal solution for obvious reasons. Choose a potent vitamin D3 supplement from Life Extension instead.
I need more Vit D than is often suggested and this fits the bill.
PATRICIA
Awesome product that helps keep me going! Great People and shipping!
JEFF
Easy to take and last a long time.
SHAWN
I get weary of so many supplements so if any come in liquid form I try it.
DONNA
Inspired by Recent Searches
Frequently Bought Together
This Item: Liquid Vitamin D3 (Mint), 50 mcg (2000 IU), 29.57 ml
Frequently Bought Together
This Item: Liquid Vitamin D3 (Mint), 50 mcg (2000 IU), 29.57 ml
What Is Liquid Vitamin D3 (Mint)?
Supplementing with vitamin D goes a long way. Vitamin D helps preserve youthful cognitive function, supports bone and immune system health, helps maintain already-healthy blood pressure, encourages a healthy inflammatory response and promotes endothelial function. We recommend between about 125 mcg (5,000 IU) to 200 mcg (8,000 IU) of vitamin D3 a day.
Make sure you're getting enough of vitamin D3, the sunshine vitamin. Add Vitamin D3 to your supplement regimen today.
Vitamin D3 Benefits
Helps maintain youthful, healthy cognitive function
Supports bone health & immune system function
Promotes cardiovascular & endothelial health
Helps maintain blood pressure already within the normal range
Getting Enough of the Sunshine Vitamin
Vitamin D is called the sunshine vitamin because your skin manufactures it when exposed to sunlight, but that shouldn't be your only source. A vitamin D supplement goes a long way. We recommend about 125 mcg (5,000 IU) to 200 mcg (8,000 IU) of vitamin D3 a day. If your multivitamin already delivers 25-75 mcg (1,000–3,000 IU) of vitamin D, vitamin D3 125 mcg (5,000 IU) is perfect for achieving optimal levels.
Why Should I Supplement With Liquid Vitamin D3 (Mint)?
Customer: To me, there's nothing better than being outside on a really nice day. Whether I'm working in my garden or taking a walk with my family, we all love the outdoors. But during my last checkup, the doctor noticed that I wasn't getting enough vitamin D.
Michael A. Smith, MD: From your brain to your heart, your bones to your immune system, vitamin D affects nearly every cell in your body and is critical for optimal health. Even if you spend a lot of time outdoors, your body may not be producing enough of this important vitamin. In fact, studies show that people are really low in vitamin D—and that's why doctors are recommending it to their patients more than ever.
Customer: So, my body needs more vitamin D, but there are all these different doses and options. How can I decide which is best for me?
Michael A. Smith, MD: Like all of our products, Life Extension's Vitamin D3 is made with the highest quality standards. We recommend taking 5,000 international units a day, but we offer doses ranging from 1,000 to 7,000 units depending on your vitamin D blood level. Be sure to check with your doctor to see which one is right for you. We also offer Vitamins D and K with Sea-Iodine™ for a complete vitamin D formulation.
Customer: Three weeks in, and vitamin D has really made an impact on my whole life. I have more energy and overall, I feel for lack of a better word…sunnier.
Dr. Michael A. Smith, MD: Director of Education and Spokesperson for Life Extension.
Maintaining healthy levels of vitamin D helps preserve youthful cognitive function and offers broad-spectrum benefits for bone, immune system health and more. Here's why you should be making sure you get enough of this essential vitamin every day:
More
These statements have not been evaluated by the Food and Drug Administration.
These products are not intended to diagnose, treat, cure, or prevent any disease.
Serving Size 1 drop (approx. 0.04 mL)

Servings Per Container about 850

Amount Per Serving

Vitamin D3 (as cholecalciferol)

50 mcg

Other ingredients: medium chain triglycerides oil, peppermint flavor.

Contains tree nuts (coconut).

Non-GMO
Dosage and Use
Take one (1) drop once or twice daily with food, or as recommended by a healthcare practitioner.
Note
The number of drops may vary based on temperature and altitude.
Caution
Individuals consuming more than 50 mcg (2000 IU)/day of vitamin D (from diet and supplements) should periodically obtain a serum 25-hydroxy vitamin D measurement. Do not exceed 10000 IU per day unless recommended by your doctor. Vitamin D supplementation is not recommended for individuals with high blood calcium levels.
Warnings
KEEP OUT OF REACH OF CHILDREN
DO NOT EXCEED RECOMMENDED DOSE
Do not purchase if outer seal is broken or damaged.
When using nutritional supplements, please consult with your physician if you are undergoing treatment for a medical condition or if you are pregnant or lactating.
To report a serious adverse event or obtain product information, contact 1-866-280-2852.
J Am Geriatr Soc. 2017;65(10):2161-2168.
Neurology. 2012;79(13):1397-405.
Exp Gerontol. 2017;90:90-97.
Ageing Res Rev. 2013;12(4):1013-23.
Linus Pauling Institute. Vitamin D. Accessed 9/5/19. https://lpi.oregonstate.edu/mic/vitamins/vitamin-D
J Steroid Biochem Mol Biol. 2018;175:190-194.
J Am Coll Cardiol. 2011;58(2):186-92.
Hypertension. 2011;57(1):63-9.
Expert Rev Cardiovasc Ther. 2010;8(11):1599-608.
Product reviews are provided for informational purposes only and reflect solely the views and opinions expressed by the contributors and not those of Life Extension. We do not verify or endorse any claims made in these reviews. Full product reviews disclaimer
Bone & Joint

Quiz

No bones about it—certain supplements can help you move with more comfort!

<![endif]-->

<![endif]-->