Neuro-Mag® Magnesium L-Threonate (Tropical Punch)
Brain performance, memory & attention, tasty tropical flavor
Click to Zoom
Click to Zoom
Click to Play Video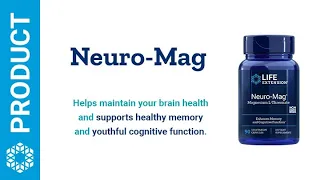 Neuro-Mag® Magnesium L-Threonate (Tropical Punch)
Brain performance, memory & attention, tasty tropical flavor
Neuro-Mag® is a brain health supplement that delivers magnesium L-threonate, an ultra-absorbable form of magnesium, to support cognitive health and youthful memory performance.
Gluten free
Non-GMO
Vegetarian
Supplements by Health Goal:
I can tell it helps me with my brain function, memory and quick thinking.
Denise
Powder has great taste
ANNA
Helps with relaxation and sleep.
ZAREENA
Frequently Bought Together
This Item: Neuro-Mag® Magnesium L-Threonate (Tropical Punch), 93.35 grams
Memory Protect, 12 Colostrinin-Lithium (C-Li) Capsules | 24 Lithium (Li) Capsules
What Is Neuro Mag Magnesium L-Threonate Powder?
Magnesium is an essential mineral that plays an important role in the brain. It supports healthy memory and youthful cognitive function. Our Neuro-Mag® formula provides an ultra-absorbable form of magnesium, making it good for supporting memory and maintaining cognitive health.
Magnesium levels decline as we age. Neuro-Mag® Magnesium L-Threonate is ideal for maintaining brain health.
Neuro-Mag® Magnesium L-Threonate Benefits
Readily absorbed by brain for healthy function & youthful cognition
Helps maintain crucial synaptic connections between brain cells
Promotes healthy brain cell signaling pathways
The How and Why Behind Our Neuro-Mag® Magnesium L-Threonate
Not all magnesium is easily absorbed into the central nervous system. But Neuro-Mag®, Magnesium L-Threonate was developed based on the latest scientific research in order to provide maximum benefits for your brain health.
Neuro-Mag® Magnesium L-Threonate
Why Should I Supplement With Neuro-Mag® Magnesium L-Threonate (Tropical Punch)?
Customer: Life can be pretty hectic. Between work, family, friends and other obligations, I've got a lot going on. But it's the little things that keep tripping me up. Like, where are my keys? I've read that magnesium can play an important role in supporting memory. Should I consider adding it to my routine?
Michael A. Smith, MD: Unfortunately, most Americans don't get enough magnesium from their diet. So we really should supplement with it as we age. Neuro-Mag® from Life Extension is easily absorbed into the brain and central nervous system, making it perfect for memory and cognitive health support.
Customer: I started to look into the benefits of taking magnesium and I found that the main ingredient in Neuro-Mag® can improve short and long-term memory significantly.
Michael A. Smith, MD: That's true, but it's important to know not all magnesium supplements absorb easily into the brain. Neuro-Mag® uses magnesium L-threonate. This ultra-absorbable form of magnesium helps facilitate the brain cell signaling pathways that are associated with improved memory. That's why it's our best magnesium supplement for your cognitive health.
Customer: I've been using Neuro-Mag® for two months now. And the difference is really noticeable. I'm sharper…more focused. I really feel like I can tackle any issue that comes my way. And I don't have to worry about the little things, like where did I put this thing?
Dr. Michael A. Smith, MD: Director of Education and Spokesperson for Life Extension.
Magnesium is essential for more than 300 biochemical reactions in the body and plays an important role in the nervous system and brain.1 Unfortunately, most Americans don't get enough magnesium from their diet, and suboptimal magnesium levels increase with age.2,3
More
These statements have not been evaluated by the Food and Drug Administration.
These products are not intended to diagnose, treat, cure, or prevent any disease.
Serving Size 1 scoop (approx. 3.11 g)

Servings Per Container about 30

Amount Per Serving

Magnesium (from 2000 mg Magtein® magnesium L-threonate)

144 mg

Other ingredients: citric acid, gum acacia, maltodextrin, natural flavors, stevia extract, silica.
Non-GMO
Magtein® is a trademark of Magceutics®, Inc. and is distributed exclusively by AIDP, Inc. Magtein® is protected under a family of US patents, pending patents, and is protected worldwide.
Dosage and Use
Mix one (1) scoop daily with water or juice to taste, or as recommended by a healthcare practitioner.
Magnesium L-Threonate has less of a laxative effect than other forms of magnesium.
Warnings
KEEP OUT OF REACH OF CHILDREN
DO NOT EXCEED RECOMMENDED DOSE
Do not purchase if outer seal is broken or damaged.
When using nutritional supplements, please consult with your physician if you are undergoing treatment for a medical condition or if you are pregnant or lactating.
To report a serious adverse event or obtain product information, contact 1-866-280-2852.
Neuron. 2010;65(2):165-77.
Nutr Rev. 2012;70(3):153-64.
Magnes Res. 2009;22(4):235-46.
J Alzheimers Dis. 2016;49(4):971-90.
Mol Brain. 2014;7:65.
Expert Opin Ther Targets. 2014;18(10):1121-30.
Product reviews are provided for informational purposes only and reflect solely the views and opinions expressed by the contributors and not those of Life Extension. We do not verify or endorse any claims made in these reviews. Full product reviews disclaimer
Brain Health

Quiz
What's your brain health goal—better memory? Sharper focus? Quicker thinking?
<![endif]-->
Related Products
<![endif]-->

<![endif]-->