Best In Class
Wellness Code® Advanced Whey Protein Isolate (Vanilla)
454 grams Item # 02246
Advanced mix of whey protein isolate, creatine & glutamine
Click to Zoom
Click to Zoom
Click to Play Video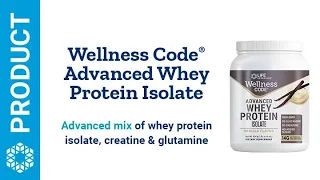 Best In Class
Wellness Code® Advanced Whey Protein Isolate (Vanilla)
454 grams Item # 02246
Advanced mix of whey protein isolate, creatine & glutamine
Our Best in Class Wellness Code® Advanced Whey Protein Isolate shake mix delivers 14 grams of protein with branched-chain amino acids, plus L-glutamine and creatine monohydrate per scoop.
Supplements by Health Goal:
We use this to maintain our energy & health.
Debra
I use this product daily. Great tasting.
Ckng, WI
Frequently Bought Together
This Item: Wellness Code® Advanced Whey Protein Isolate (Vanilla), 454 grams
What Is Wellness Code® Advanced Whey Protein Isolate (Vanilla)?
Our Wellness Code® Advanced Whey Protein Isolate delivers 14 grams of protein, 3 grams of L-glutamine and 2 grams of creatine monohydrate to help build lean muscle, support against protein breakdown and promote immune system health and longevity. It's delicious, non-GMO and has no added sugar.
This is our Best in Class whey protein supplement for post-workout muscle growth and immune health support.
Wellness Code® Advanced Whey Protein Isolate Benefits
Helps encourage lean muscle mass & inhibit protein breakdown
Promotes a healthy immune system & gut integrity
Supports strength and high-intensity exercise performance with Creatine
Promotes exercise recovery with l-glutamine
Uses whey from hormone-free cows
Provides 14 g of protein per scoop
Wellness Code® Advanced Whey Protein Isolate (Vanilla)
Build Muscle Mass and More
Over time, it is important to maintain muscle mass and a healthy immune system. But not all proteins are the same. Whey protein is a good source of branched-chain amino acids (BCAAs), immunoglobins and other health-promoting compounds. Our Wellness Code® Advanced Whey Protein Isolate helps support building lean muscle mass with a great vanilla flavor and no wasted calories because it contains no sugar.
Wellness Code® Advanced Whey Protein Isolate comes from cows that are never treated with growth hormones. This delicious, vanilla-flavored, powdered protein shake mix delivers 14 grams of protein with lower carbs, lactose and fat than whey concentrate — plus high concentrations of essential branched-chain amino acids (BCAAs) in every scoop.
More
These statements have not been evaluated by the Food and Drug Administration.
These products are not intended to diagnose, treat, cure, or prevent any disease.
Serving Size 1 scoop (approx. 23 g)

Servings Per Container about 20

Amount Per Serving

Calories

60

Sodium

40 mg

Total Carbohydrate

1 g

Total sugars

0 g

Includes 0 g Added Sugars

Protein

14 g

Calcium

78 mg

Potassium

90 mg

L-Glutamine

3 g

Creatine monohydrate

2 g

Ingredients: Provon® 292 SFL rBST free whey protein isolate, sunflower oil powder, maltodextrin, arabic gum, sunflower lecithin, natural vanilla and caramel flavors, stevia extract, guar gum, xanthan gum, rice starch, modified food starch.

Contains milk.
Non-GMO
Provon® is a registered trademark of Glanbia plc.
This product contains whey protein isolate from cows not treated with growth hormone (rBST). The whey protein isolate is made using a process known as Cross Flow Microfiltration, which produces an isolate that is 90% protein, 98% of it in the bioavailable undenatured form, and retains all important subfractions in their natural ratios.
Dosage and Use
Mix one (1) level scoop in approximately 4 to 8 ounces of water or beverage of choice (to taste) once or twice daily, or as recommended by a healthcare practitioner.
Drink immediately.
Use this product as a food supplement only. Do not use for weight reduction.
Caution
If you have significant kidney or liver disease, please consult your healthcare practitioner before using this product.
Warnings
KEEP OUT OF REACH OF CHILDREN
DO NOT EXCEED RECOMMENDED DOSE
Do not purchase if outer seal is broken or damaged.
When using nutritional supplements, please consult with your physician if you are undergoing treatment for a medical condition or if you are pregnant or lactating.
To report a serious adverse event or obtain product information, contact 1-866-280-2852.
J Appl Physiol (1985). 2003;95(4):1717-27.
Curr Genomics. 2012;13(8):589-602.
Journal of Food Science. 2015;80(S1):A8-A15.
Altern Med Rev. 2004;9(2):136-56.
Medicine and science in sports and exercise. 1998;30:73-82.
J Occup Environ Med. 2019;61(2):e33-e42.
Mol Cell Biochem. 2003;244(1-2):105-12.
Curr Protein Pept Sci. 2017;18(12):1273-1287.
J Int Soc Sports Nutr. 2012;9(1):33.
J Sports Sci Med. 2003;2(4):123-32.
J Cachexia Sarcopenia Muscle. 2016;7(4):413-21.
Biogerontology. 2011;12(4):273-81.
Amino acids. 1999;17(3):227-41.
Burns. 2006;32(5):589-93.
Med J Aust. 1995;162(1):15-8.
Nutrition. 1997;13(7-8):738-42.
Int J Sport Nutr Exerc Metab. 2015;25(5):417-26.
Am J Physiol. 1995;269(2 Pt 1):E309-15.
FEBS Lett. 1988;237(1-2):133-6.
Appl Physiol Nutr Metab. 2007;32(6):1186-90.
Br J Sports Med. 2008;42(4):260-6.
Med Sci Sports Exerc. 1983;15(1):41-50.
Lancet. 1993;341(8857):1363-5.
Cytokine. 2001;13(3):148-54.
Product reviews are provided for informational purposes only and reflect solely the views and opinions expressed by the contributors and not those of Life Extension. We do not verify or endorse any claims made in these reviews. Full product reviews disclaimer
Fitness

Quiz
Achieve your fitness goals—with some help from the right supplements.
<![endif]-->
Related Products
<![endif]-->

<![endif]-->