Best In Class
|
Best Seller
Hair, Skin & Nails Collagen Plus Formula
Click to Zoom
Click to Zoom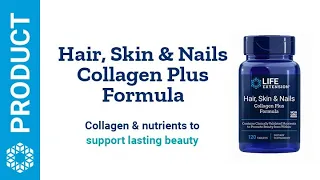 Click to Play Video
Best In Class
|
Best Seller
Hair, Skin & Nails Collagen Plus Formula
Collagen & nutrients to support lasting beauty
Packed with clinically studied nutrients, this formula promotes collagen and keratin health to support youthful and healthy hair, skin and nails.
Love this product and my purchase was easy.
Jen, CA
Stronger nails & my hair seems fuller.
Lorraine, Sunnyvale
I am noticing a difference in my hair & nails.
Stephanie, WY
Frequently Bought Together
This Item: Hair, Skin & Nails Collagen Plus Formula, 120 tablets
Skin Restoring Ceramides, 30 liquid vegetarian capsules
What Is Hair, Skin & Nails Collagen Plus?
Hair, Skin & Nails Collagen Plus Formula combines bioactive collagen peptides and potent nutrients for comprehensive hair, skin and nail health. Supporting skin growth and repair, healthy nail growth rate and healthy rejuvenation, this formula's clinically-validated nutrients promote youthful and lasting beauty.
Support healthy hair, skin and nails with this powerful combination of collagen and other essential nutrients.
Hair, Skin & Nails Collagen Plus Benefits
Encourages healthy hair, skin and nails
Clinically shown to promote collagen & keratin health
Supports healthy nutrients for keratin formation
Supports skin suppleness & elasticity
What is Cynatine® HNS?
Cynatine® HNS combines solubilized keratin, zinc, copper, biotin and vitamins B3, B5 and B6 to promote keratin formation for strong hair, skin & nails.
Why did we add silicon?
Silicon helps facilitate the transfer of calcium into bone, which helps maintain bone health. It also supports healthy hair, skin, and nails.
Hair, Skin & Nails Collagen Plus Formula
Clinically-Validated Nutrients to Support Healthy Hair, Skin and Nails
This formula includes several clinically-studied nutrients that work together to support overall healthy hair, skin and nails. It supports healthy skin elasticity by encouraging healthy collagen formation. Cynatine® HNS delivers essential vitamins and minerals to encourage keratin formation. Biotin promotes healthy protein and fatty acid metabolism, while silicon helps maintain healthy collagen.
The bioactive collagen peptides and potent nutrients in this innovative nutritional supplement help reduce the appearance of fine lines and wrinkles, promote healthy keratin formation, and maintain the proteins and other compounds responsible for rejuvenating healthy hair and skin.
More
These statements have not been evaluated by the Food and Drug Administration.
These products are not intended to diagnose, treat, cure, or prevent any disease.
Sci Rep. 2018;8(1):10474.
Biosci Biotechnol Biochem. 2019;83(6):1146-1156.
Mar Drugs. 2018;16(12)
Nutr Res. 2018;57:97-108.
Skin Pharmacol Physiol. 2017;30(3):146-158.
J Sci Food Agric. 2016;96(12):4077-81.
J Med Food. 2015;18(12):1340-8.
J Cosmet Dermatol. 2015;14(4):291-301.
Skin Pharmacol Physiol. 2014;27(3):113-9.
Skin Pharmacol Physiol. 2014;27(1):47-55.
J Cosmet Dermatol. 2017;16(4):520-526.
Int J Cosmet Sci. 2013;35(6):608-12.
ScientificWorldJournal. 2014;2014:641723.
Nutrients. 2019;11(4)
Nutr Clin Pract. 2019;34(4):490-503.
An Bras Dermatol. 2016;91(3):331-5.
Serving Size 4 Tablets

Servings Per Container 30

Amount Per Serving

Niacin (as niacinamide)

18 mg•

Vitamin B6 (as pyridoxine HCl)

2 mg

Biotin

2500 mcg

Pantothenic acid (as D-calcium pantothenate)

13.68 mg

Calcium (as dicalcium phosphate)

83 mg

Zinc (as zinc oxide)

15 mg

Copper (as copper sulfate)

1.65 mg

VERISOL® Bioactive Collagen Peptides®

2500 mg

Cynatine® HNS (providing solubilized keratin)

500 mg

Silicon [from std. bamboo extract (stem)]

3 mg

Other ingredients: microcrystalline cellulose, croscarmellose sodium, stearic acid, vegetable stearate, aqueous film coating (hydroxypropyl methylcellulose, glycerin, purified water), silica.
•NE (Niacin Equivalent)
Non-GMO
Cynatine® is a registered trademark of Roxlor, LLC. VERISOL® and Bioactive Collagen Peptides® are registered trademarks of GELITA AG.
Dosage and Use
Take four (4) tablets daily, or as recommended by a healthcare practitioner.
Caution
Individuals with in-born errors of copper metabolism (e.g. Wilson's disease) should avoid daily, chronic use of this product.
Warnings
KEEP OUT OF REACH OF CHILDREN
DO NOT EXCEED RECOMMENDED DOSE
Do not purchase if outer seal is broken or damaged.
When using nutritional supplements, please consult with your physician if you are undergoing treatment for a medical condition or if you are pregnant or lactating.
To report a serious adverse event or obtain product information, contact 1-866-280-2852.
Actual Size
Product reviews are provided for informational purposes only and reflect solely the views and opinions expressed by the contributors and not those of Life Extension. We do not verify or endorse any claims made in these reviews. Please read the full product reviews disclaimer.
Related Health Information
Essentials Quiz
Answer a few questions to choose the right supplements
<![endif]-->
Related Products
<![endif]-->

<![endif]-->