Healthy Lungs
30 vegetarian capsules

Item # 02512
Air Quality on Your Mind?
Click to Zoom
Click to Zoom
Click to Zoom
Click to Play Video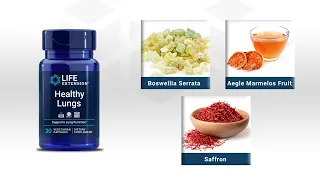 Healthy Lungs
30 vegetarian capsules

Item # 02512
Air Quality on Your Mind?
Lung function declines with age—and oftentimes, the quality of the air we breathe doesn't help. This respiratory supplement combines four nutrients scientifically studied for lung support and healthy respiratory function.
Gluten free
Non-GMO
Vegetarian
Frequently Bought Together
What Is Healthy Lungs?
Got good lungs? Respiratory health is an often-overlooked part of aging gracefully. But it's not too late to breathe well: studies show Boswellia, Indian Bael fruit (Aegle marmelos), saffron and andrographolide (an active compound in Andrographis or Indian echinacea) support healthy respiratory function in different ways—so we put all of them in one lung support supplement.
Time to take a deep breath and support healthy lung function—no matter your age or environment!
Healthy Lungs
Supports lung function
Helps protect lungs from environmental factors
Encourages easy, open airways
Helps maintain lung tissue health
Every Breath You Take
This daily respiratory health supplement helps keep you breathing easy with clinically studied ingredients. A synergistic combination of Boswellia serrata and Indian Bael fruit (Aegle marmelos) helps inhibit inflammatory factors to support lung health. Saffron helps relax your airways, while andrographolide helps fight cellular stress, supporting healthy lung tissue and function.
Why Should I Supplement With Healthy Lungs?
City living. There's nothing like it. But the poor air quality indoors and out can be a big drawback. It's time to take a deep breath and support your breathing with Healthy Lungs. Our formula combines scientifically studied nutrients that support lung health. Research shows these extracts help relax airways, promote healthy breathing patterns, and protect against environmental factors.
So show your lungs some love and breathe easy. Add Healthy Lungs to your wellness routine today.
Reviewed by Dr. Michael A. Smith, MD: Director of Education and Spokesperson for Life Extension.
What ingredients are in Healthy Lungs formula?
This supplement is a blend of four botanical extracts: Boswellia serrata, Indian Bael fruit, saffron and andrographolide. Taking these nutrients together can help relax your airways, promote healthy breathing patterns, and protect your lungs against environmental factors.
How does Healthy Lungs work?
The combination of Boswellia serrata and Indian Bael fruit in this formula helps inhibit inflammatory factors to support lung health. Saffron helps support lung health by keeping airways relaxed and open. Andrographolide, which is the active component in Indian echinacea, helps shield lung cells from oxidative stress.
More
Who is Healthy Lungs good for?
Healthy Lungs is ideal for those who want to optimize their lung capacity and function, which naturally declines with age. Often, the air we breathe doesn't help, whether we face poor indoor air quality, smoke from burning fires, or the smells and emissions from traffic congestion. Help support the body's natural defenses against environmental factors, maintain lung function, protect bronchial tissues and promote good airflow with this powerful formula.
When is the best time to take Healthy Lungs? Should it be taken before or after a meal?
This product can be taken any time of the day, with or without food, based on your preference.
Should this be taken daily or as needed?
We suggest taking this product on a consistent basis for optimal results. It does not require a break between use and can be taken long-term. However, Healthy Lungs can be used as needed depending on individual health needs.
When can I expect an effect?
In studies of people who took the nutrients in Healthy Lungs, effects on lung function were seen as early as three weeks, with the best effects seen after six weeks. Due to our unique biochemistries and lifestyles, however, the time it takes to notice benefits can vary from person to person.
Will Healthy Lungs interact with my medication?
Based on the rigorous review of the scientific literature concerning potential interactions, there is no indication that the nutrients within this formula would negatively interact with prescription medications. If you take a prescription medication and are interested in taking this supplement, we suggest discussing this decision with your personal physician.
Has Healthy Lungs been tested for heavy metal contamination?
All of our raw materials go through stringent testing to meet our high quality standards. Testing is performed for microbes, heavy metals, disintegration, potency, and quantity of active ingredients in the finished product. Only when raw materials meet Life Extension's specifications are they released for production. A Certificate of Analysis (COA) can be provided upon request for all our products.
Are there any major allergens in Healthy Lungs?
This product does not contain any of the major nine allergens required on the label under the Food Allergen Labeling and Consumer Protection Act of 2004. This means it is free of milk, eggs, nuts, fish, crustaceans, shellfish, wheat, soy, and sesame. It is also gluten-free.
Where is Healthy Lungs manufactured?
This product is manufactured in the USA.
Is Healthy Lungs vegetarian?
Yes, this product is vegetarian and does not contain any animal-derived ingredients.
Can children take Healthy Lungs?
We cannot make any suggestions for individuals under the age of 18. We suggest speaking with your child's pediatrician.
What's in Healthy Lungs?
Help your lungs keep you breathing easy with this lung health supplement!
Boswellia serrata & Aegle marmelos fruit—In two clinical studies, this botanical combination was found to help inhibit inflammatory factors to support lung health.1,2
More
These statements have not been evaluated by the Food and Drug Administration.
These products are not intended to diagnose, treat, cure, or prevent any disease.
Serving Size 1 vegetarian capsule

Amount Per Serving

Calcium (as dicalcium phosphate)

50 mg

Phosphorus (as dicalcium phosphate)

40 mg

AlvioLife®

200 mg

Boswellia serrata extract (gumresin) [std. to 15% 3-O-acetyl-11-keto-ß-boswellic acid (AKBA)], bael tree (fruit) [std. to 0.3% imperatorin]

Saffron extract (stigma)

100 mg

Andrographis extract (leaf) [std. to 50% andrographolides]

110 mg

Other ingredients: vegetable cellulose (capsule), maltodextrin, silica, vegetable stearate.
Non-GMO
AlvioLife® is a registered trademark of PLT Health Solutions-Laila Nutraceuticals LLC.
Dosage and Use
Take one (1) capsule daily, or as recommended by a healthcare practitioner
Warnings
KEEP OUT OF REACH OF CHILDREN
DO NOT EXCEED RECOMMENDED DOSE
Do not purchase if outer seal is broken or damaged.
When using nutritional supplements, please consult with your physician if you are undergoing treatment for a medical condition or if you are pregnant or lactating.
To report a serious adverse event or obtain product information, contact 1-866-280-2852.
Actual Size
PLT. Can AlvioLife improve respiratory outcomes in healthy subjects. 2021.
Phytother Res. 2018;32(1):140-150.
Eur J Drug Metab Pharmacokinet. 2018;43(4):383-390.
Respir Res. 2019;20(1):39.
Br J Pharmacol. 2013;168(7):1707-18.
Br J Pharmacol. 2020;177(16):3662-3673.
Front Pharmacol. 2021;12:596652.
J Nat Prod. 2016;79(5):1308-15.
Toxicol Appl Pharmacol. 2018;360:120-130.
J Biochem Mol Toxicol. 2013;27(5):259-65.
Product reviews are provided for informational purposes only and reflect solely the views and opinions expressed by the contributors and not those of Life Extension. We do not verify or endorse any claims made in these reviews. Full product reviews disclaimer
Essentials

Quiz
Answer a few questions to get custom supplement recommendations.
<![endif]-->
Related Products
<![endif]-->

<![endif]-->