Best In Class
Optimized NAD+ Cell Regenerator™ and Resveratrol
300 mg, 30 vegetarian capsules
Item # 02348
Click to Zoom
Double Tap to Zoom
Click to Zoom
Double Tap to Zoom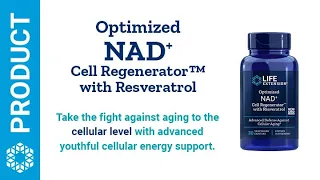 Click to Play Video
Best In Class
Optimized NAD+ Cell Regenerator™ and Resveratrol
300 mg, 30 vegetarian capsules
Item # 02348
Promotes longevity & cellular energy
Optimized NAD+ Cell Regenerator™ and Resveratrol is our Best in Class formula for energy support. It combines a potent 300 mg of NIAGEN® nicotinamide riboside with trans-resveratrol in every dose.
NIAGEN® nicotinamide riboside increases cellular levels of NAD+. Resveratrol supports the healthy expression of longevity genes. We've combined the two into an innovative nutritional supplement that encourages youthful cellular energy and vitality, promotes metabolic activity consistent with longevity, supports healthy cellular metabolism, modulates the expression of genes associated with some aspects of the aging process and more.
Get NIAGEN® and trans-resveratrol together in our Best in Class formula for cellular energy support and fighting general fatigue.
Optimized NAD+ Cell Regenerator™ and Resveratrol Benefits
Uses NIAGEN® nicotinamide riboside to fight general fatigue on a cellular level
Contains resveratrol to modulate expression of genes associated with some aspects of aging
Contains an optimized 300 mg dose of NIAGEN® in every capsule
Promotes mitochondrial health and youthful cellular energy production
Helps inhibit oxidative stress, promotes cardiovascular health & more
What is NIAGEN®?
NIAGEN® nicotinamide riboside increases cellular levels of NAD+, an enzyme critical to healthy cellular energy production.
Why did we add resveratrol?
Found in red grapes, as well as Japanese knotweed, resveratrol is a plant compound that promotes and maintains optimal health and longevity.
Resveratrol Basics
Resveratrol is a compound most commonly found in red wine and grapes, as well as in some plants like Japanese knotweed. Resveratrol supports the cardiovascular system, encouraging endothelial health and helping maintain already-healthy blood lipid levels.
100% Satisfaction Guarantee
Full one-year, no-hassle returns, money-back guarantee.
Highly Recommended
98% of our customers recommend us to family and friends. Life Extension is proud to be recognized as the #1 Catalog/Internet Merchant — 5 Time Winner.†
Complimentary, Personalized Guidance
Medical doctors, nutritionists & other health professionals are passionate about providing personalized solutions to help you achieve optimal health.
Efficacious Formulas
40 years of research dedicated to bringing you premium, scientifically-validated formulations.
Product Transparency
99% of our products are manufactured in the U.S. Our facility is NSF GMP registered, and a Certificate of Analysis is available for every product we produce.
Optimized NAD+ Cell Regenerator™ and Resveratrol combines NIAGEN® nicotinamide riboside and resveratrol with quercetin and fisetin to create an innovative nutritional supplement for longevity and youthful cellular energy production. Support healthy cellular metabolism and modulate expression of genes associated with some aspects of aging with Optimized NAD+ Cell Regenerator™ and Resveratrol.
More
These statements have not been evaluated by the Food and Drug Administration.
These products are not intended to diagnose, treat, cure, or prevent any disease.
Curr Opin Clin Nutr Metab Care. 2013 Nov;16(6):657-61.
NPJ Aging Mech Dis. 2017;3:17.
Neurobiol Aging. 2013 Jun;34(6):1581-8.
Cell Metab. 2012 Jun 6;15(6):838-47.
Cell Metab. 2011 Nov 2;14(5):612-22.
Cell. 2006;127(6):1109-1122.
Journal of Diabetes Research. 2016;2016:9737483.
Int Rev Immunol. 2012 Jun;31(3):202-22.
Adv Exp Med Biol. 2016;928:213-244.
Altern Med Rev. 2011 Jun;16(2):172-94.
Serving Size 1 vegetarian capsule

Amount Per Serving

NIAGEN® Nicotinamide Riboside
300 mg
Bio-Quercetin phytosome
15 mg
[providing 5 mg quercetin from Japanese sophora concentrate (flower bud), phosphatidylcholine complex (from sunflower)]
Trans-resveratrol [from Japanese knotweed (root)]
100 mg
Red grape (fruit) and wild blueberry (fruit) blend [providing polyphenols, anthocyanins, OPCs]
40 mg

Fisetin [from wax tree extract (stem)]

10 mg

Other ingredients: vegetable cellulose (capsule), microcrystalline cellulose, vegetable stearate, silica, maltodextrin.
Non-GMO
NIAGEN® is a registered trademark of ChromaDex, Inc., Patents see: www.ChromaDexPatents.com.

Dosage and Use
Take one (1) capsule daily, with or without food, or as recommended by a healthcare practitioner.
Nicotinamide Riboside does not cause flushing.
Warnings
KEEP OUT OF REACH OF CHILDREN
DO NOT EXCEED RECOMMENDED DOSE
Do not purchase if outer seal is broken or damaged.
When using nutritional supplements, please consult with your physician if you are undergoing treatment for a medical condition or if you are pregnant or lactating.
To report a serious adverse event or obtain product information, contact 1-866-280-2852.
Actual Size
Product reviews are provided for informational purposes only and reflect solely the views and opinions expressed by the contributors and not those of Life Extension. We do not verify or endorse any claims made in these reviews. Please read the full product reviews disclaimer.
Related Health Information
Energy Management Supplement Guide
Answer a few questions to choose the right supplements

<![endif]--> <![endif]--> <![endif]--> <![endif]-->