Life Extension Mix™ Capsules without Copper
360 capsules
Item # 02364
Click to Zoom
Double Tap to Zoom
Click to Zoom
Double Tap to Zoom
Click to Zoom
Double Tap to Zoom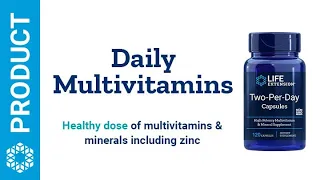 Click to Play Video
Life Extension Mix™ Capsules without Copper
360 capsules
Item # 02364
Comprehensive fruit & vegetable supplement
Eating fruits and vegetables is good for the body. Science has proven this. Getting the recommended daily servings is the hard part. That's why we created Life Extension Mix™ Capsules without Copper.
Have been using this product at least 5 years and recommend this product.
Dugo, AZ
I will buy this again & again. Most everything one needs is in these!
GUIDEL
Good product. Will continue buying each month.
Andrew, Malaysia
Life Extension Mix™ Capsules without Copper is an advanced, high-potency vitamin, mineral, fruit and vegetable supplement that provides nutrients the body needs to form the cornerstone of a comprehensive health maintenance program. We've combined several potent nutrients into one product, eliminating the need to take dozens of separate supplements.
This state-of-the-art formula is packed with potent forms of vitamins, minerals and more, including a highly bioavailable form of quercetin.
Life Extension Mix™ Capsules without Copper Benefits
Provides a full spectrum of essential nutrients for whole-body health & longevity
Promotes healthy DNA & cellular proliferation
Supports metabolic & cardiovascular health
Helps inhibit oxidative stress & supports a healthy inflammatory response
Life Extension Mix™ Capsules without Copper
Backed by Research
Life Extension Mix™ Capsules without Copper is a state-of-the-art multi-nutrient formula for advanced supplement users. It contains vegetable, fruit and botanical extracts, as well as high-potency doses of daily vitamins and minerals.
Every daily dose of Life Extension Mix™ Capsules without Copper provides an extensive array of essential nutrients.
Bioactive Quercetin Phytosome
Life Extension Mix™ Capsules without Copper contain 5 mg of quercetin, which has been integrated into a phytosome, a phospholipid sphere that encases a botanical compound, aiding in its absorption and making it more bioavailable. This quercetin phytosome is up to 50 times more bioavailable than standard quercetin.1 Quercetin promotes healthy immune function and supports cardiovascular and endothelial health.2,3 It also helps inhibit oxidative and inflammatory factors to support immune health.4,5
More
These statements have not been evaluated by the Food and Drug Administration.
These products are not intended to diagnose, treat, cure, or prevent any disease.
Supplier data. 2017
Br J Nutr. 2015;114(8):1263-77.
J Nutr. 2015;145(7):1459-63.
Clin Nutr. 2011;30(4):506-12.
J Am Coll Nutr. 2017;36(1):9-15.
Br J Pharmacol. 2003;139(6):1095-102.
PLoS One. 2010;5(1):e8554.
Planta Med. 2012;78(15):1626-32.
J Ethnopharmacol. 2010;127(1):7-10.
J Nutr Biochem. 2014;25(4):404-11.
Mol Nutr Food Res. 2013;57(7):1182-97.
Genes Nutr. 2012;7(2):295-306.
Int J Biol Macromol. 2014;69:382-7.
Planta Med. 2013;79(17):1599-604.
Int J Mol Sci. 2017;18(4)
Minerva Cardioangiol. 2015;63(2 Suppl 1):1-12.
Protein Pept Lett. 2008;15(4):385-91.
Curr Pharm Des. 2008;14(10):969-72.
Biochem Soc Trans. 2007;35(Pt 5):853-6.
Hormones (Athens). 2008;7(2):123-32.
J Lipid Res. 2006;47(5):964-74.
Nephrol Dial Transplant. 2007;22(8):2165-74.
Mol Nutr Food Res. 2017;61(5)
Phytother Res. 2017;31(11):1731-1738.
J Sci Food Agric. 2017;97(6):1798-1804.
Complement Ther Clin Pract. 2016;22:44-50.
J Med Food. 2015;18(9):941-9.
Plant Foods Hum Nutr. 2015;70(1):9-14.
Plant Foods Hum Nutr. 2012;67(4):351-7.
Plant Foods Hum Nutr. 2012;67(3):309-14.
Front Pharmacol. 2018;9:544.
J Nutr Sci. 2012;1:e9.
J Nutr Sci. 2017;6:e39.
Food Funct. 2015;6(6):1968-76.
J Agric Food Chem. 2014;62(33):8371-8.
Nutr Res. 2013;33(3):220-7.
Int J Mol Sci. 2013;14(11):21447-62.
Mol Divers. 2015;19(4):737-43.
Food Funct. 2017;8(1):372-380.
Food Funct. 2017;8(11):4118-4128.
J Agric Food Chem. 2010;58(7):3996-4000.
Appl Physiol Nutr Metab. 2017;42(7):773-779.
Nutr Neurosci. 2018:1-14.
Redox Biol. 2014;2:187-95.
Neuropharmacology. 2017;126:213-223.
Food Res Int. 2017;100(Pt 1):442-448.
Am J Clin Nutr. 2008;87(3):778-84.
Crit Rev Food Sci Nutr. 2003;43(1):89-143.
Acta Otolaryngol. 2004;124(4):464-70.
J Endocrinol Invest. 2010;33(2):118-24.
Mol Nutr Food Res. 2011;55(6):844-54.
Biofactors. 2000;13(1-4):49-54.
Proc Jpn Acad Ser B Phys Biol Sci. 2012;88(3):88-101.
J Am Diet Assoc. 2011;111(11):1720-9.
Biol Trace Elem Res. 2012;149(3):315-22.
Int J Food Sci Nutr. 2016;67(6):606-13.
J Ethnopharmacol. 2018;210:296-310.
Cancer Prev Res (Phila). 2012;5(3):393-402.
Eur J Clin Nutr. 2008;62(8):953-60.
Nutr Metab Cardiovasc Dis. 2014;24(8):823-36.
Mol Nutr Food Res. 2014;58(6):1379-83.
Neurochem Int. 2016;100:52-61.
Mutagenesis. 2010;25(6):595-602.
Cancer Prev Res (Phila). 2014;7(8):813-823.
Recent Pat Endocr Metab Immune Drug Discov. 2015;9(1):24-39.
Cancer Detect Prev. 1997;21(2):178-90.
Integr Cancer Ther. 2003;2(2):139-44.
Arch Biochem Biophys. 2010;504(1):50-5.
J Natl Cancer Inst. 1999;91(4):317-31.
Arch Biochem Biophys. 2001;396(2):171-7.
Arch Biochem Biophys. 2000;383(1):56-9.
Lipids. 1998;33(10):981-4.
Allergol Int. 2007;56(2):113-23.
Mutat Res. 2010;692(1-2):6-11.
Planta Med. 2008;74(14):1667-77.
J Cardiovasc Pharmacol. 2005;46(4):445-51.
Mol Nutr Food Res. 2009;53(7):869-77.
Lab Invest. 2012;92(1):102-9.
Int J Prev Med. 2014;5(12):1594-600.
Adv Nutr. 2011;2(1):1-7.
Crit Rev Food Sci Nutr. 2017;57(8):1729-1741.
Int J Sport Nutr Exerc Metab. 2018:1-27.
Br J Sports Med. 2006;40(8):679-83.
J Int Soc Sports Nutr. 2010;7:17.
Scand J Med Sci Sports. 2010;20(6):843-52.
Ann Intern Med. 2006;145(5):333-41.
J Nutr Biochem. 1999;10(3):159-65.
Recent Pat Food Nutr Agric. 2011;3(1):17-29.
Lipids. 1995;30(6):499-505.
Nutr Cancer. 2001;39(1):66-71.
Lipids. 2013;48(6):633-8.
J Sci Food Agric. 2013;93(8):1833-8.
Int J Vitam Nutr Res. 2014;84(1-2):79-91.
Eur J Nutr. 2015;54(5):691-700.
J Nutr Sci Vitaminol (Tokyo). 2003;49(4):270-6.
Life Sci. 2000;66(2):161-71.
Arch Biochem Biophys. 1959;85:292-5.
Diabetes. 1997;46(11):1786-91.
Diabetes Res Clin Pract. 1995;28(3):179-84.
Diabetes Educ. 2004;Suppl:2-14.
Horm Metab Res. 2007;39(10):743-51.
Public Health Nutr. 2012;15(4):693-701.
Magnes Res. 2007;20(2):107-29.
Diabetes Obes Metab. 2011;13(3):281-4.
Oman Med J. 2013;28(3):195-8.
Best Pract Res Clin Endocrinol Metab. 2011;25(4):585-91.
Circ Res. 2014;114(2):379-93.
World J Surg. 2013;37(3):629-38.
Curr Opin Pharmacol. 2010;10(4):482-96.
Curr Med Res Opin. 2008;24(1):139-49.
J Bone Miner Res. 2001;16(10):1899-905.
J Agric Food Chem. 2003;51(12):3560-3.
Altern Med Rev. 2000;5(6):553-62.
Life Sci. 2003;73(9):1097-114.
J Agric Food Chem. 2001;49(3):1546-51.
J Nutr. 2013;143(8):1248-53.
Cell Biol Toxicol. 2003;19(4):243-52.
Br J Pharmacol. 2004;141(5):825-30.
Brain Res Brain Res Rev. 2004;45(3):164-78.
N. I. o. Health. Selenium. Accessed 11/28/2018. https://ods.od.nih.gov/factsheets/Selenium-HealthProfessional/
Cell Biosci. 2017;7:50.
J Clin Neurosci. 2017;40:157-162.
Nutr Rev. 2015;73(12):799-822.
Nutrients. 2016;8(10):659.
Serving Size 12 capsules (per day)

Servings Per Container 30

Amount Per Serving

Vitamin A (as beta-carotene, acetate) (5,000 IU)

1500 mcg

Vitamin C (as calcium ascorbate, ascorbic acid, ascorbyl palmitate, magnesium ascorbate, niacinamide ascorbate, acerola extract)

970 mg

Vitamin D3 (as cholecalciferol) (2,000 IU)

50 mcg

Vitamin E (as D-alpha tocopheryl succinate, D-alpha tocopherol)

67 mg

Thiamine (vitamin B1) (as thiamine HCl)

125 mg

Riboflavin (vitamin B2) (as riboflavin, riboflavin 5'-phosphate)

50 mg

Niacin (as 61% niacinamide, 38% niacin, 1% niacinamide ascorbate)

190 mg

Vitamin B6 [as pyridoxal 5'-phosphate (100 mg), pyridoxine HCI (5 mg)]

105 mg

Folate (as L-5-methyltetrahydrofolate calcium salt)

400 mcg

Vitamin B12 (as methylcobalamin)

600 mcg

Biotin

3000 mcg

Pantothenic acid (as D-calcium pantothenate with 5 mg pantethine)

600 mg

Calcium (as Ca ascorbate, D-calcium pantothenate, Ca D-glucarate, dicalcium phosphate)

140 mg

Iodine (as potassium iodide)

150 mcg

Magnesium (as magnesium oxide, citrate, arginate, glycinate, taurinate, ascorbate)

420 mg

Zinc (as zinc citrate, L-OptiZinc®3 zinc mono-L-methionine sulfate)

35 mg

Selenium [as sodium selenite, SelenoExcell®4 high selenium yeast, Se-methyl L-selenocysteine]

200 mcg

Manganese (as manganese citrate, gluconate)

1 mg

Chromium [as Crominex®5 3+ chromium stabilized with Capros® amla extract (fruit), PrimaVie® Shilajit]

500 mcg

Molybdenum (as molybdenum amino acid chelate)

125 mcg

Potassium (as potassium citrate)

35 mg

Broccoli concentrate blend [broccoli powder, extract (sprout , floret, seed) (providing glucosinolates, sulforaphane), calcium D-glucarate]

725 mg

N-acetyl-L-cysteine (NAC)

600 mg

Decaffeinated green tea extract (leaf) [std. to 45% epigallocatechin gallate (EGCG)]

325 mg

Acerola extract 4:1 (berry)

300 mg

Inositol

250 mg

Bitter orange citrus bioflavonoids (peel, fruit) [std. to 50% hesperidin]

200 mg

Fruit/berry proprietary blend [European elder, blackberry, blueberry, sweet cherry, cranberry, plum, persimmon (Diospyros kaki) powders]

200 mg

Taurine

200 mg

Wild blueberry anthocyanin extract (fruit)

150 mg

Sensoril®11 Ashwagandha extract (root, leaf) [std. to 32% oligosaccharides, 10% glycoside conjugates]

125 mg

Silymarin [from milk thistle extract (seed)]

100 mg

Trimethylglycine (TMG) (as betaine anhydrous)

100 mg

CherryPure®1 sour cherry (tart cherry) proanthocyanidin extract (skin)

85 mg

POMELLA®9 pomegranate extract (fruit) [std. to 30% punicalagins]

85 mg

Natural mixed tocopherols (providing gamma, delta, alpha, beta tocopherols)

60 mg

MirtoSelect®10 bilberry extract (fruit)

30 mg

BioVin®7 grape proanthocyanidin extract (whole grape)

25 mg

Leucoselect®6 grape seed proanthocyanidin extract

25 mg

Bio-Quercetin phytosome (providing 5 mg quercetin [from Japanese sophora concentrate (flower bud)], phosphatidylcholine complex [from sunflower])
15 mg

Bromelain [from pineapple (stem)] (2400 gelatin digestive units/gram)

15 mg

Lutein [from marigold extract (flower)] (providing 465 mcg trans-zeaxanthin)

15 mg

Olive extract (fruit) (providing polyphenols, hydroxytyrosol, tyrosol, oleuropein)

12.5 mg

Sesame seed lignan extract

10 mg

Luteolin [from Japanese sophora (flower buds)]

8 mg

Apigenin

5 mg

Boron (as boron amino acid chelate)

3 mg

Lycopene [from LycoBeads®8 natural tomato extract (fruit)]

3 mg

Delphinidins [from Delphinol®2 maqui berry (Aristotelia chilensis) extract (fruit)]

2 mg

Cyanidin-3-glucoside (C3G) [from black currant extract (fruit)]

1.25 mg

Other ingredients: gelatin (capsule), maltodextrin, vegetable stearate, silica, microcrystalline cellulose, starch.
1- CherryPure® is a registered trademark of Shoreline Fruit, LLC.
2- Delphinol® is a registered trademark of MNL.
3- L-OptiZinc® and logo are trademarks of Lonza or its affiliates.
4- SelenoExcell® is a registered trademark of Cypress Systems Inc.
5- Crominex® 3+, Capros® and PrimaVie® are registered trademarks of Natreon, Inc.
6- Leucoselect® is a registered trademark of Indena S.p.A.
7- BioVin® is a registered trademark of Cyvex Nutrition dba Bioriginal.
8- Lycored Lycopene™ is a registered trademark of Lycored; Orange, New Jersey.
9- POMELLA® Extract is covered under U.S. Patent 7,638,640 and POMELLA® is a registered trademark of Verdure Sciences, Inc.
10- MirtoSelect® is a registered trademark of Indena, S.p.A., Milan, Italy.
11- Sensoril® is protected under US Patent Nos. 6,153,198 and 6,713,092 and is a registered trademark of Natreon, Inc.
Dosage and Use
Take twelve (12) capsules daily in divided doses with meals, or as recommended by a healthcare practitioner.
Caution
Temporary flushing, itching, rash, or gastric disturbances may occur. Liver function testing is recommended when niacin is taken in excess of 500 mg daily. Those with gout or liver diseases should avoid taking high doses of niacin. Consult with your doctor before using this product if you are taking anticoagulant medications. Individuals consuming more than 50 mcg (2000 IU)/day of vitamin D (from diet and supplements) should periodically obtain a serum 25-hydroxy vitamin D measurement. Vitamin D supplementation is not recommended for individuals with high blood calcium levels.
Warnings
KEEP OUT OF REACH OF CHILDREN
DO NOT EXCEED RECOMMENDED DOSE
Do not purchase if outer seal is broken or damaged.
When using nutritional supplements, please consult with your physician if you are undergoing treatment for a medical condition or if you are pregnant or lactating.
To report a serious adverse event or obtain product information, contact 1-866-280-2852.
Actual Size
Product reviews are provided for informational purposes only and reflect solely the views and opinions expressed by the contributors and not those of Life Extension. We do not verify or endorse any claims made in these reviews. Please read the full product reviews disclaimer.
Related Health Information
Essentials Quiz
Answer a few questions to choose the right supplements
<![endif]-->
Related Products
<![endif]-->

<![endif]--> <![endif]--> <![endif]--> <![endif]-->