Best Seller
Super Ubiquinol CoQ10 with Enhanced Mitochondrial Support™
100 mg, 60 softgels
Item # 01426
Click to Zoom
Click to Zoom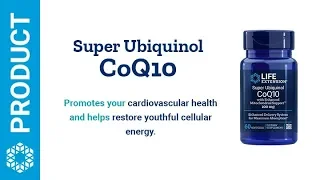 Click to Play Video
Best Seller
Super Ubiquinol CoQ10 with Enhanced Mitochondrial Support™
100 mg, 60 softgels
Item # 01426
Ultra-absorbable CoQ10 benefits cell energy, heart & brain health
Our patented ubiquinol is highly bioavailable, which means it's easy for the body to absorb. Combined with PrimaVie® shilajit the rate of absorption increases to help promote the body's youthful cellular energy production.
Life Extension CoQ10 is one of the better CoQ10 products on the market.
MP, Florida
Great product.
Tom, Parker, CO
I feel this product is very important for your heart health.
Buckeye, Ohio
Frequently Bought Together
This Item: Super Ubiquinol CoQ10 with Enhanced Mitochondrial Support™, 100 mg, 60 softgels
Once-Daily Health Booster, 60 softgels
What Is Super Ubiquinol CoQ10?
CoQ10 promotes heart health and cellular energy production. Super Ubiquinol CoQ10 with Enhanced Mitochondrial Support™ is formulated with a highly bioavailable ubiquinol form of coenzyme Q10 and augmented with the adaptogen PrimaVie® shilajit, which is shown to further increase CoQ10 absorption, promote cardiovascular health and help promote youthful cellular energy production.
Your heart cells need CoQ10—but so do your other organs. That's why CoQ10 is also highly concentrated in your brain, liver and kidneys.
CoQ10 Benefits
Promotes cellular energy production, especially in the high-energy organs such as the brain, the liver, kidneys & the heart
Contains ultra-absorbable ubiquinol CoQ10 augmented with PrimaVie® shilajit to promote mitochondrial CoQ10 absorption to support greater cellular energy output
Provides powerful cardiovascular & antioxidant support
Offers a way to offset natural CoQ10 depletion over time
What is our ubiquinol CoQ10?
Our ubiquinol CoQ10 is a form of CoQ10 that absorbs up to 8 times better than the industry-standard ubiquinone, enhancing its health benefits.
Why did we add shilajit?
Shilajit is a nutrient discovered in the Himalayas. It helps fuel cellular energy output by facilitating the absorption of CoQ10 into cellular mitochondria.
Super Ubiquinol CoQ10 with Enhanced Mitochondrial Support™
The How & Why Behind Our CoQ10
The traditional ubiquinone form of CoQ10 is difficult for your body to absorb. So scientists developed a ubiquinol form of CoQ10 that offers greater bioavailability and absorbs much better for enhanced health benefits. We craft all our formulas with the same fortitude and tenacity. We source raw materials from pure, independently tested suppliers—and we begin and end with you, our customers, who are always at the forefront of all we do.
CoQ10 for heart health and cellular energy
CoQ10 (or coenzyme Q10) is an essential nutrient your body requires for healthy mitochondrial function, a process that produces body energy at the cellular level.1-3 Because of this, it makes sense that CoQ10 is concentrated in high-energy organs such as your brain, liver, kidneys and your heart.2-6
More
These statements have not been evaluated by the Food and Drug Administration.
These products are not intended to diagnose, treat, cure, or prevent any disease.
Biochim Biophys Acta Bioenerg. 2016 2;1857(8):1073-1078.
J Am Coll Nutr. 2001;20(6):591-598.
Mitochondrion. 2007;7:S2-S7.
Neuropsychiatr Dis Treat. 2009;5:597-610.
Curr Atheroscler Rep. 2018;20(6):29.
Clin Physiol. 1988; 8(4):391-398.
Mitochondrion. 2007;7:S41-S50.
Mol Biotechnol. 2007;37(1):31-37.
Front Physiol. 2018;9:44.
Mech Ageing Dev. 2010 Apr;131(4):225-235.
Recent Pat Drug Deliv Formul. 2010;4(3):245-255.
Exp Neurol. 2004;188(2):491-494.
Kaneka Corp. Unpublished study. 2007.
Regul Toxicol Pharmacol. 2006;47(1):19-28.
Nutraceuticals. Boston: Academic Press; 2016:707-716
Phytother Res.2014;28(4):475-479.
J Ethnopharmacol. 2011;136(1):1-9.
Systemic CoQ level in animals: Part II. Unpublished study. Natreon, Inc.; 2007.
Shilajit in Perspective. Alpha Science International Limited; 2006.
Sustained Energy for Enhanced Human Functions and Activity. Academic Press; 2017:187-204
Exp Gerontol. 2006;41(2):130-140.
Pharmacologyonline. 2009;1:817-825.
Serving Size 1 softgel

Amount Per Serving

Calories

5

Total Fat

0.5 g

Ubiquinol (as Kaneka Ubiquinol™)

100 mg

PrimaVie® Shilajit fulvic acid complex

100 mg

Other ingredients: sunflower oil, gelatin, glycerin, purified water, beeswax, sunflower lecithin, annatto color.
Non-GMO
PrimaVie® is a registered trademark of Natreon, Inc.
Q+®, Kaneka Ubiquinol™, and the quality seal™ are registered or pending trademarks of Kaneka Corp.
Dosage and Use
Take one (1) softgel daily with food, or as recommended by a healthcare practitioner.
Warnings
KEEP OUT OF REACH OF CHILDREN
DO NOT EXCEED RECOMMENDED DOSE
Do not purchase if outer seal is broken or damaged.
When using nutritional supplements, please consult with your physician if you are undergoing treatment for a medical condition or if you are pregnant or lactating.
To report a serious adverse event or obtain product information, contact 1-866-280-2852.
Actual Size
Product reviews are provided for informational purposes only and reflect solely the views and opinions expressed by the contributors and not those of Life Extension. We do not verify or endorse any claims made in these reviews. Please read the full product reviews disclaimer.
Related Health Information
Heart Health Quiz
Answer a few questions to choose the right supplements
<![endif]-->
Related Products
<![endif]-->

<![endif]-->