Omega-3 Fish Oil Gummy Bites
Tropical Fruit Flavor
36 gummies Item # 02508
Click to Zoom
Click to Zoom
Click to Play Video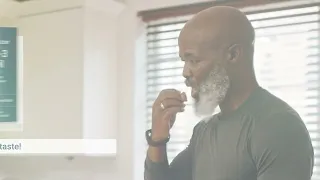 Omega-3 Fish Oil Gummy Bites
Tropical Fruit Flavor
36 gummies Item # 02508
Tasty gummies, packed with healthy omega-3s? Yes, please!
Looking for a fish oil gummy? Good luck finding one high in omega-3s and without sugar! That's why our Fish Oil Gummy Bites are such a game-changer: tasty, sugar-free*, and packed with EPA and DHA fatty acids.
*Not a low-calorie food.
Gluten free
Non-GMO
Sugar free*
Supplements by Health Goal:
Frequently Bought Together
This Item: Omega-3 Fish Oil Gummy Bites, 36 gummies
Lactoferrin Caps, 60 vegetarian capsules
What is Omega-3 Fish Oil Gummy Bites?
Say goodbye to softgels and fish burps—and say hello to a fun new way to take your daily fish oil supplement. Your heart, mind, joints and mood will thank you (and your taste buds will, too): these sugar-free* fish oil gummy bites deliver 300 mg of EPA and 225 mg of DHA in every serving. Plus, each one of our gummy bites come individually packaged, so you decide how much healthy fish oil to take, every day.
No softgels, no fish-burps: our sugar-free* omega-3 gummies are packed with healthy fish oil…no glass of water required.
Omega-3 Fish Oil Gummy Bites Benefits
Delivers a potent, balanced dose of 300 mg EPA and 225 mg of DHA per serving
Contains 36 great tasting, sugar-free* gluten-free gummy bites per box
Omega-3s from fish oil promote heart, mind & joint health
Fish oil can also help maintain already-healthy cholesterol levels
Great alternative to larger, softgel forms of fish oil supplements
*Not a low-calorie food.
Innovative EPA & DHA Delivery
Many omega-3 gummies are loaded with sugar and low in fish oil levels, but these gummy bites were formulated with advanced technology to deliver levels of fish oil greater than most gummies: 300 mg of EPA and 225 mg of DHA in each bite—each one with a tasty tropical fruit flavor and completely sugar-free.*
*Not a low-calorie food.
100% Satisfaction Guarantee
Full one-year, no-hassle returns, money-back guarantee.
Highly Recommended
98% of our customers recommend us to family and friends. Life Extension is proud to be recognized as the #1 Catalog/Internet Brand 4 Time Winner.†
Complimentary, Personalized Guidance
Medical doctors, nutritionists & other health professionals are passionate about providing personalized solutions to help you achieve optimal health.
Efficacious Formulas
40 years of research dedicated to bringing you premium, scientifically-validated formulations.
Product Transparency
99% of our products are manufactured in the U.S, and a Certificate of Analysis is available for every product we produce.
Don't miss the boat on the cardiovascular and brain health benefits of omega-3 EPA and DHA fatty acids. These sugar-free* gummy bites support healthy heart and blood vessel function and help inhibit inflammatory factors to support whole body health. And instead of swallowing large softgels (and dealing with "fish burps" that sometimes follow them), these tropical-flavored gummy bites are fun and easy.
More
These statements have not been evaluated by the Food and Drug Administration.
These products are not intended to diagnose, treat, cure, or prevent any disease.
Serving Size 1 gummy bite

Amount Per Serving

Calories

10

Total Fat

1 g

Total Sugars

0 g

Includes 0g added sugars

Sugar Alcohols

0 g

Wild Fish Oil Concentrate (Anchovy)

750 mg

Yielding:
EPA (eicosapentaenoic acid)
300 mg

DHA (docosahexaenoic acid)

225 mg

Other ingredients: purified water, xylitol, fish gelatin (Basa, Tilapia), erythritol, glycerol, trisodium citrate, natural flavors, gum arabic, citric acid, ascorbic acid, paprika extract, steviol glycosides.
Contains fish (Basa, Tilapia).
Non-GMO
Dosage and Use
Take one (1) gummy bite daily, or as recommended by a healthcare practitioner.
Note
When exposed to high temperatures, the gummy bite will become liquid, this does not affect the quality of the product. The gummy bite will return to its original solid state when allowed to cool at room temperature or in the refrigerator.
Warnings
KEEP OUT OF REACH OF CHILDREN
DO NOT EXCEED RECOMMENDED DOSE
Do not purchase if outer seal is broken or damaged.
When using nutritional supplements, please consult with your physician if you are undergoing treatment for a medical condition or if you are pregnant or lactating.
To report a serious adverse event or obtain product information, contact 1-866-280-2852.
An P, Wan S, Luo Y, et al. Micronutrient Supplementation to Reduce Cardiovascular Risk. Journal of the American College of Cardiology. 2022;80(24):2269-2285. doi:doi:10.1016/j.jacc.2022.09.048
Huang Y, Deng Y, Zhang P, et al. Associations of fish oil supplementation with incident dementia: Evidence from the UK Biobank cohort study. Front Neurosci. 2022;16:910977. doi:10.3389/fnins.2022.910977
Liao Y, Xie B, Zhang H, et al. Efficacy of omega-3 PUFAs in depression: A meta-analysis. Transl Psychiatry. Aug 5 2019;9(1):190. doi:10.1038/s41398-019-0515-5
Zhang Y, Chen J, Qiu J, Li Y, Wang J, Jiao J. Intakes of fish and polyunsaturated fatty acids and mild-to-severe cognitive impairment risks: a dose-response meta-analysis of 21 cohort studies. Am J Clin Nutr. Feb 2016;103(2):330-40. doi:10.3945/ajcn.115.124081
Amen DG, Harris WS, Kidd PM, Meysami S, Raji CA. Quantitative Erythrocyte Omega-3 EPA Plus DHA Levels are Related to Higher Regional Cerebral Blood Flow on Brain SPECT. J Alzheimers Dis. 2017;58(4):1189-1199. doi:10.3233/jad-170281
Kavyani Z, Musazadeh V, Fathi S, Hossein Faghfouri A, Dehghan P, Sarmadi B. Efficacy of the omega-3 fatty acids supplementation on inflammatory biomarkers: An umbrella meta-analysis. Int Immunopharmacol. Oct 2022;111:109104. doi:10.1016/j.intimp.2022.109104
Bahamondes MA, Valdés C, Moncada G. Effect of omega-3 on painful symptoms of patients with osteoarthritis of the synovial joints: systematic review and meta-analysis. Oral Surg Oral Med Oral Pathol Oral Radiol. Sep 2021;132(3):297-306. doi:10.1016/j.oooo.2021.01.020
Product reviews are provided for informational purposes only and reflect solely the views and opinions expressed by the contributors and not those of Life Extension. We do not verify or endorse any claims made in these reviews. Please read the full product reviews disclaimer.
Heart Health

Quiz
Treat your ticker to the best cardiovascular support supplements.
<![endif]-->
Related Products
<![endif]-->

<![endif]-->